---
---
---
---
---
---




♠Role

Leader's Little Sister


♠Gender

Female


♠Nickname(s)/Alias(es)


Hoppy || Hongarou gave her this name for when she works as a prostitute.
Kitten || A lifetime ago, she remembers being called Kitten by Morgan. She misses this nickname more than she'll admit.


♠Age

13


♠Love Interest

Trevor Knight, albeit one-sided.


♠Face Claim

Rena Ryuugu || Higurashi no naku koro ni

---
---





♠Height

5'2"


♠Weight

102 lbs


♠Build

Barely nourished, diminutive, undeveloped


♠Hair Color

Dark Orange


♠Eye Color

Blue


♠Scars/Tattoos/Piercings

She has a scar on her wrist from once trying to take her own life


♠Description


The most notable feature of Teri's is her haunted blue eyes, the only hint that there was once something other than this shell of a person, years ago. She has a small, sly smile, and only a careful eye can see that her smile is fake. Rather short for her age, with thin slender bones, it's obvious that her growth has been stunted by mistreatment in recent years. She often just stares into space, as if looking upon
some far off, distant past.


♠Preferred Clothing
When given the choice, Teri dresses herself in a blue-collared sailor top, and a skirt alongside it, probably from her once past obsession with Japanese anime. This gives off an innocent look to anyone that sees her. Teri also always keeps the white beanie with her at all times, the last gift from her older brother before her life went awry. Unfortunately, she's forced to wear a collar around her neck, with the Thorne emblem, signifying whose property she is now.
---
---
♠Oddities
Look behind you!
| Teri has a tendency to take a glance behind her every now and then. She's not even sure anymore if it's out of paranoia, or a habit, but that's how it is. It developed after her first john she was forced to service, and it stayed with her ever since. Yes, she's aware of the weird glances people give her whenever she does it.
Finger brushing is fun.
| Sometimes, Teri brushes her hair with her fingers when she knows people are watching. Sure, the effect isn't as good as it would be if she had long cascading hair to flip on her back, but all the same, she does it. To pass the time as much as anything, supposedly.
Loving from afar
| Ever since she first set eyes upon the Talon's planner, she immediately fell in love. Still, being many years younger than him, her only real option is to watch him from a vantage point; far away and out of sight. She'll probably never confess her feelings; she'll carry them to the grave.
♠Skills
A Good Girl?
| Teri fills a specific niche when selling her body to johns on the street. While her acting skills are already superb, she's especially proficient at acting as the innocent schoolgirl, making her pretty popular as a prostitute whether she likes it or not.
Happy girl!
| Not wanting to worry her captive brother, Torrin, she manages to put on a cheerful demeanor whenever needed, full of smiles and giggles that are appropriate. Unless someone's especially perceptive, they won't notice that her smiles don't reach her eyes.
Blast Reality!!
| Whenever Teri ends up in a situation where she can't deal with it as herself, she can always bring up an anime character that she looks up to, and try to do what they'd do. This helps her move forward when things get tougher than tough.
♠Likes
Am I a Japanophile?
| Ever since watching Pokémon for the first time, she instantly fell in love with Japanese Anime. Even now, she's allowed to watch a few episodes every now and then to keep her placated, luckily.
Cuddle with me.
| When she's with someone she trusts, like Torrin or Michaline, she loves getting in close and snuggling in with them. Some familial comfort always helps, right?
Feed me with this!
| Chocolate chips are essentially her life force. She always picks them out of the cookie dough when given chocolate chip cookies, and only eats the chips. They're great, she says.
♠Dislikes
Go away, Morgan!
| In Teri's eyes, the reason for her suffering is entirely his fault. If he wasn't there, maybe she wouldn't be selling her body, maybe Torrin wouldn't be selling drugs, maybe Michaline would be alive and well. There's no way she can like him right now.
Don't touch me!
| Being touched, whether acting as a good girl or not, Teri is slowly reaching her limit with all of it. It repulses her, and it's all she can do to suppress the shudder when a man explores her body.
I'm not a kid, okay?
| Seriously. Even though she's barely in her teens, she'd rather be treated the same as everyone else. It's the main reason she can't pursue her first love, after all.
♠Hobbies
Thread and needle, please!
| Although she's terrible at sewing, and constantly stabs her thumbs with the needle, it doesn't stop Teri from loving to try and recreate outfits from various animes she watches.
Just… a few more minutes…
| Teri adores sleeping. Since being abducted, sleep is the only way she can really relax and unwind, and try to block out her current reality.
♠Phobia(s)
Haphephobia
| Fear of being touched. Since being forced into prostitution, and being touched by repulsive men as a living, she developed a phobia to being touched by strangers.
Belonephobia
| Fear of pins and needles. In order to make her subservient, the Thornes would torture her by sticking her with pins until she agreed to play nice with johns. Needless to say, she's terrified of needles now.
Pediculophobia
| Fear of lice. Seriously, the idea of having little bugs nestled in her hair seriously creeps her out, ever since she learned about lice.
♠Sexuality
This is a little complicated. Although Teri kind of has an aversion to men now, she's still straight. Or, should we say, she has single-person sexuality towards the Talon's planner. In conclusion, she's Trevor-sexual.
♠Personality
A stranger, or perhaps even a john looking at Teri would gather the first impression of a cheerful and charismatic young girl, even if she's selling her body, and a little too thin. She laughs a lot, smiles when talking, and looks you straight in the eye in a one on one conversation, and is incredibly easy to get along with. One would wonder if she simply ignores the bad things that happen around her, if they know about her background.
But underneath that shiny surface lies an empty shell of a once cheerful girl. Her emotions have been stunted, almost hardly caring whether or not she gets saved. Teri's simply going through the motions in life, day by day, until she eventually dies. She doesn't really feel much anymore; her spirit broken. If she does feel one thing, it's resentment. Resentment that her crush, the beloved planner, will most likely never know about her one-sided crush.
Go down one more level, and you'll see that this shell is protecting what Teri used to be. An eccentric girl, too obsessed with anime than normal, but also naïve to the bad things that people can do. She wants the best for everyone, and wants to be the kind of hero that she idolizes in her shows. She looks up to her elder sister, Michaline, to an almost unhealthy amount, as well. This girl is waiting for one day it to be safe to come out of the shell; the day she's saved from the torment of today.
---
---




♠Relationship Status


Single, although she's crushing on the Trevor Knight.


♠Family


Malcolm Makota || Father || Deceased || Even if he was an awkward, doting father, and a loving man, Teri learned about his crime the hard way, once abducted by the Thornes. Teri can't help but hurt when she thinks of her deceased old man, but she still cares for him at least a small amount.
Victoria Makota || Mother || Living || 43 || She's a mother that all little girls would love to have. Victoria pampered Teri and spoiled her, and even tried to teach her youngest daughter how to sew and make cosplay costumes for the anime characters she watches. Teri hopes to one day see her again, and often visits fond memories of her in her dreams.
Michaline Makota || Elder Sister || Deceased || Mickey was Morgan's twin sister, and was a lot like their mother. She was fifteen when she died. She was Teri's idol before her untimely end.
Morgan Allistair Makota || Eldest Brother || Living || 19 || Morgan is the current leader of the Talons, after the death of their father, Malcolm. Although now he's no more than a distant memory, he's a source of anger in Teri's heart, because his actions caused the Thorne's to murder Michaline, and kidnap Teri and Torrin. He's trying to gain revenge right now, as an angry, broken man.
Torrin Makota || Elder Brother || Living [MIA] || 16 || The only family member that Teri sees on a regular basis, Torrin was kidnapped alongside her that fateful night. He's forced to work the drug rings, just the way Teri's forced to prostitute herself. Because of their shared bond of suffering, Teri's vaguely aware of Torrin's love and reciprocates in whatever way she can.




♠Personal History


When she was born, Teri was the baby of her family. Two wonderful caring parents, an older sister to idolize and look up to, and two protective older brothers. Teri was happily accepted into the family, and she thought of herself as the luckiest girl in the world. She was spoiled and doted upon by both parents, and her siblings treated her well, especially Michaline. She grew a strong bond with Torrin as well, as the two twins seemed to be eons ahead of the both of them. Their common link of being below the twins brought them together.

At a young age, Teri became entranced by watching an episode of an anime when accidentally turning on the television. It was Pokémon, and she fell in love with the quirky characters and strange animalesque creatures that only knew how to speak its own name. It was a whole other world than what she had ever experienced, and from Pokémon, Teri drifted into more animes such as Sailor Moon, Digimon, Yu Gi Oh, and many others, even reaching the likes of Steins;Gate and Puella Magi Madoka Magica. She essentially became an otaku, and even asked her mother how to sew, so she could cosplay and act as the characters she fell in love with.

It was around this time, at the age of eight, where decided one day to be a heroine, and chose her father to spy on. This would lead to her catching a glimpse of Trevor Knight, and her young heart instantly fell in love at first sight- just like those romantic comedy animes that Teri watches with rapt attention. Although she never saw him again after that, she never forgot his relaxed, somewhat cocky face, and even worked on emulating various romantic shoujo female leads, in order to become more desirable and feminine.

Disaster would strike soon after, being kidnapped alongside her brother, Torrin, by strange men, and finding out later the fates of her family. Dead father and older sister, as well as all the crimes her own father had committed. That was the first crack in Teri's fragile heart. The second crack was when they made her meet with an older man, who used her body, and left the money on her fetal crying form after the deed was done. She received a negative rapport, and was put through torture until she agreed to cooperate and be a good girl for her clients, and get more money. She was sold and advertised as Hoppy, to hide a trail in case anyone was looking for her by the name of Teri.

As her spirit waned, she fell into her only solace; anime, and began drawing out and acting as those characters as needed. If not for that, Teri would have broken even faster than she did. As of now, she's living a desolate life, hardly feeling or anything, just wading through the deep water life gave her, knowing that one day she'll flounder and drown if someone doesn't save her soon.
---
---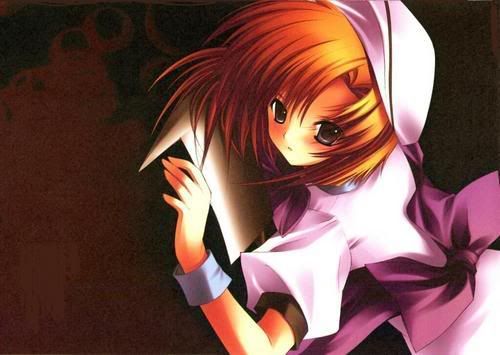 I won't get pregnant!
|| Luckily, she's allowed to still be on the pill. She doesn't want to hate a baby for it's father, and the Thorne's probably don't want a pregnant prostitute.
Right to left? Huh?
|| She tried out buying and reading manga once, but she had no idea she had to read from right-to-left. So she didn't understand what she was reading, really, and she ended up giving up on trying to read them, going back to her animes.
---
---