After the last war Humans started making Neko's onto slaves. Not treating them as Humans but instead as animals. Because of this most went into hiding in the underground cities built by the Neko's themselves.
It has been 50 years since then and still the enslavement of Neko's continues.
But, the New Generation wont be taken without a fight.
A new group if formed , the Neko Freedom Fighters or NFF for short, a group specially designed to free enslaved Neko's by any means necessary, including killing.
Lead by there young leader Aki Miriama the group is responsible for at least two dozen human deaths in one year and the liberation of approximatley two hundred and fifty Neko's.
The Humans government can not afford to let the NFF continue to free Neko's and so they send in an elite group of solider's to out smart the Freedom Fighters. There orders. Bring the NFF leader back to the army headquarters alive. Kill any who get in there way.
But one of the solider's has no intentions on bringing them back Aki, he wants to help them and while on a search for them he finds a group of nekos along with Aki;who he had somewhat of a crush on from when he was him speak at a meeting for neko freedom but Aki has absolutely no interest in the human and doesn't believe he wants to help him. Aki then orders the human male to leave ,how will the human get Aki to listen to him and can he get Aki to not hate him..maybe even love him?
Neko- Cat/Human Hybrid. In Most Rp's they are portrayed as weak and submissive and while in this rp they will still share some of those characterizations they will not be physically weak nor shy.

Site rules and post when on.
2 posts here • Page 1 of 1
Setting
Characters Present
No characters tagged in this post!
After Aki, the leader of the NFF's saved yet another neko slave from slavery ;he sighed and sat in his embassy which was a artificial forest of sorts. Although it had real trees it was not a forest, it called Aki as he sat on the ground meditating. Aki was thinking about how he was going to stop the humans for making the neko race all slaves being the leader was a Tedious task that took a loot of thinking and left little to none alone time. Aki sighed again as he looked at the sky through the glass dome that covered the artificial forest ,his thoughts of work going away and he started to think of other things he heard
How could one of my best men fall in love with a human?!
he thought frowning
But, I am better then that, I will never fall for one of those disgusting , self centered humans
Aki sighed looking at the grass "why am I even thinking about this..it has no use in my thoughts when I am to think of more important things then love.." he muttered out loud just then a knife flew at Aki but when it got near Aki it was stopped in mid air by an unknown force and the knife flew back at the human man and it stabbed him in the throat killing him instantly "ignorant human" Aki said with his eyes still closed. There was a lot of assassins lately that wished to kill Aki instead of bringing him back like the army wanted but it was not all that easy to kill Aki let alone get close to him.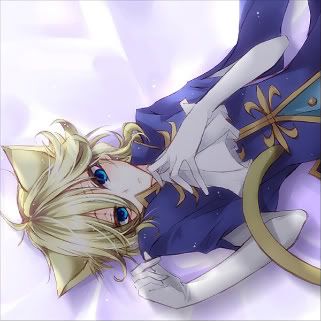 ---
Setting
Characters Present
No characters tagged in this post!
"Meew" The small black cat 'roared' pouncing on the red head's hair. Lucas didn't miss a beat however and finished lacing up his boots before standing. Catching the cat before she had a chance to slide off his head he placed her on his shoulder and left his apartment. The army would march against the nekos, again, in an attempt to catch the neko resistance most notable member...again. Aki, a neko who had eluded capture and had freed others of his kind so often that he had made more enemies than Lucas thought possible.

He would be among those numbers of soldiers going after the elusive leader. Unlike the soldiers though, capture wasn't his goal. No, he was offered a great deal to ensure this particular neko wouldn't have the ability to 'take what wasn't his'. From what he could gather from the contact, Aki had freed a particularly rare and beautiful little neko girl that had been promised to someone particularly wealthy. This 'someone' was not happy at the loss of paid for property. When it came down to it though he didn't particularly care. As long as he got paid.

As he entered the grounds where the army was preparing he gazed around with little interest. He had cleared his case yesterday, informing them that he was on a mission to capture another run away and would assist them in any way he could. A small growl from his jacket caught his attention and he looked down to find his cat, Nonahmae, glaring out at the general population. "I feel you... no worries though, we'll try to avoid them."
---
2 posts here • Page 1 of 1
Arcs are bundles of posts that you can organize on your own. They're useful for telling a story that might span long periods of time or space.
There are no arcs in this roleplay.
There are no quests in this roleplay.
Welcome home, Promethean. Here, you can manage your universe.
Arcs are bundles of posts from any location, allowing you to easily capture sub-plots which might be spread out across multiple locations.
You can create Quests with various rewards, encouraging your players to engage with specific plot lines.
Settings are the backdrop for the characters in your universe, giving meaning and context to their existence. By creating a number of well-written locations, you can organize your universe into areas and regions.
Navigation
While not required, locations can be organized onto a map. More information soon!
There are no groups in this roleplay!
By creating Collectibles, you can reward your players with unique items that accentuate their character sheets.
You can schedule events for your players to create notifications and schedule times for everyone to plan around.
The Forge
Use your INK to craft new artifacts in Tamashi Neko. Once created, Items cannot be changed, but they can be bought and sold in the marketplace.
Notable Items
No items have been created yet!
The Market
Buy, sell, and even craft your own items in this universe.
Market Data

Market conditions are unknown. Use caution when trading.

Quick Buy (Items Most Recently Listed for Sale)
Newest
A rowdy adorable neko boy named haru
"How much are you willing to pay me?"
"you humans disgust me.."
welcome
Welcome.
welcome to The universe of nekos and humans! XD
Discussions
Most recent OOC posts in Tamashi Neko