Hey! Give me a listen you corpses of cheer
Leastles of you who still got an ear
I'll tell you a story make a skeleton cry
Of our own little girl, who's past needed to die.

Die, die we all pass away
But don't wear a frown cuz it's really okay
And you might try 'n' hide
And you might try 'n' pray
But we all end up the remains of the day
Yeah yeah yeah yeah yeah
Yeah yeah yeah

Well our girl is a beauty known for miles around
When a mysterious stranger came into town
He said he's a demon, and she was a Tamer
And our poor little baby, she fell hard and fast
When she find the truth , she just couldn't cope
So our guys came up with a plan to elope.....

She was now a Tamer, so she could speak with the ghosts, with fellow necromancers , and with men from bones!

She had to choose, to be bad or good,
But our girl was already in the darkest mood....
-My version of Remains of the day- corpse bride;
Nickname:
Emm, Emmy, May;
Age:
16;
Crush:
maybe, maybe not.
Hometown:
Los Angeles;
Tamer Bloodline:
Newbie;
Myth
:Necromancer;
Myth Appearance:
1."Skeletons". They are only formed by bones and dust, but they can move easy and fast; They can also change their bones if they want;They can't can't hear very well;
2."Death Messengers".They are summoned by death and can take a human life with them; They smell as dust and they can't walk when is day outside;They don't speak very much, but if they came after you, you will know for sure;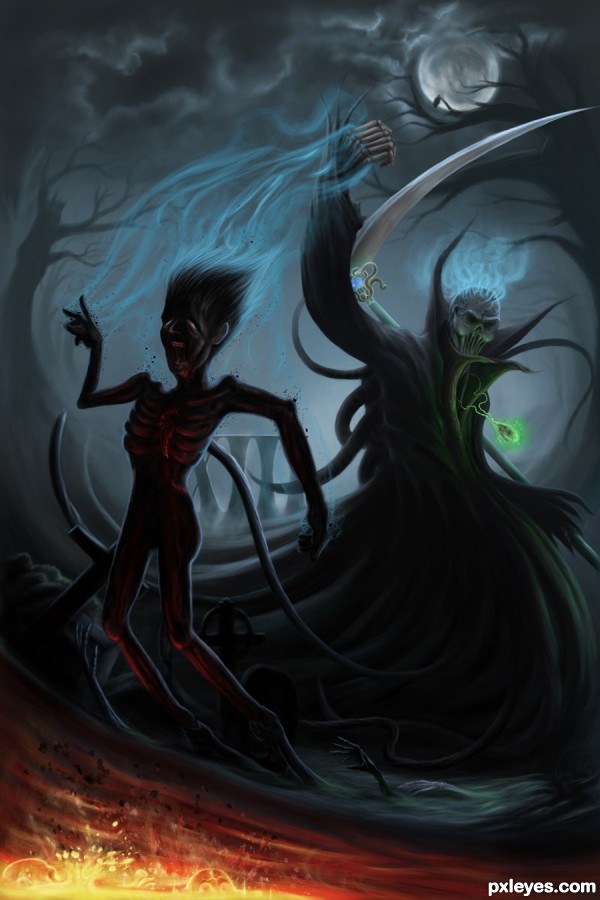 3."Ghost tellers. "They are the ones who.can speak with the ghosts;They appear in the other's shadows and remain silently untill they find a ghost.They can help ghost go into the "light";
Tamer: Bad;
Abilities: Emma can go back in time for 30 seconds; Even if it sounds a very short time, she can change some things.And she can sense someone coming, but not every time.
God:She can handle things on her own.She doesn't need someone to protect her.Emma refused this gift when she was little.
Your route to Reendria: To enter in the magic world, she has to keep in her hand a black object and to say "You cut my heart, I cut my skin, it is just a game, but who will win? "
Personality: Emma can be very funny and friendly when she in her good mood.She can stick with everyone, and even she doesn't know the person she is speaking to, that person will definitely become her friend in less than five minutes.But, when she is in her bad mood, she doesn't like talking to people.She just locks herself in her room, or a quiet on, and starts starring at the walls.Some people may believe that she is crazy, but if you are her friend you will understand her.
" Intelligence is sexy.Do not play stupid! 'm big on going out and getting wild. I'm into the club or restaurant scene . I enjoy to have quiet dinners with friends and too, though. I spend a lot of time writing and working on songs. I'm someone who likes being in the limelight and going to the hottest clubs or bars. I can't stay at home for two weeks without going out on the town.I love the outdoors. I enjoy hiking and being in nature. I love the beach and swimming in the ocean and lying in the sand."
History:Emma was born in Los Angeles and was raised by a demon.When she turned 13, she found out that she was a tamer and not a demon, and her family abandoned her when she was a baby.Emma continued living with the demon and turned in a bad girl, so in a bad tamer...The demon told her that she was a Newbie, the first person from her family who was a tamer...When she turned 15, the demon died and she remained in Los Angeles in his house...Her Myth were Necromancers so, two times a week she was going in Reendria ...Now, that she knows bad and good sides of the Tamers will be fighting for the magical world, she visit more often the magical world.."
Other:" I am a Tamer and I am proud of it!"