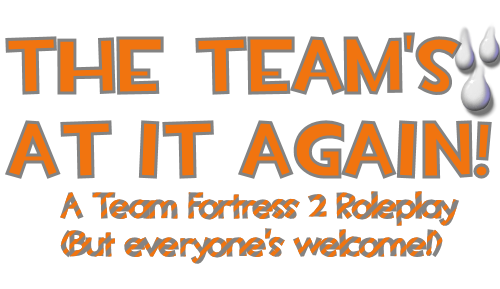 Welcome to the universe of Team Fortress 2! I'm happy to invite you to add your own characters to the already colorful cast this world offers us! Remember to read all the information below (don't be intimidated!), including the rules. Have fun, and remember: try not to get blood on my suit.
Team Fortress 2 is owned by Valve.
Note: to those who are familiar with the game, some aspects of the map and gameplay have been edited to suit rolepaying needs.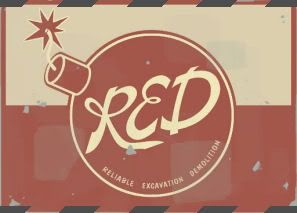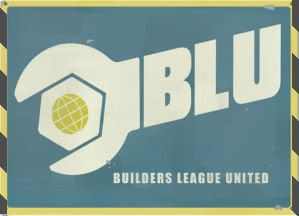 Reliable Excavation Demolition (RED) and Builders League United (BLU) are two corporations - and bitter rivals. RED specializes in demolition operations, while BLU specializes construction operations. Through several (and by several I mean many) fronts, these two corporations control all of the world's governments. These corporations are controlled by two brothers - Redmond and Blutarch Mann. With such a bitter rivalry, each man has hired a team of mercenaries. Each team has two objectives: one, steal or otherwise obtain any information about the other team. Two, disrupt the other's business activities. You wouldn't expect such "innocent" companies to be so violent, but this is really all in day's work. Why? Both of the Mann brothers have proven to be rather incompetent when it comes to handling such large businesses, so the affairs of both of the companies have fallen into the hands of one woman - the Administrator. She is the mastermind behind each company, and she is the one who issues the orders and details the plans for each side. She's a "chain-smoking seductress", as well as an overall manipulative woman. She communicates to each team through speakers throughout each base as well as letters and packages. The Administrator's office is a deep secret - no one knows where it is. Inside, she has tons of monitors, where she can watch everything. Everything. In this roleplay, you will play the mercenaries hired by each company, at each other's throats for no apparent reason other than to destroy the rival's business. At this point in the story, some of the team members have been there for a couple of years. Some have just arrived. Regardless, everyone on the team is aware of each others' names and classes. Where do you fit in, and will you be able to take the other team out?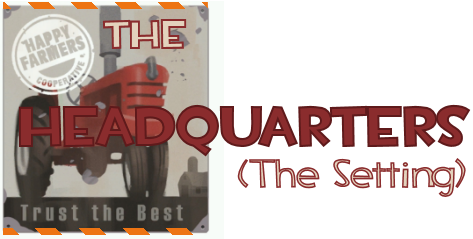 To those of you who are familiar with the game, this game will take place on the map 2fort. For those of you who are not familiar with it, never fear! The first thing you should know is that the bases are in very close proximity, separated only by a shallow moat and a covered wooden bridge. The layout of each base is exactly the same, just mirrored. The entire RED base is more farm styled, with wooden walls and warm tones. The entire BLU base is more industrial, with concrete walls and cool tones. The entire area that this roleplay will take place in is surrounded by a fence. Because the bases are essentially the same, the below maps apply to both the BLU and RED base.

Some descriptions of important or notable locations:
Intelligence Room - The most important room in the entire base. This room - perhaps not so wisely - holds all the most important information to the company. While some of it is stored in file cabinets, bookshelves and in desks, the most important information is located in a RED or BLUE briefcase. This is the item that the mercenaries must protect WITH THEIR LIVES (not that it really matters, since they respawn anyway). This room also holds one long table along with a projector, where the teams can have meetings.
Sewers - Not really sewers, but tunnels underground with a shallow layer of water on the ground. These sewers connect the bases, for reasons unknown. Nifty way to infiltrate the opposing base without being seen.
Front Yard - Open area in front of each base, between the base and the bridge. Can easily be seen from both porches. You can also jump into the moat between bases here.
Courtyard - Open area (as in, you can see the sky) within each base. There is a catwalk within, with two sets of stairs leading up to it.
Bunkers - Bunkers. Duh. Has several sets of bunk beds, with nothing more than perhaps a curtain separating them. Also contains the mess hall, where the mercenaries can eat meals, either nasty pre-prepared ones, or those cooked by fellow teammates (which may or may not be just as nasty).
Medical Bay - When not being healed in the middle of the battle, this is where the mercenaries go to get treated by the medic.
Porch - Outside area on the second floor. Most of it is not protected by a wall, which means anyone in the opposing sniper tower or on the opposing porch can see you. Still, a nice place to spend time outside when not fighting.
Sniper Tower - Accessible either by a ladder on the porch or a ladder on the ground level. A high tower, where the Sniper can likely be found. Offers a view of the entire surroundings - the ideal place for a sniper.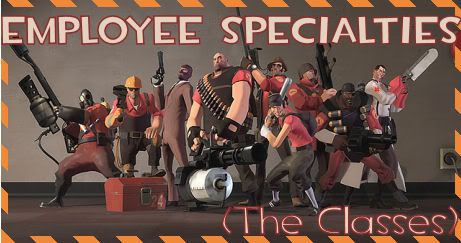 Team Rosters
RED
Scout - Taken by Ayde
Soldier - Taken by Church
Pyro -
Demoman -
Heavy -
Engineer -
Medic - Taken by Cypher
Sniper - Reserved by JuneBerry
Spy - Taken by Digital.PS
BLU
Scout -
Soldier -
Pyro -
Demoman -
Heavy -
Engineer - Taken by Ayde
Medic - Taken by Medic
Sniper - Taken by Hinasil
Spy - Taken by Singthesoul
Don't know about the classes? Read general descriptions here:


The Scout is the fastest out of the bunch. This, along with their ability to jump higher (double jump) makes them ideal for "in and out" missions; they can easily zip past opponents, and their small build and quick feet make them hard targets. Of course, speed comes with a price - they can't take much damage before they're down and out.
Weapons: Scattergun (a lever-action shotgun that's deadly at close range), Pistol, Baseball bat.

The Soldier is a good all-around fighter, useful in offense and defense. Though he's not so quick, his ability to take more damage easily makes up for it. He also has the ability to "rocket jump"; he jumps and shoots a rocket at the ground, propelling him upward and allowing him to reach places even the Scout can't reach.
Weapons: Rocket Launcher, Shotgun, Shovel

The Pyro is, first and foremost, a pyromaniac. A good offensive and defensive player, the Pyro can set their enemies aflame. They can also reveal an enemy Spy that is cloaked or Disguised by lighting them on fire.
Weapons: Flamethrower, Shotgun, Fire Axe

The Demoman is the team demolition expert. Another good offensive and defensive player, the Demoman is very versatile. He can take out enemies or enemy sentries by bouncing his grenades off of walls, and is also excellent at defending.
Weapons: Grenade Launcer, Stickybomb Launcher (small grenades that can be stuck to the ground, walls, etc, and later detonated at will), Bottle

The Heavy is the Heavy Weapons master. Though he may be the slowest one on the team, he can easily take the most damage. He can also easily wipe out several enemies at once with his dangerous weapons. However, his slow speed forces him to rely on teammates to protect him from Snipers or Spies.
Weapons: Mini gun, Shotgun, Fists

The Engineer is the brainiac of the team, loving to tinker and create. The Engineer can build deadly sentry guns, health and ammo dispensers, and even teleporters, all of which can be upgraded through clever tinkering and testing.
Weapons: Shotgun, Pistol, Wrench,

The Medic is the healing class, and the doctor for the team. Their knowledge of medicine has allowed them to be extremely helpful allies, and well as deadly in combat. Often found accompanying heavy-hitters, such as the Soldier or the Heavy.
Weapons: Syringe Gun (gun that uses syringes as ammo), Medigun (gun that shots a beam of healing light, useful in healing superficial wounds. More serious wounds require real surgery), Bonesaw

The Sniper is the long-range expert of the team. They often take to hiding out of sight, especially in high areas where they can get a good look of the battlefield. One headshot from their deadly rifle will take down any opponent.
Weapons: Sniper Rifle, Submachine Gun, Kukri/Machete

The Spy is an expert infiltrator. Through the use of his skills in deception and knowledge of the other team, he can easily blend in and take the enemy team out while they're ;east expecting it.
Weapons: Revolver, Electro Sapper (slowly destroys enemy Engineer constructions when attached), Knife, Disguise Kit, Cloak (for a short period of time, the Spy can go invisible)

Character Skeleton
Code: Select all

[center][img]APPEARANCE IMAGE URL HERE. Can be anime or not.[/img]

[b]||Name||[/b]
Character name, first and last.

[b]||Nickname||[/b]
What he/she likes to be called, if applicable.

[b]||Gender||[/b]
Male or female

[b]||Age||[/b]
Character Age. Must be over 18.

[b]||Team||[/b]
RED or BLU

[b]||Class||[/b]
Self Explanatory.

[b]||Personality||[/b]
What is your character like? What are his/her quirks? Etc.

[b]||History||[/b]
Their life story. Be sure to include how they came to be hired by RED or BLU.

[b]||Anything Else?||[/b]
Any other information we should know?[/center]

Please read all of the rules before submitting a character.


My word is ultimate law. Of course, I'm not going to be like a dictator, but please respect my requests.


No godmoding whatsoever, be it knowing information you shouldn't, controlling someone else's character, or being unrealistic in battle (well, considering how "realistic" this universe is). Basically, you should know that your characters are unaware of much beside the fact that they are hired mercenaries.


Along with the previous, your character can die. However, each character has been fitted with technology that "respawns" them, basically sending all of their knowledge into an already prepared clone of themselves (you know, like respawning in games, basically).


Your characters may address each other either by their name or their class. Specify in your character's profile if they have a preference.


Please be literate. That means grammar as well as descriptions, post length, etc. Each post should be at least 200 words. If some fall just below every so often, I'll let it slide, but do not make a habit of it.


Romance, swearing and violence is allowed and encouraged, but remember to be tasteful. Follow the site rules, and keep everything to a respectable level. Anything too over the top - take it somewhere else.


Don't be afraid to ask questions, especially if you're unfamiliar with the game. Feel free to PM me or post in the OOC thread. For more information, visit The Official Team Fortress 2 Wiki.


Please be active. If you will be away for an extended period, let me know or post in the OOC Thread. If you wish to drop out, let me know so I can offer the spot to someone else. If you are away for an extended period without telling anyone, I will remove you for the RP.


You may have up to two characters, but I will not reserve a second spot for you until your first character has been submitted.


Have fun! I love this game, and I'm looking forward to roleplay in the universe. So I know that you read all the rules, please put the words "P.S. You got blood on my suit" at the bottom of your profile. If these do not appear, I have the right to deny your character...or tell you to read the rules again.
16 posts here • Page 1 of 1
16 posts here • Page 1 of 1
Arcs are bundles of posts that you can organize on your own. They're useful for telling a story that might span long periods of time or space.
There are no arcs in this roleplay.
There are no quests in this roleplay.
Here's the current leaderboard.
There are no groups in this roleplay!
Welcome home, Promethean. Here, you can manage your universe.
Arcs are bundles of posts from any location, allowing you to easily capture sub-plots which might be spread out across multiple locations.
You can create Quests with various rewards, encouraging your players to engage with specific plot lines.
Settings are the backdrop for the characters in your universe, giving meaning and context to their existence. By creating a number of well-written locations, you can organize your universe into areas and regions.
Navigation
While not required, locations can be organized onto a map. More information soon!
There are no groups in this roleplay!
By creating Collectibles, you can reward your players with unique items that accentuate their character sheets.
Once an Item has been created, it can be spawned in the IC using /spawn Item Name (case-sensitive, as usual) — this can be followed with /take Item Name to retrieve the item into the current character's inventory.
Give your Universe life by adding a Mob, which are auto-replenishing NPCs your players can interact with. Useful for some quick hack-and-slash fun!
Mobs can be automated spawns, like rats and bats, or full-on NPCs complete with conversation menus. Use them to enhance your player experience!
Current Mobs
No mobs have been created yet.
Locations where Mobs and Items might appear.
You can schedule events for your players to create notifications and schedule times for everyone to plan around.
Add and remove other people from your Universe.
Orphanage
By marking a character as abandoned, you can offer them to your players as pre-made character sheets.
The insane Pyro of the RED team.
The Forge
Use your INK to craft new artifacts in Team Fortress 2: The Team's At It Again!. Once created, Items cannot be changed, but they can be bought and sold in the marketplace.
Notable Items
No items have been created yet!
The Market
Buy, sell, and even craft your own items in this universe.
Market Data

Market conditions are unknown. Use caution when trading.

Quick Buy (Items Most Recently Listed for Sale)
Discussions
Most recent OOC posts in Team Fortress 2: The Team's At It Again!