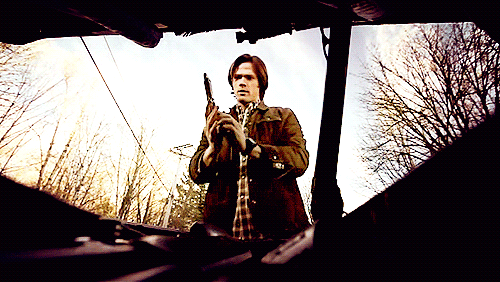 "Listen to me, you've got this dark pit inside you. I know. Believe me, I know. But that doesn't mean you have to fall into it. You don't have to be a monster... It doesn't matter what you are. It only matters what you do. It's your choice."
---
---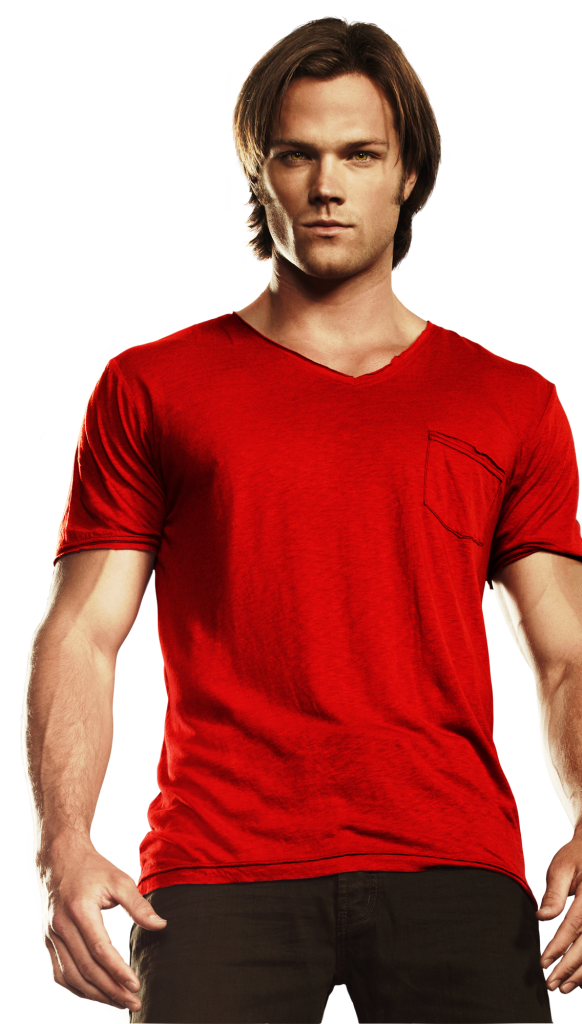 Nicknames
Sammy, Moose, Bitch, RoboSam, Sasquatch, Lucifer's Vessel, Anti-Christ
Species
Human, mostly
Sexuality
Heterosexual
Age
30
Birthday
May 2, 1983
Height
6'6"
Weight
225 lbs.
Hair Color
Brown
Eye Color
Hazel (ranges between green to caramel)
Occupation
Hunter
---
"You don't know me. You never did and you never will"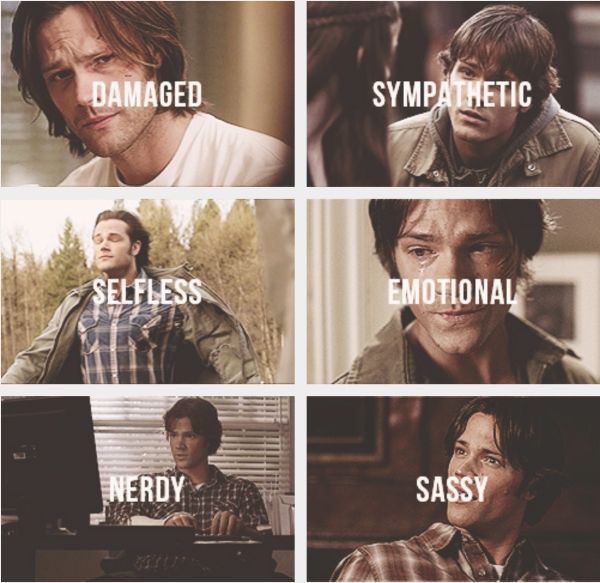 Sam is the Winchester brother that never experienced childhood. He grew up under Deans protection, as their father was off hunting most of the time and had no time to form a stable bond with his youngest son. Instead, Dean's willingness to sacrifice everything for his little brother became the only thing in Sam's life that allowed him to grow up in some semblance of a home. Because of this, Sam holds Dean on a pedestal in which he can do no wrong. Dean is his Hero, though he does not openly admit it, and always looks to his older brother for answers. That doesn't mean Sam has not witnessed Dean doing wrong....which is why when Dean goes against Sam's image of him, Sam reacts violently and usually leaves. Even through everything they have been through, Sam would always selflessly give up his life for his brother, as Dean would do for him.
Sam always searched for a way out of the family business. He strived for a more 'apple-pie' sort of life, a life that he never had growing up. His one chance out ended in tragedy and only served to force him deeper into hunting demons. As the years passed, he gave up fighting against it and accepted the fact that he was a 'freak'. Sam hates hunting, but he was raised on it and is exceptionally good at it. He is smart, almost nerdy smart, as he almost graduated from college, and uses his intellect to research information on the demons they hunt and the world they live in. Unlike his brother, who never stepped into the world of technology, Sam is exceptionally good at working with computers..
After his time in the pit with Lucifer and Michael, Sam looses the childish reverence that he had growing up. He becomes colder and more calculating....even after his soul is returned to him. Going through the mental torture has left him damaged, more damaged then any time can heal.
Although he is wounded mentally, Sam still holds his sympathetic and emotional heart that he was born with. Even when his job is to kill the supernatural beings he has been trained to kill, he has a hard time destroying something when they show evidence of a soul. He also is extremely sympathetic when talking to those who have lost their loved ones and is great at speaking to them in a calming manner. He has a high regard for human life and while Deans motto is to 'shoot first, ask questions later', Sam is a bit more trusting and likes to learn the facts before killing another creature. He is always hopeful for a positive result, however slim the chance.
After almost giving himself so they could seal the gates of hell, Sam feels lost. He was ready to die, ready to escape this hell of a life and finally be at peace (whatever that meant for him). But now with the fall of the angels, he knows that is not an option. Faced with yet another challenge, Sam batters on, the idealistic light he once had diminishing. He now feels like he is on a never ending roller coaster and would sooner jump off if he could. But with Dean in the seat next to him, he knows he can not leave until he can be sure his brother can live the life that he should have been given.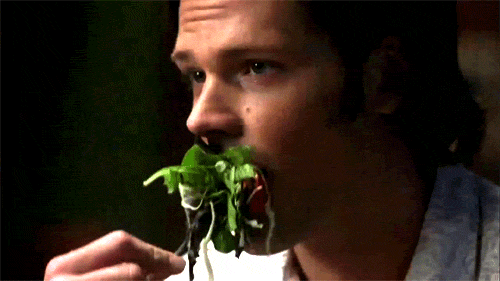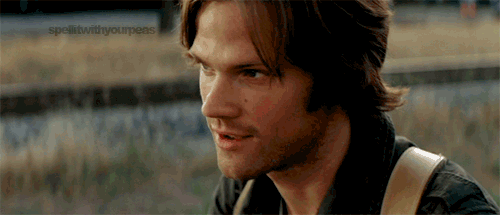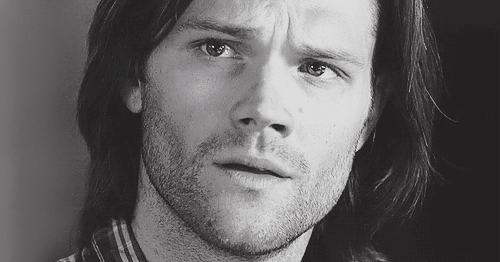 •Health Food.
•Salads.
•Vegetables.
•Reading.
•Researching.
•Mythology.
•Magic.

Unhealthy Food.
•Demons.
•Fire.
•Loosing control.
•Unneeded death.

•Sam is terrified of clowns.
•Most girls Sam hooks-up with end up dead.
•Has a hard time killing other humans.
•Fear Death, though he accepts it easily.
•Losing Dean.
•Feels immense guilt for all of his actions.
•Suffers from migraines.
•Clairvoyance.
•Telekinesis.
•Cooking.
•Researching.
•Puppy-dog eyes.
•Demon killing.
•Speaking latin.

---
"Our lives are weird Dean, and they sure as hell aren't getting anymore normal"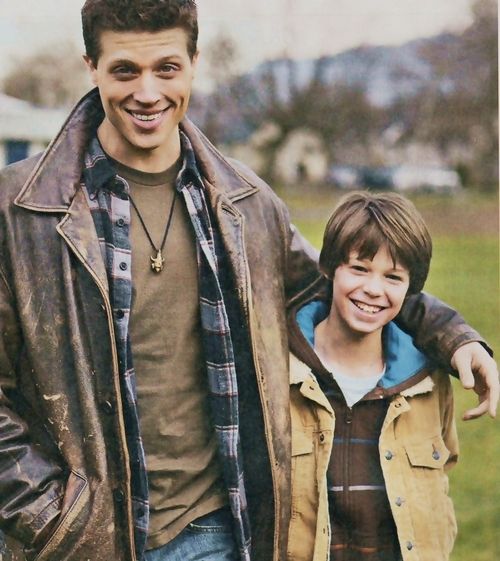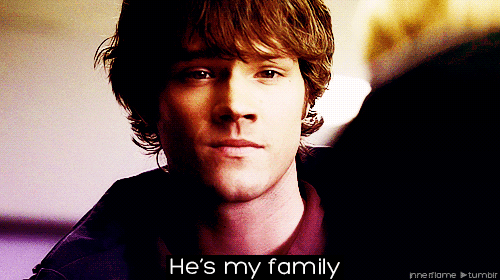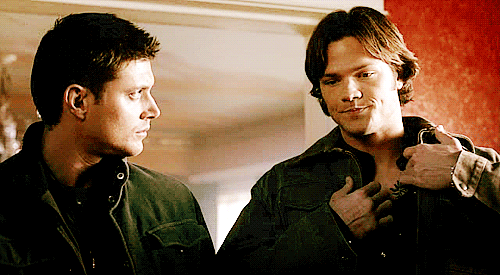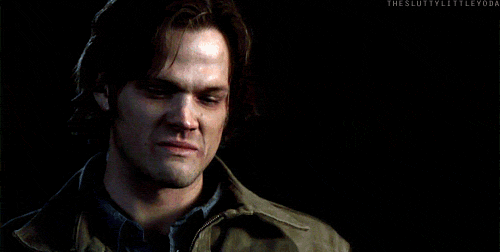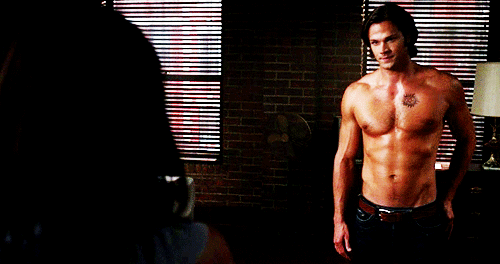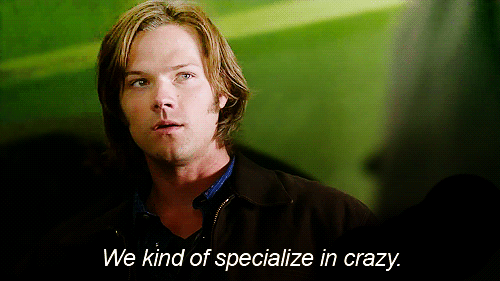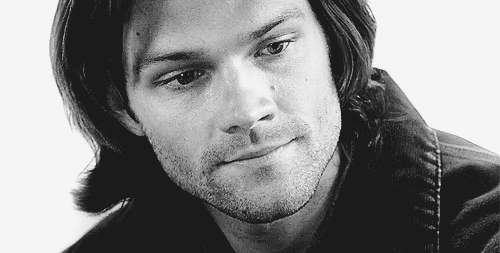 When Sam was only 6 months old, Azazel the yellow eyed demon visited him in his nursery. He drips his demonic blood into the mouth of baby Sam, giving him the power the will later be used to become one of his Special Children. While he is their, Azazel is interrupted by the appearance of Sam and Deans mother, Mary. The demon kills her by pinning her to the ceiling of Sams room and burning her alive. John (his father) rescues Sam from the burning room and him and Dean escape unharmed.
The boys grew up under the care of an absent father who spends his days hunting down demons and tracking the one that killed his wife. Dean is left in charge of Sam and has to raise his little brother from a young age. Dean shields Sam from the supernatural until he is 8, when Sam finally discovers that his mother was not kill in a car accident. Dean explains to Sam how the world they live in actually works, though Sam still remains out of the hunters circle. Sam does not go on a real hunt until he turns 14, when John and Dean take him on a werwolf hunt. He hates it and is terrified the whole way through, though John pushes him to finish the job.
In Highschool, Sam was a Mathlete and head of his class. He did not focus much on the social aspect, instead he buried himself in his books and learned as much as possible. He was bullied, but usually Dean would stand up for him if he saw anything. Sam spent his time researching the supernatural and learning as much as he can in ever school he enters. After graduating from high school top of his class, Sam received a full ride scholarship to study at Stanford. Johns tell him as he is leaving that he can't return to the family business if he leaves, but he has no plane to. Sam wants a normal life, one with a house and a picket fence and a dog, something he never had when he was younger. So he studies and meets the love of his life a year later, Jessica Moore. Jessica and Sa, dated for a year and half, moved in together and happy. At 22, Sam is about to enter law school and continue his education when Dean shows up at his and Jessica's apartment in Palo Alto.
Dean explains that their Dad has gone missing and that he needs Sam's help finding him. After come convincing, Sam leaves with his brother on the search. A week later they turn up with nothing and Sam heads back to college for his finals. That night, he wakes up to see the burning body of his girlfriend on his ceiling in exactly the same way his mother died.
Sam leaves college after the tragedy and banishes his thoughts of a normal life. He joins Dean on their search for John Winchester and to exact vengeance on the yellow eyed demon. As they travel, following their dads misty clues and information on his whereabouts, Sam begins to show signs of precognition and telekinesis. He does not share this information, rather keeps it a secret as he is both equally perplexed and terrified as to what they mean.
They finally run back into John in Iowa and stop him from attacking the yellow eyed demon. As they are driving to the hospital, a truck crashes into the side of the Impala with all of the Winchesters inside. John dies in the hospital from the crash and leave the boys in turmoil. Sam throws himself into killing demons and hunting down the yellow eyes demon as a way of coping with the lose of the father he never really knew. He soon learns that the Demon plans to cause Sam to become evil and use him and "children like him" as soldiers in an upcoming war. Dean was told that if he could not save Sam, he would have to kill him.
Months later, it is revealed that there is demon's blood in Sam. He is stabbed by a soldier named Jake and dies in his older brother's arms just as he and fellow hunter Bobby arrive to the rescue. Dean makes a deal to deliver himself to Hell in one year, in exchange for Sam's life. Sam doesn't know of what happened while he was dead, and is in fact unaware he was ever dead in the first place. In the following battle to prevent Jake and the Yellow-Eyed Demon from unleashing a demonic army, Sam shoots and kills Jake. This is the first time Sam kills a man, or someone that isn't a demon, and he seems to show no remorse.
Sam becomes consumed with the task of finding a loophole in Dean's contract with the Crossroads Demon in order to save Dean from going to Hell. He receives unlikely help from Ruby, a demon. She claims to know a way to help Sam save Dean and slowly gets Sam to embrace his demonic powers by drinking demon blood. A year comes, Sam still hasn't found a way to save Dean, and has to watch, helplessly and powerless, as Lilith sic her hellhounds on Dean and tear him to pieces.
Sam can not cope with the lose of Dean. He drinks and lets himself go, wishing for death without his last family member. Ruby shows back up and helps same to cope with his depression. He learns to use his demon powers, even exorcising them and sending them back to hell.
Is is then that Castiel saves Dean from Hell and returns him to Earth. Dean learns of Sams powers and this leads to a fallout between the brothers.Sam lies to Dean to fix their relationship and pretends to stop using demon blood when in fact he is growing stronger. t is easy to see that Sam has become very addicted to demon blood, showing all of the signs of a drug abuser. Dean witnesses Sam loose control in front of him and together with Bobby, they lock him in a panic room to detox.
Castiel releases Sam under the orders of heaven and Sam runs to Ruby. Together they battle to save the final seal from being broken. When Sam and Ruby finally reach Lilith, he kills her, with his eyes turning black because of the amount of demon blood he had to ingest. Once Lilith is dead, he learns that Ruby had been working to raise Lucifer all along. When Dean bursts into the room, Sam holds Ruby while Dean kills her with her own knife. Sam and Dean then watch in horror as Lucifer's door is finally opened.
Sam tries desperately to redeem himself by trying to stop the devil's plans. Lucifer approaches Sam and tells him that he is his true vessel, in conjunction with Dean being the archangel Michael's true vessel. Sam feels immense guilt for most of his actions, so when it is discovered that Lucifer can he locked back into Hell using the rings of the Four Horsemen of the Apocalypse, Sam considers the enormous task of allowing the devil to possess him in order for Sam to push him back into Hell. Sam says "Yes" to Lucifer, prior to which he consumes an incredible amount of demon blood to strengthen his body. Lucifer appears to take full control of Sam and starts a number of natural disasters around the globe.
Lucifer meets Michael in the chosen area for the final battle, during which he kills both Castiel and Bobby and severely injures Dean. Sam is ably to grab control long enough to throw his body and Michael into the gates of hell.
A year passes in which Sam pretends that he is still in the pitt. He reveals himself to Dean in order to save him from a Djinn, but it is obvious Sam has changed. He is shown to be a more cold and calculating person than before and also a more efficient and ruthless hunter. Castiel is able to discover that Sam's soul is missing and still in the pitt with lucifer and Michael. Dean makes a deal with Death to bring Sam's soul back and create a mental block to keep back the horrors done to him in Hell.
The boys later discover that Castiel has been spying on them for Crowley, the King of Hell. They trap him in a flaming ring of holy oil to interrogate him. Castiel tries to defend himself, revealing that he resurrected Sam. Sam is shocked, and suspects Castiel of having deliberately left his soul behind.
Sam finds himself fleeing from the police near John's lock-up. Sam realizes that he is trapped in his own mind. He manages to kill his soulless counterpart, and absorbs him. He then remembers the last year when he was soul-less. He makes his way on his own to his mental version of Bobby's place, and finds the version of himself that remembers Hell. They talk, and though it may kill him, Sam decides to face the memories so that he can wake up and help Dean against Cass.
Castiel opens purgatory and welcomes the things inside into his body. Sam's unsuccessful attempt to kill Castiel, Sam's condition begins to deteriorate. Because the brothers continue to oppose him, Castiel chooses not to repair Sam's wall. Sam begins to experience hallucinations, seeing Hell, but does not reveal his problems.
The souls in Castiel are returned, but he is taken over by Leviathans, who use him to disappear into a reservoir. The Winchesters and Bobby regroup in the aftermath during and Dean and Bobby confront Sam about his obvious troubles. Sam admits that he is seeing the devil, who tells him that he is still in Hell, being tormented. His hallucination tries to convince him that killing himself is the only solution. Sam is tricked into going alone to an empty warehouse. Dean finds him, and convinces him that he is back on Earth by helping him see the difference between real physical pain and pain in Hell.
Dean is captured, and although Sam has been ignoring Lucifer diligently for months, but when the vision starts taunting him about Dean, then offering useful advice, Sam acknowledges him. Dean is rescued, but now that Sam has given in to the taunting, he can no longer escape it. Sam is unable to sleep, and in he buys sleeping pills off of a drug dealer in an attempt to help himself, but is institutionalized after being hit by a car. Lucifer continues to torment him in the hospital, and he is eventually reduced to a catatonic state. He is saved when a revived Castiel takes on his suffering, enabling Sam to continue his life.
To bring down the leviathans, and they do manage to steal a tablet called The Word of God, and prophet Kevin Tran translates it for them. Uncovering the tablet wakes Castiel from his memory loss. Then Sam, Cas, and Dean enter the leviathan headquarters, and Cas and Dean manage to find and stab Dick. There is a strange explosion of black ooze, and Sam is left alone in the laboratory, with no sign of his brother or the angel.
Sam finally is able to live the perfect life he always wanted. He gets a dog, a girl, even offers to marry her...then Dean returns. Having thought his brother dead, Sam had continued living as though he could do nothing to change that. But with Dean back, he couldn't remain still any longer. He soon joins his brother and together they start to hunt down the tablets and discover a way to seal the doors of Hell, forever. Sam takes on the task of completely the seal, hoping to repent for his sins in the past. They almost complete all of the tasks, which would lead to Sam's death, when the gates of Heaven instead are broken and angels are let loose to rain down upon Earth.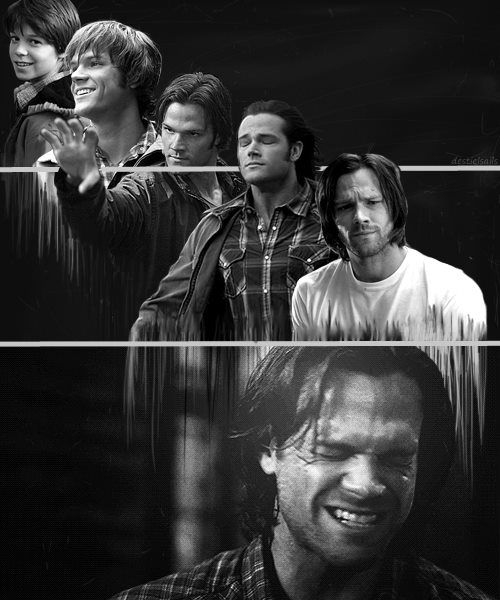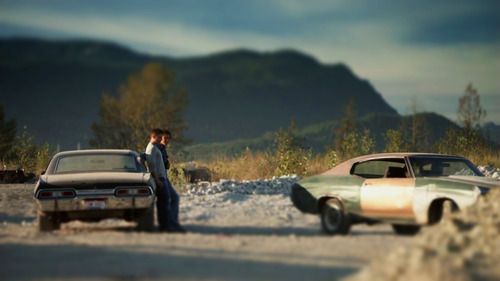 Animal I Have Become - Three Days Grace

I can't escape this hell
So many times I've tried
But I'm still caged inside
Somebody get me through this nightmare
I can't control myself
So what if you can see the darkest side of me
No one will ever change this animal I have become
Help me believe it's not the real me
Somebody help me tame this animal!
This animal, this animal

I can't escape myself
So many times I've lied
But there's still rage inside
Somebody get me through this nightmare
I can't control myself

So what if you can see the darkest side of me
No one will ever change this animal I have become
Help me believe it's not the real me
Somebody help me tame this animal I have become

Help me believe it's not the real me
Somebody help me tame this animal

Somebody help me through this nightmare
I can't control myself
Somebody wake me from this nightmare
I can't escape this hell

This animal, this animal
This animal, this animal
This animal, this animal
This animal

So what if you can see the darkest side of me
No one will ever change this animal I have become
Help me believe it's not the real me
Somebody help me tame this animal I have become

Help me believe it's not the real me
Somebody help me tame this animal!
This animal I have become
FaceClaim || Jared Padalecki