---
---

---
---
---
---
"I'm not evil, you're just weak. You're too afraid to taste something so sweet." - Aesthetic Perfection
---
---
---
---

---
---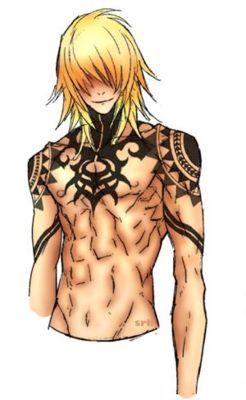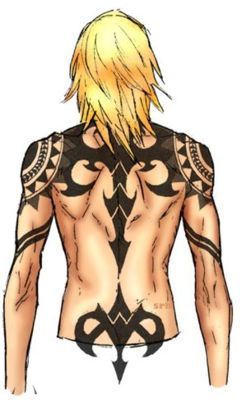 |:

N I C K N A M E

:|
Sam; He prefers Samael, but the few he's attached to can get away with this.

|:

A G E

:| 28
|:H O M E T O W N:| Lavender Town ; Kanto
|:T R A I N E R T Y P E:| Ex-Rocket, Street Thug
|:F A C E C L A I M:| Gunji; Togainu no Chi

--» |:

H A I R

:|
Yellow blond hair, long, straight, and just past his shoulders. It's usually worn down with his bangs covering his eyes, but its sometimes tied back into a half-ponytail or the bangs pinned back with hairpins.

--» |:

E Y E S

:|
Though often not even visible due to his hair, his eyes are a bright, blue-green hazel, appearing either more blue or more green depending on the lighting - more blue in direct sunlight, and more green in shadow.

--» |:

H E I G H T

:|
6'3", or 195 cm.

--» |:

W E I G H T

:|
~180 lbs, or ~81 kg.

--» |:

B U I L D

:|
Samael is a world of intimidating. His build is athletic, with formidable and clearly defined muscle that allows for near superhuman feats of freerunning and is often flaunted with an open hoodie. He has a lean, handsome facial structure often adorned with a manic, bloodthirsty grin.

--» |:

M A R K I N G S

:|
Tattoos coat his pale skin at his wrists, over his shoulders, up his chest and throat, and along his back even extending down his hindquarters. His nails are frequently painted black. His ears are pierced several times up the shell and down the lobe. He has faint, scattered scarring on his hands from his freerunning.

|:

P O T E N T I A L

I N T E R E S T:|
Samael has little to no interest in love or romance, but expresses much more interest in the physical aspect of the former. Nonetheless, it's rare that he makes time for that, let alone that he meets anyone interested. He has a distinct sexual preference toward men but wouldn't pass up an offer from a woman, either.
---
---
---
---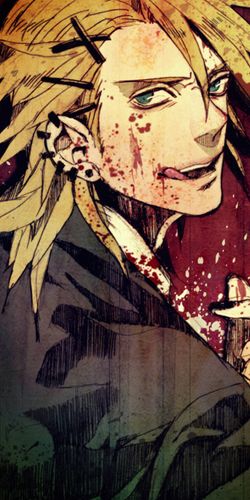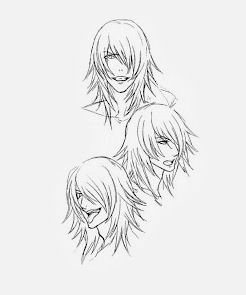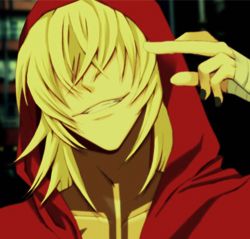 |:

T A L E N T S

:|
--»

Battling

|| Samael's Pokemon are brutal, and what he lacks in intelligence otherwise, he makes up for in battling expertise. Types, moves, natures, strategies, he has them all down to second nature. He is not defeated easily, to say the least.

--»

Freerunning

|| There's no outrunning or escaping this animal - your only chance is to hide. He can scale buildings and survive leaps that would be lethal for the inexperienced, and he's not afraid to hurt himself on the move, either, throwing himself out windows and off rooftops without a second thought when in pursuit.

--»

Pain Tolerance

|| Samael's pain tolerance is monstrous - in fact, he even seems to enjoy most forms of pain. This makes it near impossible to threaten or intimidate him.

--»

Cooking

|| Like most men, Samael has quite an affinity for food, and he's surprisingly adept at concocting it. For all his cooking talent, however, he has a preference for only the basics like burgers and pancakes.

|:

Q U I R K S

:|
--»

Off His Rocker

|| Between his stride, his speech, and his gestures, the man is clearly unhinged. He has a lax manner of movement about him and an odd, almost childish array of gestures - and a big mouth that can spew obscenities one minute and crawl into a husky, foreboding purr the next.

--»

Not-So-Secret Softy

|| For his obvious affinity for scary Pokemon, Samael has almost equal affection for small, cute Pokemon. Though he doesn't keep any on his team due to their relative impracticality in battle, he's openly delighted by cute Pokemon he encounters, much to the surprise of any onlookers.

--»

Dumb Blond

|| Though a force to be reckoned with in most other regards, Samael is not the brightest crayon in the box. He's quite dim-witted and easily confused. Even some metaphors or too big of words are at risk of flying over his head.

--»

Food-Motivated

|| Not unlike a teenage boy or a dog, Samael is easily swayed by food. He's not picky - it doesn't even have to be particularly good food. His appetite seems near bottomless. He can be talked into or out of almost anything with the simple offer of a candy bar or bag of jerky.

|:

P E R S O N A L I T Y

:|
--»

Deranged

; insane, mad, disturbed, unbalanced.
The most immediately notable thing about Samael besides his striking appearance is that his mental stability is... lacking. His train of thought can be scattered and hard to follow. He regularly speaks to himself aloud as much as other people. His childish behavior acts both in stark contrast and unnerving harmony to his volatile temperament and foul mouth.

--»

Reckless

; without thinking or caring about the consequences of an action.
The definition says it all; Samael puts little to no thought into his behavior and actions, frequently acting on pure impulse without regard for the well-being of himself or others.

--»

Outgoing

; friendly and socially confident.
For his unstable nature, Samael is quite sociable and even sometimes friendly at first glance. He has no trouble talking to complete strangers, and if it weren't for his unnerving lunacy, he would make friends easily.

--»

Sadomasochistic

; psychological tendency or sexual practice characterized by both sadism and masochism.
Well, if it weren't for his unnerving lunacy and overt sadism. Samael takes as much delight in his own pain as the pain of others, and seems blatantly amused by both.

--»

Lazy

; unwilling to work or use energy.
Despite his incredible athleticism, Samael is distinctly averted to any amount of work that he doesn't enjoy. He displays a childish reluctance toward anything that requires effort if he simply doesn't feel like doing it.
---
---

---
---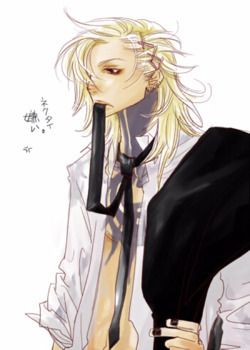 █¦
█¦
█¦
█¦
|:

F A M I L Y

:|
Unknown; Father; Unknown; Ex-Rocket Scientist
Unknown; Mother; Unknown; Hex Maniac
Unknown; Older Sister; Status; Ex-Rocket Agent, Delinquent

|:

B A C K G R O U N D

:|
As is easily presumed, Samael came from a troubled household that shaped him into the beastly maniac he is today - though growing up in Team Rocket certainly had some influence in that, too. His family having a history in Team Rocket, Samael followed suit and was trained from a young age to act as something like a hunting dog, unleashed after anyone Team Rocket wanted killed or captured. Being given Pokemon came secondarily, but for the Haunter that has been passed down through Samael's family. Some of his coworkers even blame the Haunter for Samael's madness, but how much truth there is in that is debatable.

After Team Rocket's disbandment, Samael took to roaming and honing his battling skills, stirring trouble in his wake and accumulating many more enemies than friends. Samael has only barely caught wind of the new Team Rocket, but is undoubtedly interested in seeking employment with them again.
---
---

---
---
"Their greedy eyes light up, they're salivating; everyone knows there's no better way." - Aesthetic Perfection
---
---
|:S P E C I E S:| 

Haunter


|:N I C K N A M E:| None
|:N A T U R E:| Quirky

|:A T T A C K S:|
- Hypnosis
- Dream Eater
- Hex
- Shadow Ball
- Sludge Bomb
|:S P E C I E S:| 

Spiritomb


|:N I C K N A M E:| None
|:N A T U R E:| Naughty

|:A T T A C K S:|
- Nasty Plot
- Dark Pulse
- Ominous Wind
- Confuse Ray
- Curse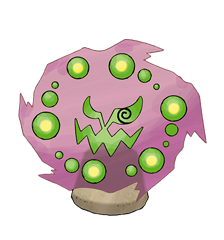 ---
---
|:S P E C I E S:| 

Mightyena


|:N I C K N A M E:| None
|:N A T U R E:| Jolly

|:A T T A C K S:|
- Thief
- Taunt
- Sucker Punch
- Swagger
- Crunch
|:S P E C I E S:| 

Gyarados


|:N I C K N A M E:| None
|:N A T U R E:| Adamant

|:A T T A C K S:|
- Surf
- Waterfall
- Aqua Tail
- Dragon Tail
- Earthquake
---
---
|:S P E C I E S:| 

Hydreigon


|:N I C K N A M E:| None
|:N A T U R E:| Hasty

|:A T T A C K S:|
- Crunch
- Dragon Pulse
- Fly
- Earthquake
- Roar
|:S P E C I E S:| 

N/A


|:N I C K N A M E[/color]:| N/A
|:N A T U R E:| N/A

|:A T T A C K S:|
-
-
-
-
-
---
---