---
---
FULL NAME :
Melissa Rose Delgado

NICKNAME (S) :
Mel, Delgado

BIRTHDAY :
April 4th

AGE :
16

NATIONALITY :
American

ETHNICITY :
Latin-American

SEXUALITY :
Heterosexual

RELATIONSHIP :
Dating Rafael McCall

SPECIES :
Druid
---
---
QUIRKS & HABITS :
You can almost always find her reading ancient, dusty novels in her free time, she can sometimes become obsessed with finding out new things, or spells. When she can concentrate or is overcrowded by emotions she often seeks comfort through soft piano music, or visiting the Nemeton. The Nemeton is easily found by her and not by others, so it is a good hiding spot to run to. Her style is somewhat odd sometimes ranging from a hipster vibe, to a traditional schoolgirl, nonetheless she has always been confident in her own skin.

TALENTS, STRENGTHS, SKILLS :
She is almost a knowledge base of the Supernatural, and knows everything about it. She also can provide a good voice of reason for the others, because most of the times she rationales behind the laws of the Supernatural. Also serving as the packs emissary, she is a healer in the time of need, and offers the best advice she can give. Even though on the outside she may seem a bit cold, Melissa has always been the shoulder to cry on, she cares more about others than her own life, and would jump in front of a bullet for any one of her friends.

FLAWS & WEAKNESS :
Melissa is very by the book, and strict when it comes to the laws of the supernatural. She is very hesitant about ever breaking the rules. She also doesn't have anything to aid her in a physical fight, such as claws or fangs. Sometimes Druid magic can only get you so far. She also has a tendency to be bossy or snobbish to the others when she is in a particularly stressful mood.

HOBBIES & LIKES:
Planting, Puzzles, Psychology, Reading especially from the ancient texts she found in her Grandmother's basement, Ice skating, and Mint Chocolate Chip Ice cream

FEARS :
Melissa has always had a reoccurring fear of not being able to save the ones she loves. Her powers have a limit, and she can't imagine the thought of a situation where there is practically nothing she can do to help. She also has read in her texts that there is another form of Druids, Darachs, creatures of power that have abused the laws of Druids and taken advantage of the balance and laws of the supernatural. She fears the thought of ever crossing that line, or meeting someone who already has.

---
---

PERSONALITY TRAITS :

Melissa is a sarcastic girl with a sharp snarky tongue, but a comforting and loving soul to her friends. She has always been quick-witted and a bit of a spitfire to those who haven't met her yet. Although she puts on a tough girl facade on the inside she's fiercely passionate about taking care of the ones she loves, more so her best friends. She's entirely loyal to her pack, and won't let any of them get hurt on her watch. She often offers advice in times of need, do to her extensive knowledge about the supernatural, but even Melissa has her limits. Melissa is selfless, and always puts other's above herself. She'll go to extreme lengths to protect the ones she loves, no matter the cost. Even though on the outside she can come off a snarky, and sarcastic on the inside she is an old soul.


POWERS :

Melissa is most adept at healing. She is always there with a herb or remedy that can cure almost any supernatural sickness. She also has a vast assortment of books full of spells and history of the Supernatural which she reads in her free time to expand her knowledge. She normally carries around various healing remedies in times of need, but she also keeps an array of weapons such as Mountain Ash and Mistletoe.

Although her powers have limits, Melissa's powers come directly from the Nemeton, and almost always come with a price. The more difficult the spell the bigger the toll. However she has found that healing others doesn't take as much out of her, which is why she focused her studies mainly on healing. She does know however that she has access to unlimited power, but that's develing into blood and dark magic which is something she refuses to touch.

---
---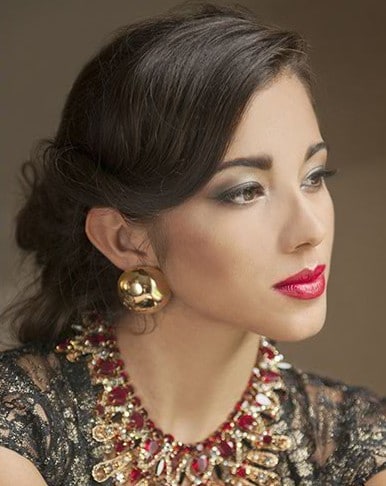 HISTORY :
Melissa grew up in a normal suburban family in Beacon Hills. Growing up Melissa lived an average childhood. Her parents placed her on a recreational soccer team, she got good grades in school, and even volunteered at her local church. For the majority of her childhood she was a sassy, bubbly girl with loving parents and a seemingly normal life. That was until her thirteenth birthday, when her grandma showed up on her front porch and turned her world upside down. Melissa had believed her grandmother dead, and didn't believe the sight of her until her mother had laid eyes on the woman and burst into tears. That day she was thrown into a family history that she couldn't even have imagined. The long line of Delgado's had held a purpose and a job, to maintain and protect the balance of the supernatural world. The occurrence of a Druid in the line skipped every generation, Melissa's mother being human, which meant it was Melissa's turn to uphold the family birthright.

She was unexpectedly moved into her Grandmother's quirky home on the outskirts of Beacon Hills, and would go through 'training' to become an adept and successful druid. At first, Melissa didn't believe any of it, outright bullshit, she believes were the exact words she called it the day her grandmother explained it to her. It wasn't until she saw the work for her own eyes that she understood what right she had to fill. For the next couple of months Melissa lived with her grandmother, reading from texts in a language she would now speak fluently, learn spells and herbs that could turn a Kanima back into a man, and most importantly the laws of the Supernatural. Her grandmother told her horrific stories of Darachs or Druids that had turned to blood magic and abused the laws that they were supposed to protect. The training took months, and she never knew when it would end and her grandmother only specified that she would know. It was mid October when Melissa finally succeeded. She awoke on a cold morning in the middle of the woods propped up against what she would now know as the Nemeton the source of her power. She laid a hand on the stump and felt the buzz of power leeching from the bark and that day on understood her place in Beacon Hills.

It didn't take her long to find Talia, finding supernatural creatures was just a matter of concentrating now. She became the packs emissary druid, and found her place as a healer, it's also where she found Rafael. The two butt heads a lot, but deep down she loves him.

---
---



FACECLAIM :
Seychelle Gabriel


PLAYED BY :
geminiblues


DIALOUGE COLOR :


#FF6F50




THOUGHT COLOR :


#FFCBBF




CS INSPIRED BY :
Lightingpoint