---
---
N A M E
Talia Hale
N I C K N A M E S
None that she enjoys...
B I R T H D A T E
June 5th
A G E
18
E T H N I C I T Y
Caucasian
S P E C I E S
Werewolf
S U P E R N A T U R A L A B I L I T Y
Alpha Powers
S E X U A L I T Y
Demisexual
R E L A T I O N S H I P
Natalie Warren
---
---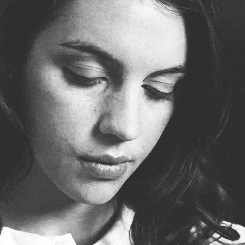 A P P E R A N C E
Traditionally pretty, in a way that doesn't boast or exceed the standards of beauty. Talia is short, at 5'4", despite also being slim she is packed with lean muscle. She is pale skinned, slightly freckled, and contrasted by long, dark hair. Naturally straight, although its been known to go rogue at times. A wavy disaster if she's been running through the preserve, or similarly sparring with family. Due to accelerated healing and general upkeep of her wellbeing she has no scars or other marks that mar her body in any way.
Not known for any particular style, Talia follows three rules when choosing her clothing.
1. Combat ready.
2. Comfortable.
3. Covering As Much As Possible.
As such she leans towards regular clothes mostly. Button ups, jeans that fit well, and jackets (sometimes leather, sometimes not.) She has a habit of looking plain Jane, when she truly is not.
Special features of course include her shifted form, claws, and her eyes that glow red in accordance to her Alpha power.
---
---
.
.
.
.
.
.
.

P E R S O N A L I T Y
Natural Leader || Fierce || Strong Willed || Stubborn || Abrasive || Dismissive
Brought up on the values of kin before her, never without the strength of a pack to fuel her burning fires. Even long before she gained the Alpha power, she boasted the strong talents of a natural leader. Always the one to lead the charge, especially when playing games among her family and with friends. As a child, she developed a formidable strength of mind. An almost terrifying speech pattern, and the natural inclination towards brute strength and force. She is strong of will, and mentally sound, despite a few hiccups here and there along the way. Its of no surprise that she would eventually gain the Alpha powers, though her age made it a hell of a lot more surprising.
She cares,
of course she does
, but has a hard time showing this in
large capacity.
She means well, but often falls short on the scale. She can be a bit much for some, and has an issue with using her words communicatively. However, these traits are mostly contributed to her youth, and things that she may or may not grow out of. What can be seen of her actions is that she may be a formidable foe, and ready to rip someone apart, but she is also someone who is willing to listen. To be an ear for those around her. Being somewhat naturally quiet, she has no problem being a shoulder to lean on and in turn is known for giving surprisingly not-terrible advice.
She is sensible when it comes to responsibility, ready to shoulder it when necessary and capable of thinking things through from a mature perspective. But that doesn't mean she has no time to enjoy her youth. She may be a bit melodramatic but she knows how to let go and have fun. If only to lessen the stress settled in her gut. She is extremely tactile, but only exhibits this in safe, personal settings. Such as when she is home or with Natalie.
Alternatively, she can come off as abrasive and teasing. Unintentionally on the former, usually intentionally on the latter. She has a habit of digging too deep, and often bullying people into a corner - mostly without meaning to. While this sort of reckless behavior has had its upsides for he, it has a lot more downsides than can be considered healthy. Unfortunately, she can tend towards being dismissive; turning a blind-eye when things do not concern her, her pack, or immediate family. This can spell danger if she isn't too careful. As such, she tends to rely on her pack to tell her when enough is enough. She does take responsibility when this happens, and
will step in.
---
---
Q U I R K S & H A B I T S
* Uncomfortable Prolonged Eye Contact * Resting Bitch Face * Angry Mannerisms (Even When Shes Not Angry At all) * Lack Of Filter * Talks While Gesturing Wildly *
S T R E N G T H S & S K I L L S
* Strong Willed; determined to do as she wants even if other people advise against it.
* Intimidating; frighten or overawe (someone), especially in order to make them do what she wants.
* Protector; willing to go as far as she needs to, in order to protect her family.
* Bravery; there isn't much that she is afraid of.
* Combat; ready or eager to fight, well trained.
F L A W S & W E A K N E S S E S
* Uncommunicative; not conveying much or any meaning or sense
* Comes Off As Rude; while she doesn't try to be this way, she often comes off as such.
* Dismissive; her willingness to turn a blind eye is a huge flaw.
* Natalie Warren; she is entirely too attached to Natalie, to the point that she could be used against Talia.
* Her Pack; she would do anything for them, even sacrifice herself.
F E A R S
* Abandonment; she fears one day having no one at her side.
* Falling Out; she fears being on bad terms with family/friends.
* Being Judged; (General Anxiety here.) she has a hard time coping with the idea that her very existence is heavily judged by those around her, those who are watching her closely as she ages, keeping a careful eye out to see who she becomes and what she does with her status.
---
---
H I S T O R Y
[In editing]
---
---
...........................................................................................................................................................................................