---
---
---
---
"I don't want anyone to get hurt because of me."
---
---
|| Full Name ||
Tate Connor Bullard
|| Nickname(s) ||
Tatum (by his sister), T, Bullard, and Omega or Lone Wolf (from old pack).
|| Age ||
17
|| Birthday ||
Tenth of August.
|| Gender ||
Male
|| Sexuality ||
Pansexul (very open about it).
|| Role ||
Omega Werewolf.
|| Quirks & Habits ||
Whenever he's nervous he tends to bite his lip sometimes even drawing blood.
Doodles on anything he can wherever he is.
Hangs on whoever he's talking to lasts word.
Always adds his opinion even if he isn't in the conversation.
---
---
|| Likes ||
Art - Art class is his favorite class he gets what he's feeling out through painting it.
The Woods - He finds it a get away from anything he's dealing with there's just something about the fresh air and the moon that calms him down.
Being alone (or so he thinks).
Secretly loves the idea of love.
Basketball (he always played it with his sister).
Honesty.
His best friend, Carson.
Full moons.
Cheesy romantic movies - though he'd never admit it.
People who care and understand him.
|| Dislikes ||
Changing himself for other people.
Being forced to do things.
Werewolf movies - he finds them insulting.
Lies.
Hunters.
People who think they're better than everyone.
|| Flaws ||
Easily jealous.
Hard for him to trust people.
Constantly doubts himself.
Doesn't think before speaking.
|| Fears ||
Being completely and utterly alone, forever.
Losing people he cares about or hurting them himself.
Heights - They honestly terrify him, just try getting him on a Ferris wheel.
Losing control - when he shifts, or even mentally sometimes.
Cats - They hate him and he hates them.
|| Personality ||
Due to the things Tate has had to go through his personality has changed drastically throughout the years. He used to be a boy who never spoke his word, never stood up for himself, kept his werewolf side in control and dormant especially trying on full moons, and he trusted too easily. But now he tends to always add in his opinion, rarely lets anyone know him truly or trusts people, impulsive when it comes to things also has a problem with his anger, and if he does really care for you he will risk everything.

In school he tends to slack off, though he is very smart, he never does his homework and frankly people are to scared to make him except his 'father' Deputy. Harvey who he tends to listen too. He also tends to put up a strong barrier between his actual feelings and the one he displays, most people see him as a careless, rude teen but if you were to really get to know him if he let you in you'd see a whole new caring side. On full moons he seems to be more caring for others and more open. He's brutally honest and if he's happy he'll act pretty goofy and annoyingly flirty. Tate has only been in one relationship, and it was with a boy he met once whilst traveling, it didn't last long but Tate really did like him. He thinks he can fall for anyone and really doesn't care who, its personality for him. He needs someone who can stand with him and calm him down when he needs it. He also puts most of his emotions into art, in which his room is full of, he tends to just doodle or paint any little thing on his mind.
---
---
|| Height ||
6'1"
|| Body Build ||
Quite muscular and tall build.
|| Hair ||
Dark chocolate hair.
|| Eyes ||
Dark brown eyes though a light, bright blue while shifted.
|| Place Of Birth ||
A small town in Virginia called, Revenants.
|| Occupation ||
High school students at Beacon Hills high school.
|| Family ||
Tate's family was killed by hunters when their pack got into a battle with local hunters.
|| Current Living Situation ||
Lives in a medium size home with his 'father', Deputy Harvey, who took him in. Harvey doesn't know about Tate being a werewolf because on full moons Tate claims to go to a 'friends' house, but ends up walking around throughout the woods not wanting to hurt harvey or anyone.
---
---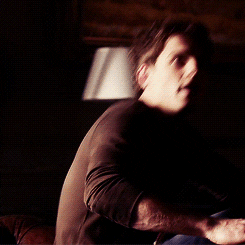 || Background ||
Tate was born into what seemed like the perfect family though he was born a werewolf. Being originally from Virginia his family moved around a lot until they finally settled into a little town in California when Tate and his sister, Vera, were around 6. As a kid, Tate was mostly quiet, would only really talk to his sister even in school which was quite easy for him, he would never stand up for himself leaving that to his sister as well. Even if he carried the werewolf gene he chose not to use it as an advantage, these traits were not good for a werewolf and Tate's family were aware of that but they saw Tate as a lost cause so he grew up sticking to his old ways.

That is until a new pack rolled into town, making their presence known by taking out a few hunters who were passing by themselves, showing that they weren't in town to 'joke around'. Not wanting trouble from them, Tate's family joined the pack. The pack gladly took his family in mostly for more strength in numbers though they were reluctant when it came to bring Tate in, seeing as he was the weakest of them all and wouldn't contribute much. Tate's family and their pack lived fine for a while until as expected, more hunters came into town. The alpha and a few other members of the pack wouldn't leave them be, whether it be taking innocent lives just to show off or just causing a scene as much as they could. It didn't take long until the hunters snapped and planned a huge attack, and the attack was huge indeed. It managed to take out almost all the pack, including Tate's family, Tate being himself stood back. And when he learned about his family he was devastated and didn't know who to turn to.

The left over of the pack made a decision and decided to kick Tate out as they had no reason to keep the broken 14 year old. Being on his own Tate changed gradually he became careless, impulsive, and didn't keep anyone close to him. He traveled for a while with no idea where he was heading and no real care, he finally settled in Beacon Hills with no real reason of why he was just sort of drawn there. Tate slept in his old family car he drove around never really getting caught for being underage, he was eventually found by a deputy named Harvey from the Beacon Hills police department who after some time, as much to Tate's surprise, took the now 17 year old instead of sending him into a foster home since he wasn't yet 18. It took a while but Tate got used to his new father and he was now enrolled in school which he actually enjoyed, he was stronger in every sense but still doesn't plan on joining other packs or letting anyone know what he is.
---
---

|| OOC Information ||

Character's color |

(#BF0000)



Face Claim | Nathaniel Buzolic

Played By | SimpleSinner


---
---