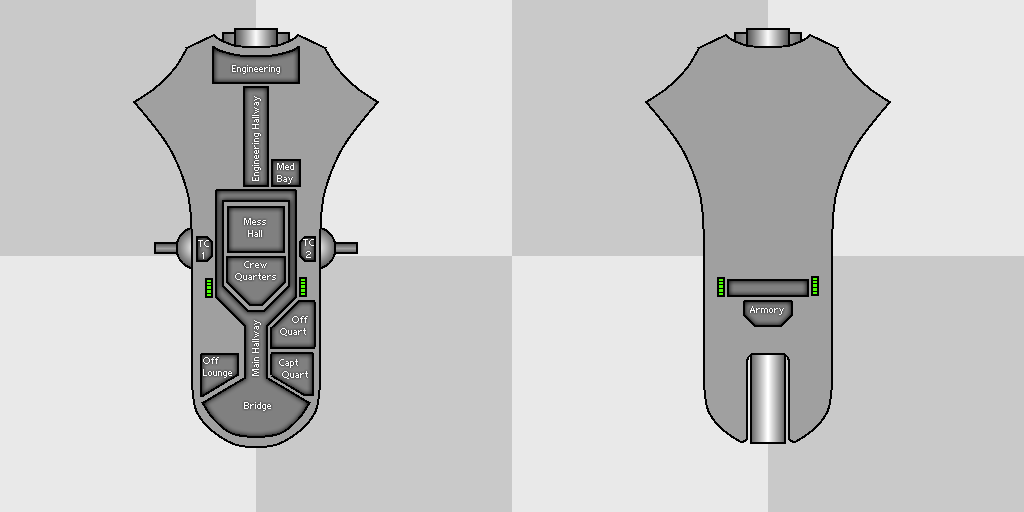 The Onyx is a corvette class star ship in the Dathidan Republic military. It is captained by Commander Asiros Viridin. Under normal conditions it has a crew compliment of 60 personnel plus a squadron of 10 marines.
There is a launch bay that houses two drop ships, one small transport craft and one scout craft.
As it's name implies, The Onyx's hull is entirely black making it difficult to spot visually against the black background of space.
The most prominent external feature of The Onyx is it's large arcpulse cannon situated at the front of the ship just below the bridge. The location and recessed nature of the cannon gives the ship the appearance of the barrel of a standard handgun.
Fritswick is in what makes for a sick bay aboard The Onyx. It's not very large, only 3 beds/slabs that jut out from the wall. Each bed has a screen situated high above where the patient's head would be and a fluorescent keyboard on a small shelf nearby. There is a counter and a stool on each side of the room and Fritswick is currently situated near one of these.
There are two sliding metal doors. The first leads to a large closet where medical equipment is kept, the other leads to a hallway.
There are various medical devices scattered on the counters. There is a comms device on the wall near the door that leads to the hallway. The room is lit by a large circular light embedded in the ceiling. Cameras in the form of small black spheres are in each corner of the room near the ceiling.
5 posts here • Page 1 of 1