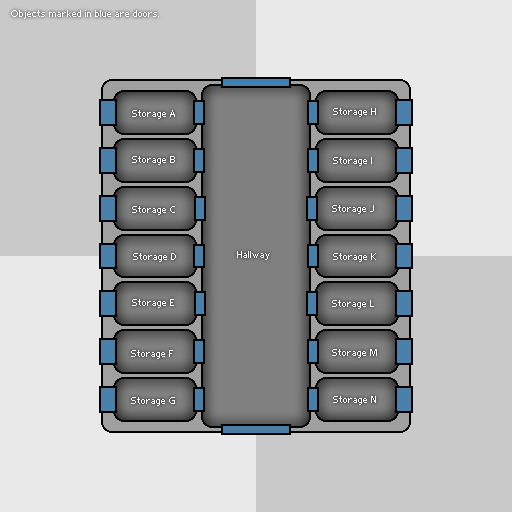 Kyle and Ramirez are in a wide metal hallway. It is currently completely dark. The ceiling is around three stories high. On each end of the hallway is a large wide door that is impossible to open.
Normal sized doors line the hallway. Each door has a small window and a panel on the side. Touching any of the panels will illuminate it revealing two buttons that will allow you to open and close these doors. Once a panel is illuminated it will also illuminate the immediate area, although it will not allow you to see the entire hallway all at once nor will it allow you to see through the windows. After a few seconds the panel will automatically turn off leaving the hallway dark again.
The gravity of this place feels different. You weigh roughly 3/4 of what you would normally weigh.
If you allow your eyes to adjust for a few minutes you may notice a small amount of light coming through one of the windows. (Storage A) If you look through this window you will see an empty room with the far wall missing. Beyond the missing wall you will see only stars. The door to this room is impossible to open.
There is a life support device near the ceiling but it may be impossible to see and even more impossible to get to.
5 posts here • Page 1 of 1