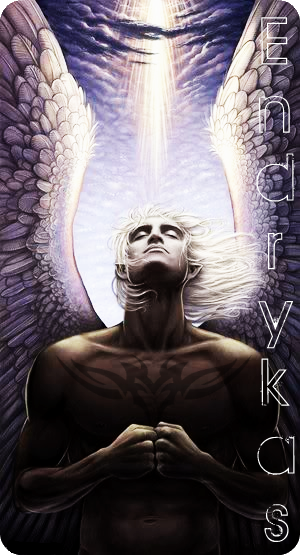 .x God of Creation
[

থ

]Name :: Not only is he known by many names, but he is not known by any, other than his own Godly kind. Those who worship him may call him Endrykas. However, he comes in many different forms, avatars that he use to present himself to his subjects. In these avatars, he may hold a different name, or may even remain nameless. However, one thing that remains constant through all of his forms is his gender, which can clearly be established as male.

[

থ

]Personality :: While always retaining a very dominant nature, Endrykas can be very caring and understanding, as he has created all that lay before him. He accepts all for their differences, no matter how large. He is most likely to let things slip, unless it comes to another of the God's doing wrong. He adores the other God's like he would his own Children, even if he does get rather agitated with them at times. Though they all have equal power, Endrykas can be considered the King of the Gods. He seems to be very noble in his ways, always looking for the best for not himself, but rather for those around him. He has had several attractions with Mortal women, though none of them have ever won his heart like Neviru had at one point in history.

[

থ

]Description :: Endrkyas can take many forms, becoming both ugly and also wonderfully handsome. In his True form he is known for being strikingly majestic, large white wings flowing out behind him at all times and a white-light seemingly erupting all around him. While his hair can retain a white color, it is usually a golden blond with his eyes being a vibrant green. His body structure is muscled, though not overly so, with usually nothing but a pair of white pants to cover his lower-body. As such, this also shows off his broad chest that is marked by several tribal tattoos that run across his chest. This God is also always bare-foot, so that he is closer to the ground he walks upon. Though he can present himself without wings if he chooses to, he takes great pride in them, as he does everything he has created. He also takes great pride in the Crown that he wears, given to him by an attractive Lover of his many, many years ago. The original sender no longer lives, nor is even present in the after-life.

[

থ

]History :: Though Endrykas seems to be at ease with most of the Gods and Goddesses, there is one whom he doesn't like in the least. One Goddess, who angers him the most and sets him on edge whenever he is around her. Neviru, the goddess of Destruction, whom played him as a fool during the time when even the Gods were still laying down their names on the land. After many years of war between the two over the boundaries, Neviru came onto Endrykas's land in an attempt to seduce him, thus becoming Lovers for some time, each adoring one another, no matter their differences. This wondrous time of peace soon came to a halt as Neviru brought up the infamous discussion of who would control the Celestial Forest. Endrykas was enraged, that she would want to claim the realm that he loved, where his palace lay and every thing that he ever created grew in lush numbers. At this, he cursed her. Hated her, and as such, started a war with her, banishing her from ever stepping foot on his land. They went at each other, tooth and claw, nearly every day at the border between the two. Endrykas viciously defended his border against her until between them, along the border was built up a large mountain range, reaching through the skies and holding both perilous danger and lush paradise.