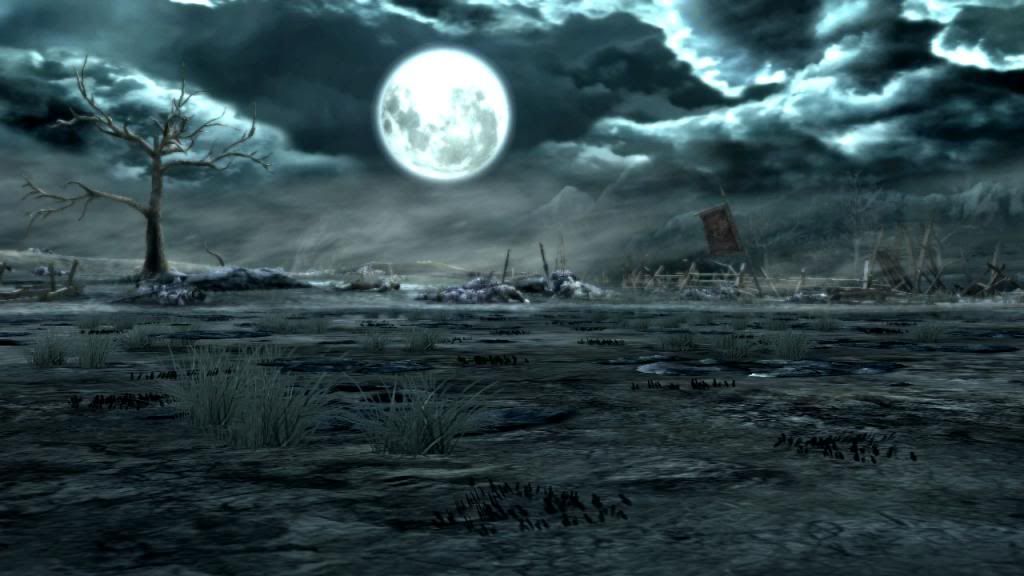 "The blind man can't guard your back."
-Ter'Cian idiom meaning "obliviousness is fatal."
The History of Ter'Ciel
For generations the land of Ter'Ciel has been divided. The Ata'hua, longtime dwellers of the vast and lush plains of the east, lived in harmony with nature and sought to preserve their rich heritage against the test of time. The people believed themselves to be the children of the planet, and held a lofty sense of privilege as heirs to its bountiful resources. Inevitably, their steadfast yet narrow view of the world proved to be the Ata'huans' undoing.
Situated in the northwest corner of the Caldarian continent, the Kingdom of Valexia enjoyed immense prosperity from its recent increases in continental trade. Soon, the ambitious ideals of the kingdom encroached upon the old-world traditions of the eastern tribes and thus, the wheels of discord began to turn. Disputes gave way to skirmishes which soon escalated into organized, internal warfare. Unable to withstand the military might of Valexia, the Ata'huan tribes found themselves at the mercy of their technological superiors. Those who resisted met with an untimely end, while the remaining Ata'huans were enslaved and forced to watch the influence of modern culture affect the only world they'd ever known.
The proud fire of tradition that burns in the heart of every Ata'huan eventually proved too much for Valexia to control. Rebellions sprung up in increasing numbers and the ensuing chaos saw the destruction of much of the kingdom's inhabitants and resources. Valexia was left with no choice but to allow equal rights to be granted to the people of the eastern tribes. As both nations began to rebuild what the other had taken from them, it was obvious that too much damage had already been done. While war has not again broken out, tensions between the Ata'hua Tribelands and the Kingdom of Valexia remain as thick and apparent as ever. Each nation watches the other with eyes of suspicion, constantly wondering when the seemingly inevitable threat of war will loom over Ter'Ciel once more.
Present Day
Reports of altercations between Valexia and the Ata'huan Tribelands have increased in number as of late. The people do little to conceal their racism and social tensions are running high. Stories about traders losing business and ambassadors going missing only add to the political unrest between the two nations. With both parties expected to take action, one particularly curious rumor has the nations' leaders more than a bit concerned...
The city of Harlemont teeters on unsteady ground. Standing on the land in both Ata'huan and Valexian territory, it has long been viewed as a sanctuary for all. At the center of the humble city lies a temple housing a legendary artifact of great influence.
The Mirror of Akyel has existed since before the written word and has miraculously survived due to the protection of a chosen few. The mirror was said to have belonged to the hero Akyel. A young man who, according to legend, ascended to the heavens as a human deity to cleanse the world of a deadly poison, it is believed that he first received the oracle foretelling of his destiny from gazing into the reflection of the mirror. While the exact details of Akyel and the unknown "poison" remain widely speculative, the sacred mirror is a tangible testament to the history and survival of Ter'Ciel.
The mirror has resided in the care of Akyel's followers ever since. Enshrined in a temple at Harlemont, it is visited by countless faithful and skeptical viewers each year, drawn by the allure of the power it is said to behold.
Many believe that the Mirror of Akyel is the hero's way of continuing his watch over the world he loved so much. That, when the time comes, it will be used to save Ter'Ciel from destruction once more. Popular belief among the modern kingdoms, primarily Valexia, claim that the mirror will summon forth Akyel himself. A hero reborn to smite any who oppose them and usher in a new era of prosperity. A radically different tale can no doubt be heard among the tribes of Ata'hua saying that the mirror will summon the guardian beast of the earth. This guardian will purge Ter'Ciel of all injustice and return the rule of the planet back over to its rightful owners; the children of the land, the Ata'huans.
Standing on the land of both nations, Harlemont finds itself with a voice in each ear. With the threat of full-scale war looming on the horizon, surely the power of the Mirror of Akyel will prove to be paramount in the case of the planet's future. But the hushed words barely heard in noisy taverns and narrow alleyways only add to the peoples' unrest:
The Mirror of Akyel has gone missing...
The World of Ter'Ciel
Ter'Ciel is a vast world consisting of several continents. This story will mainly feature the happenings of one continent in particular, Caldaria. The center of the mainland consists of flat, grassy plains of the Ata'hua Tribelands, surrounded by more rugged, mountainous regions on the continent's coastlines. The Kingdom of Valexia lies to the northwest by the sea and is the largest city on the Caldarian continent. Other, smaller towns lie scattered about Valexian territory. East of Valexia is Harlemont, the halfway point between the kingdom and the tribelands. To the north is a vastly unexplored territory of thickly forested land. Far to the west there exists an island that belongs to neither Valexia nor Ata'hua. The city of Davonshire was built upon this land and is an independent, mercantile nation ruled by a family of nobles.
The technology of Ter'Ciel is somewhat unevenly distributed across Caldaria. The Ata'hua Tribelands, although aware of modern technology, widely refuse to change their traditional ways. As such, the villages of the tribelands include clusters of huts among the marshlands and gypsy-style caravans drawn by horses. The Kingdom of Valexia, on the other hand, has recently discovered how to master the usage of steam. This new energy source powers crude yet advanced machines such as airships, elevators, etc. An easy comparison would be a somewhat Steampunk-era world where new age inventions meet old-world staples. As such, electricity is popular but many still use candles, it is commonplace for individuals to carry swords or various other forms of melee protection, yet crude rifles are new on the market.
Magic is also a known phenomena in the world of Ter'Ciel. Spells are divided into two main divisions; the first type consists mainly of charms to help find lost objects, bring good fortune, places curses, etc. The other type is more unnatural and conjures forth magical energy to create and manipulate things such as fire, air currents, small-scale natural disasters, etc. While magic is somewhat commonplace in Ter'Ciel, one still must be born with the talent to control and manipulate mana.
While "monsters" do not widely inhabit the lands and plague the people constantly, it is not entirely unheard of for people to encounter savage beasts in the more rural, uninhabited locales of Ter'Ciel.
That about covers the basics of the world. If you have any additional questions as to the technology or culture of Ter'Ciel, do not hesitate to ask me. Also feel free to contact me about adding any new locations to the world map.
Allow me to first acknowledge the primary, obvious rules that govern nearly any roleplay on this site...

- No godmodding. 'Nuff said, right?
- No "perfect" characters. I know it's a fantasy story but let's be realistic here. If your character is an expert martial artist child prodigy mage with perfect hair and flies around on a dragon with 9,999 HP, I ask that you leave this roleplay to us lesser folk.
- Do not assume control over anyone else's character without their permission.

That about covers the basics. Now for a few more bits...

- There is a pretty decent chance that your character(s) will be involved in physical combat during the story. If you find yourself in an altercation with another player character, any attacks you perform should be written as attempts...

(Example: "Joe raised his sword and rushed at Jane, swinging wildly.")

You'll wanna give Jane the chance to defend herself. Or die on her own terms.

That being said, please do not make your character ridiculously bloodthirsty and/or invincible and able to skillfully dodge everything thrown at them. (See no godmodding rule)

What to Expect from this Roleplay

This is the important stuff... Have you ever been involved in a great roleplay on this site or somewhere else? You create your characters, put them in a world, and are all too excited to get started with their story...and then the roleplay dies. This has happened to me more times than I'd like to recall and every time I swear I'm gonna never visit this site and get invested in it again. And yet here I am. -_-

My goal is to make this roleplay for all those who have gone through that same experience. For those who dream of an epic story of great length. One that is constantly changing and evolving with the characters and the world they live in. Therefore, it is imperative that I say...

If you cannot commit to this roleplay - or maybe even think that you can't - please refrain from joining.

You'll only be wasting my time as well as yours, and that's no fun for anyone. If life happens and you will be unable to post for some time, please contact me to let me know. I will contact anyone whose characters are inactive for an extended period of time. If you do not post within a week, your character will be killed off in a most uneventful manner and the rest of us beautiful people will continue on without you. Please don't make me do that... :'(


Creating Characters

Realistically I'm just looking for people to join this roleplay. Ideally, however, I am seeking people with passable grammar skills who create characters that are influential to the storyline. Characters that have their own personal goals and duties but who also can remain relevant to the overarching plot are preferred. It would also make things more interesting to have a diverse cast. Some holding allegiance to Valexia while others may be Ata'huan, and still others may not be a part of either nation, etc...

When creating your character, please put thought and effort into it and include the following...

Name:
Race: (There's no list of acceptable races. Why don't you make me an offer?)
Age:
Gender:
Homeland: (I have a map of the world but it's mostly blank right now. Feel free to have me add something to it!)
Appearance:
Personality:
Talents/Skills: (swordplay, martial arts, alchemy, cooking, magic, keen eye for detail, memorization, deceit, etc.)
Weaknesses/Vices: (greed, drinking, physical combat, common sense, clumsiness, weak constitution, stubborn, etc.)
Likes/Dislikes:
Equipment: (weapons, armor, clothing, items of interest, etc.)
Miscellaneous: (Optional. Anything not covered that should be known about this character.)
Background Story: (Give them at least some kind of tie into the story. This will make it easier for everyone involved.)
The painful lump in Mariette's throat only intensified when she finally came to a stop. Heaving breaths burned her lungs as she saw her satchel in the clutches of a very familiar-looking pair of hands. The dubious do-gooder from just moments before. The one they called Locke.
"Well, it would appear the goddess is determined that our paths cross. I'm afraid you missed the thief; they were a tad clumsy and dropped this after our collision."
Had he truly retrieved it from the cutpurse? Mariette did not see her assailant anywhere in the vicinity. How exactly, she wondered, did this Locke fellow manage to get ahold of her satchel?
'You have to get it back. Get it back!'
It was a bitter yet obvious truth that this man had the edge over her. He was street-wise. Cool under pressure. The girl knew that getting the Mirror back wouldn't be easy. But before she could begin to speak, the man continued, his voice honey dipped like a gentleman suitor.
"I've heard it said that a man should never examine the contents of a woman's belongings, so perhaps I'll forget seeing what's inside in light of the circumstance."
With that, he thrust the satchel out to her.
Her face contorted in dazed hesitation, Mariette paused.
'He's…giving it back? Why? He must know what's inside. He must have looked. So…why?'
Slowly, she reached out, fingers wrapping delicately around the top of the satchel. Feeling the all-too-familiar grip on her bag, Mariette snatched it, clutching it to her bosom protectively. Her words were carefully chosen, albeit clumsily delivered…
"Th-thank you. I…I cannot thank you enough…sir. I…"
If he
had
seen the contents of the bag, there was no way he would return it so eagerly.
Her hands felt around the outside of the satchel. Sure enough, the unmistakable outline of the Mirror of Akyel could be felt beneath the rugged fabric. The Mirror had only been out of her possession but a few minutes, but to Mariette, the reunion could have just as easily been a lifetime.
She cast another glance at Locke. He merely returned her gaze with a solid smile that she could only describe as…
'Noble.'
Somehow, on the dirty streets of Valexia, amidst the clamor, the hungry stares, the wolves circling the lost sheep…she had found someone special. Someone trustworthy. Immediately, the girl felt a pang of guilt for dismissing the man as a liar and con artist. Truly, it seemed that the Goddess was on her side this day.
Mariette breathed a heavy sigh of relief, and suddenly noticed how exhausted she felt. It seemed that the day's ordeal had taken a greater toll on her than she'd initially realized.
'Perhaps I should rest for today. I cannot afford to let my guard down again.'
With a renewed and welcome sense of security, the girl thanked Locke once more and offered a prim bow. She then turned to Ilana.
"If you please, Miss Ilana, would you perhaps escort me to a proper inn? I would like to retire for the rest of the day."
The plan seemed simple enough. She would get some much needed rest before setting out on the first ship to Davonshire. Away from Valexia, away from Ata'hua… Freedom was within her grasp.
---
The Paladin slowed her breathing when the chase came to an end, and she was surprised to see Locke awaiting them with Mariette's satchel. She allowed the exchange to take place, not interrupting any of the words between the girl and the thief, but she studied Locke closely with slightly narrowed eyes the whole time.
Her horse came up behind them at a trot, Ilana taking hold of her with a gloved hand and gently patting her to make sure she was calm. When Mariette asked to be escorted to an inn, she thought for a moment, glancing between her two companions.
"I can... but you're coming with us." She was looking at Locke. "I'd prefer if you stay somewhere I can see you. At least for the moment." It was pretty clear she wouldn't be giving him a choice in the matter. Whatever was in Mariette's bag, he'd clearly had a chance to see inside, and if it was dangerous, that made him a threat, at least to Mariette, and possible to more. In this case... it seemed better to keep an eye on him than risk what he would do if she were to let him go.
"Come on," she said, heading out slowly at first, "I know a place not far from the docks. One that's typically devoid of barfights." Ilana led the way, checking back behind her regularly to make sure her two charges were following. Mariette seemed a bit taken in by Locke's apparent generosity, but Ilana was not going to be won over so easily. She'd heard what he'd planned to do earlier, and obviously if he still intended that, his plans would need to change with Ilana around, lending her protection to Mariette. She would have voiced her concerns to the girl, but it didn't seem appropriate with Locke standing right there.
The inn she led them to was, as she said, not far from the docks, and not in quite so densely packed a part of town as the rest. It was a two story, fairly wide building, with its own stables, where she left her horse in the hands of the stableboy. She led them inside, stopping before the counter with her two charges behind her.
The innkeeper seemed to recognize her. "It's... Ilana, isn't it, my lady? It has been some time. Welcome back to the city."
"Thank you, Bertran. It has. I will be needing a room large enough for the three of us for one night, please." She pulled a small pouch of coins from her belt, tipping several into her hand and setting them on the table.
"Of course, my lady. I always welcome having a Paladin in my establishment. A discount is in order, I think." He took only half the coins she offered him, sliding back the rest. Having learned by now not to try and refuse people's kindness, Ilana took the coins back with a smile and her thanks.
The innkeeper led them upstairs to their room, promptly leaving them to their privacy. It was a sizable space, with beds for all three of them, a window overlooking the waterfront of the city. The ships had left by now, and the bustle of the streets having passed peak activity.
Setting her bags down at the base of the bed she chose, Ilana took a seat, thankful for a chance to get off her feet for a bit. And there were still a few things that needed clearing up.
"Before that unfortunate occurrence in the alley, I believe you were about to tell me what is in that bag. And I believe our friend Locke here already knows, so perhaps it's best to just get everything out in the open. This is a safe place." As safe as somewhere in Valexia could be, at least. She would have taken them to the monastery, but that was at least an hour's walk out of the city, and she wasn't too keen on bringing a thief there.
---
In his mind he cursed the Paladin over and over. It would appear that even with Mariette so deeply convinced she was keen to watch him like one does a viper. Locke understood of course, even if it was deserved, he was familiar with that kind of stare. Judgment from on high from those who knew little of what the streets of Valexia were truly like, and while it frustrated the would-be thief, he graciously accepted her mistrust. Even after she explained how she'd prefer to keep an eye on him, he only answered with mild offense.
"A thief eats only when he steals m'lady Paladin, but as you insist."
He followed the troupe as they made their way toward the docks. Quietly Locke guessed at the locale they would be visiting next. As the smell of the air became mingled with the salt of the sea he found himself correct in his theories. It was a rather nice inn brought up to catch the gentlefolk coming to and from the vast oceans. It was a sort of tourist locale where even the moderately wealthy could find some peace within the rambunctious hustle of the city. Admittedly Locke rarely came down to these parts, there were considerably less places to hide or scurry to in times of trouble, and everyone in the underbelly kept eyes on the coming and going people.
Yet they made their way inside and much to Locke's surprise he was even offered a bed to lay on. No doubt the Paladin didn't even realize what kindness this was to someone that looked as he did. He quietly wondered if she even noted the eyes that seemed so transfixed upon them. Indeed they had to be the oddest group to have entered today, and what's more they were going to be rooming together. If Locke wasn't a direct participant he would have had a good laugh down in a tavern somewhere about this sight. 'So a Paladin, a rich girl, and a beggar walk into an inn'.
It wasn't long before they were confined to the room Ilana had purchased. Locke was beside himself with a child-like joy. Going as far as to dive onto the bed closest to the door, burying his nose into the warmth of the blankets, it was a rare occasion that he bothered to sleep anywhere that wasn't a shoddy cot on a floor. Even when he had earned Akeli, it often went quickly and without care. Isolated in his own wonder he had forgotten momentarily why he was there in the first place. When he remembered the eyes of Mariette and Ilana he stopped, stood and straightened his clothes.
In fact his heart sank when Ilana brought up the contents of the bag. He had to quickly make a decision on how he wished to approach the entire situation. There was no doubt that if they knew what was in that bag that his actions would be brought into question, whether they believed him kind or cunning was irrelevant. He needed to distance the thought of him from the mirror in order to lull the poor girl into comfort.
He looked up from his bedside just as Ilana was finishing up her query and leapt to his feet. Making no secret of his direct walk to the door, but even as he moved to leave he gave a parting smile to his benefactors. He knew Ilana wouldn't want him to leave, but if the mirror is associated with his presence it could spell trouble when he tried to retrieve it later.
"I'm off to get a bath. I'll bet they even have hot water. It would be a nice change of pace eh? "
---
Arcs are bundles of posts that you can organize on your own. They're useful for telling a story that might span long periods of time or space.
There are no arcs in this roleplay.
There are no quests in this roleplay.
Here's the current leaderboard.
There are no groups in this roleplay!
Welcome home, Promethean. Here, you can manage your universe.
Arcs are bundles of posts from any location, allowing you to easily capture sub-plots which might be spread out across multiple locations.
You can create Quests with various rewards, encouraging your players to engage with specific plot lines.
Settings are the backdrop for the characters in your universe, giving meaning and context to their existence. By creating a number of well-written locations, you can organize your universe into areas and regions.
Navigation
While not required, locations can be organized onto a map. More information soon!
There are no groups in this roleplay!
By creating Collectibles, you can reward your players with unique items that accentuate their character sheets.
Once an Item has been created, it can be spawned in the IC using /spawn Item Name (case-sensitive, as usual) — this can be followed with /take Item Name to retrieve the item into the current character's inventory.
Give your Universe life by adding a Mob, which are auto-replenishing NPCs your players can interact with. Useful for some quick hack-and-slash fun!
Mobs can be automated spawns, like rats and bats, or full-on NPCs complete with conversation menus. Use them to enhance your player experience!
Current Mobs
No mobs have been created yet.
Locations where Mobs and Items might appear.
You can schedule events for your players to create notifications and schedule times for everyone to plan around.
Add and remove other people from your Universe.
The Forge
Use your INK to craft new artifacts in Ter'Ciel Saga: The War of Akyel. Once created, Items cannot be changed, but they can be bought and sold in the marketplace.
Notable Items
No items have been created yet!
The Market
Buy, sell, and even craft your own items in this universe.
Market Data

Market conditions are unknown. Use caution when trading.

Quick Buy (Items Most Recently Listed for Sale)
Discussions
Most recent OOC posts in Ter'Ciel Saga: The War of Akyel