Name:
Crixus Atani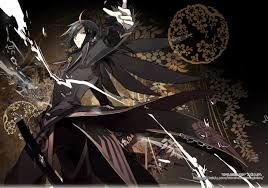 Race:
 Human
Age
: 27
Gender:
Male
Homeland: 
Ata'hua Village of Kirlsa
Appearance:
Crixus stands at an even six feet. His skin is on the lighter side, not quite porcelain but definitely not retaining much color. He has dark eyes framed around a very serious brow, his right eye mostly covered by his long jet black hair. He is muscularly toned with long limbs, but he is slightly on the skinny side. He can be considered quite attractive, however he tends to not care how others perceive his looks.
Personality:
Years of war among Vakexia and Ata'hua have shaped Crixus into quite a cynical young man. He has no care for the well being of others and looks after himself. He can be a slight masochist at times, enjoying the pain he feels when engaged in combat, and he is most definitely a sadist, as he enjoys inflicting pain to his opponent, as slowly as possible. However cruel Crixus is in combat, he does not actively seek to harm innocent people, but to him no Valexian is innocent. His tongue is sharp and intelligence is keen, but he is very abrasive and abrupt in his speech, so only someone with extreme patience can stand him for too long. Although it takes much to truly incense him, when brought to his boiling point there is no rage as loud and fierce as that of Crixus'.
Talents/Skills:
  Crixus is the youngest former military strategist for the Ata'huan military. He served from the age of seventeen until just recently, when he left his position after the death of his wife and unborn child at the hands of Valexian soldiers. As such, it is first most prudent to note that Crixus has one of the most gifted military minds of anyone in all of Tar'Ciel. He has an uncanny ability to adapt to almost any situation and predict enemy movement. His other great skill lies in his swordsmanship and control of his spiritual familiar, a raven. What the Ata'huan people lack in military technology they make up for in their ability to weave magic. While not an Ata'huan shaman, Crixus has made a pact with a great animal spirit, the raven Vyers. With the help of Vyers he can surround his sword and body in cloaks of dark, shadowy feathers, and manipulate them and the shadows they weave.
Weaknesses/Vices
: After the death of his family, Crixus has...slightly unhinged from reality. Nightmares plague him and at times he believes he is seeing things. His mental instability is his greatest weakness, especially because it is his coping mechanism for the trauma ha has faced, so he at times does little to hide his ever growing insanity. His physical strength is somewhat on the low side from someone of his size, and it is difficult for Crixus to have Vyers summoned for extended periods of time.
[i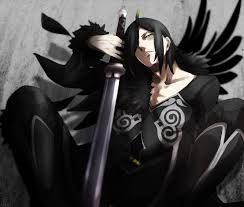 ][/i]
Likes/Dislikes:
Likes: Being right, ice cream, winter, blood, solitude. Dislikes: Noise, stupidity, the smell of smoke, seafood.
Equipment:
Adorned on his left hip is Crixus' sword, a simple nodachi style blade. He wears mostly black clothing with gray Ata'huan designs embroidered into the cloth. He also carries a knife hidden in his right boot.
Miscellaneous:
 While Crixus is considered to be a military "genius" it is worth noting that he does so by cheating. Crixus uses Vyers to scout enemy movement giving him real time information through their link to one another, a feat that is unheard of with the use of the level of technology for this time period.
Background Story:
 Crixus was born of an Ata'huan shamaness and a Valexian nobleman. Growing up he rarely saw his father, as it was difficult for him to visit him and his mother. It is forbidden for Ata'huan to dilute their heritage by sleeping with outsiders, and as such their union was kept a very well guarded secret. This is until Crixus was eight years old, and the Valexian army raided their village. The village fought back as best as they could, but in the end it was reduced to ash. His mother had hidden him well in a hollowed tree a little bit away from the village, but through a peephole in the bark Crixus could see all of the horrors of war unfold before him. Men and children were captured and sold into slavery, women were raped and taken home as property, and all shamans and shamaness' were executed. When it was his mother's turn to face the axe of the executioner, his father could not allow it to happen, and attempted to stop the execution. He was riddled with arrows, and his mother beheaded almost simultaneously.
Being an exceptionally powerful shamaness, Crixus' mother left him a magical will of sorts. Upon her death, a blank scroll she had tucked inside of Crixus' knapsack when she put him in the tree suddenly was covered in words and symbols and magical power emanated from it. Vyers appeared to Crixus that night after her death, and he explained that he is now spirit bound to Crixus. His mother's death was the binding agent in the contract she signed with the great spirit when Crixus was born. Vyers was not entirely pleased with the arrangement, but he is unable to refuse the orders of his contractor. The raven was also instructed to tell the boy to head to the center of the tribelands and seek refuge with the spirit warriors, and to grow strong, strong enough to acquire the mirror and use it to cleanse the land of the filth that murdered his family.
Crixus did just that, and he became a military strategist for the Ata'huan army. His nickname on the battlefield was The Nevermore, respected by the Ata'huan army and feared by the Valexians. He even took a wife when he was 25, a young Ata'huan girl named Phylla. He loved her more than anything, and within a year she was with child. But, his happiness would not last long. Crixus was defending a village under siege by the Valexian army. They were camped outside his doors for more than three months, constantly wearing down the defenses of the village, but Crixus was always able to drive them back. Knowing it was impossible to outwit Crixus, the Valexian's instead brought down immense firepower on the village with cannon fire and juggernauts. Crixus' hubris lead to the destruction of the village, and the death of his wife. If only he had made the decisive final blow against the army sooner, and not allow them to regroup, Phylla would still be alive.
Today, Crixus is a lost wandering soul. He has abandoned the Ata'huan military and he only has a single purpose in life now: to find the mirror of Akyel and finish his mother's work, and rid the earth of the Valexian plague once and for all.