---
---
"To find Something to fight for is my goal"
---
---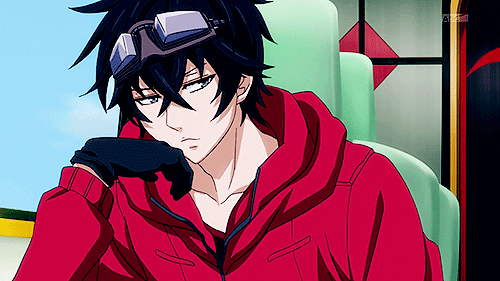 ~Name~
Fintan Fletcher
~Prefer's~
Fin
~Alias~
- The Devils Right Hand -
His speed and uncanny ability to never miss his target earned him this from his peers.
- White flame -
Derived from the meaning of his name, Fintan, and his personality
- Flynn -
A name his few friends have called him on occasion
~Age~
16
~Birthday~
December 17th
~Gender~
Male
~Dialog Colour~
#CC1100
~Weapon Class~
Ranged
~ Weapon Choice~
Two Semi-Automatic Revolver guns, one black and one silver
~Rank~
Red - Rank Three
~Ribbon Location~
Tied around his upper right arm.
---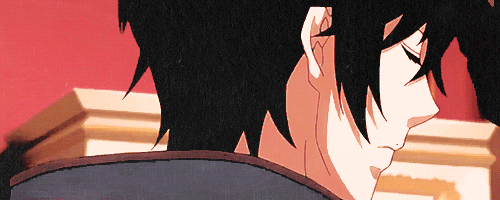 ~Appearance~
Height: Six Feet 2 Inches
Hair Colour: Onix Black
Eye Colour: Ice Blue
Build: Toned
~Description~
At first glance, most people would often mistake Fintan for your regular thug. His hair is a scrambled mess often reflecting his night's sleep. Never keeping it tidy more than often some of it curves in various directions, your typical 'messy bed head' as some would call it.

Fintan's facial features are broad, his chin square and clean shaven his cheekbones soft and his nose a straight ridge before plumping around his nostrils. His eyes are a chilling ice blue, they don't often show much emotion other than bordem or fierce intensity. However on rare occasions, they soften to show his kindness when deserving. A thick frame of black lashes surround them causing their colour to stand out against his fair skin.

His body is tall and lean, he has built up muscle and strength through training developing strong arms and thighs his torso sculptured into a six pack. However, he maintains a proportioned frame never over doing it so his overall appearance is toned with amazing reflex abilities.

Most at a second glance would consider him rather handsome in a ruggish sort of way when styled with his dress sense.

~Fashion~
Fintan has never cared much for clothing, however, he does have his favourite items of clothing. He rarely buys new items but prefers to stick with his trusted garments. His first choices are always a comfortable pair of jeans, a plain shirt of some sort and then he sports it with a simple jacket. He has more jackets compared to the rest of his wardrobe varying in colours however they are always tattered from years of wear and tear.
---
---
Fintan if described in one word would be 'mysterious'.
He avoids getting close to people purposely choosing to keep to himself. Often he can be found relaxing under a tree a book on his head fast asleep napping. If he can, he tries to get out of doing extra activities preferring to relax as he is a lazy person.
Preferring his solitude not many people know of Fintan's true thoughts, he doesn't open up about his past, he keeps his past his secret not caring to talk about himself. He would rather change the subject or just exit the conversation.
When conversing with people it would be easy to think of him having a cold personality due to his standoff attitude and tendency to brush people off. However, he is not a cold person at heart. In reality, Fintan is caring and thinks of others before himself.
Yet he is also calculating. He considers every situation and every possibility his actions may cause first. He thinks logically in a tough situation choosing to push any emotion he may have away in order to concentrate on the situation at hand. To do this he knows he must not become too close with anyone in order to keep his emotions in check. He also does this to remain strong, as in battle, if someone he cared for was in danger he would not be able to risk their life, which could cause him to loose.
However there is one emotion he struggles to control, and that would be his anger. Anger has always been Fintan's weakest point, he has a short lease and can easily be agitated. It's not unheard of him getting into arguments over insults and various other petty matters. Fundamentally this is because he is a very stubborn person. He has his own way of doing things and doesn't really like to change his routine.
---
---
~ Fears~
~

Not so much as a fear but more of a hatred of Bugs

~

Loosing someone he loves again

~

Failing to defeat an enemy
~Strengths~
~

Lightning Speed and Agility

~

Strategic planning

~

His lack of emotional ties - When fighting his lack of emotion makes him impossible to read
~ Weaknesses~
~

His anger taking over his logic leading him to over react sometimes.

~

He doesn't like to accept help from other people, preferring to fight alone which can always have consequences

~

Laziness
~ Talents~
~

Fast Relfexes - he can catch a fly with ease.

~

Chess - He hasn't lost a game yet other than to an old man he met once in a park.

~

Slight of hand - Due to his upbringing he has mastered a few unusual trades

~

Cooking - He is a brilliant Chef.
~ Goals/Dreams ~
~

His goal is to become strong enough to withstand any enemy

~

His dream is to live in a world that doesn't require him to fight.
---
---
Unlike most children who live with their parents Fintan lived alone as a child. His mother passed away during his birth leaving only his father to raise him. However, his mother and father had long since had a bad relationship with one another before Fintan was even born. He has never been sure of the circumstances of his birth but from what little information he was able to gather, he found that his father had wanted his mother to have an abortion. She, on the other hand, had wanted Fintan so gave birth to him in secret, however as she tragically died during childbirth he was left to his father's custody.
Burdened with an unwanted child Fintan's father left him alone to fend for himself from the moment he could walk. Living alone other than a few hours a day when his father would be passed out on the couch from alcohol Fintan learned the most basic of household chores. He gradually became a good cook learning to make do with what they had.
However eventually what little they had was not enough.
Fintan's father built up an enormous gambling debt drinking away his winnings rather than paying the rent and bills. At the age of 8 Fintan found himself and his father homeless. Fueled with anger towards this selfish man Fintan left his father to stand alone taking what few possessions he had. He no longer cared what happened to him abandoning him to deal with his debts.
It was at this stage in life that Fintan learned to survive on the streets of the city. He wasted no time in learning how to pickpocket money in order to buy food, steal clothing and warm blankets from high chain stores. Eventually, when he turned 9 he had become adept at thieving. However he was no longer alone, his skills had quickly been picked up by a local gang. They liked his talent and wanted him to join them, however, Fintan refused. He stole to survive not for profit. Outraged by Fintans decision they tried to kill him, but Fin was still small and had many hiding places.
Like cat and mouse he was chased by the gang members and he pushed their buttons stealing their own merchandise in return. Through this dance Fintan knew he had to learn how to become stronger. One day when stealing some of their merchandise he came across a pair of semi automatic guns, the moment he felt the weapons within his palms he knew what he wanted to do. Training everyday he practiced, his aim improving, his agility getting smoother as he scaled buildings often to escape chase. During this training, he met a girl, like him she had no family and lived on the streets. She was small, fragile and afraid. Fintan had not had much comfortable social interaction with other people, but this girl settled him. She was a delicate flower compared to his brash nature. He took it upon himself to help her survive, to teach her how too. They grew close childhood friends quickly, her laughter brought an unusual joy to Fin's life.
After a few years Fintan had gained strong enough to start doing odd jobs for people around the city, he gradually began to earn a living as a body guard though his clients were never wealthy people. His name began to spread like fire as an incredibly talented young boy, the youngest to ever be able to draw a gun so quickly and be able to be employed at his age. With Elise, the delicate girl Fintan had become close friends with he used his earning to set up a home of their own. It was only a small apartment but it was theirs. They lived together peacefully for some time, but it wasn't meant to be.
One day, a knock at the door alerted Elise, as she answered the door she found an older gentleman standing there. Confused she never saw what happened next. Fintan returned home after work to find her on the ground, blood stained the wooden floor, his father sitting on a chair a knife within his hands. Fintan for the first time in his life felt his heart freeze, his entire body collapsed at Elise's side. Within a split second of his dread his anger erupted, out of control Fintan used his weapon summoning for the first time, he did not hesitate and killed his father. It was later Fintan learned the gang that had chased him when he was younger had used his father for their revenge, ironically when the learned he had the power to summon weapons they never bothered him again.
The loss of Elise warped Fintan, he was afraid to let someone become close to him again, afraid to let someone he loved be hurt because of him.
Her loss pushed him to want to become stronger, he didn't want to lose anyone he cared for again. Developing his summoning skill alongside his formidable speed Fintan applied to the academy. He wanted a change of scenery, a place to escape his apartment called 'home' where his memories haunted him. He wanted to find a purpose to fight for.