Terra
Terra is a terrestrial planet that resembles our modern day Earth. But unlike Earth, Terra has a elements of fantastical life. Every creature ever dreamed, imagined, or created
exists
. There are no bounds, limits, or rules to creation on Terra. Impressive technological cities dominate the skylines while haunted woods create chills up spines. Mystical ruins reveal secrets long forgotten and caves provide a pathway to another time. Terra is a planet of unfathomable imagination come to life.
Terra is part of the Omniverse; a collage of universes that are infinite that together comprise everything that exists and can exist: the entirety of space, time, matter, and energy as well as the physical laws and constants that describe them. Nothing is impossible on Terra.
The Shadow of Naar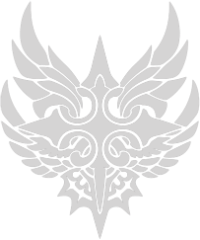 There is a terrible shadow spreading its dark hand across Terra. An Old Power of Arcanum (a planet that revolves around steam-powered technology) has been banished from his Origin. For millennium Naar has travelled through the vast expanses of the Omniverse seeking out a planet to implant himself. The paradise Terra was found by the Old God of Death with the aid of Eve Nocturne. Unable to walk the earth of Terra, he created an avatar, Desmond Bornholdt.

Naar, now with his avatar, is spreading his influence over the people of Terra. His power grows each and every day. The Time of Madness draws ever near...

But in darkness there is always light...

Maree Erd Lumariale

The powerful elven woman summoned another Old Power of Arcanum; The Old God of the Sky, Dhaelhel, sibling to Naar. It is there only hope to have a fighting chance against the powerful and dark force that is Naar. However, the summoning of Dhaelhel was too powerful for Maree to handle. A miscalculation in the thaumaturgical ritual caused Dhaelhel to be stripped of all godlike power. Now the Lumina seek out the seven missing feathers that fell from Dhaelhel's wings during the Fall.

Only when all seven feathers are collected can Dhaelhel rise to full power, enabling the god the ability to challenge Naar.

But the Naari are strong and grow stronger each day. They know Dhaelhel has come and what the Lumina search valiantly for across the lands of Terra. They will stop at nothing to deter their goal: to save Terra and all life on the planet.

And how exactly does a chicken named Nel fit into all of it?
Is this a closed Role Play?
: No, it is not. However, we the GMs are very finicky about who we allow into the roleplay. It is not determined by how awesome a character's profile is or how much content a writer can write in one overbearingly long post. We choose writers based on familiarity, trust, and activity. If you do not have your character accepted it is because we, the GMs, feel that we either do not need more players or characters at that time, or that we will feel you will not be a good fit. The GMs are not always so picky about our players, but this project is our intellectual child and it must be cared for like a living, breathing, human being: with all the love and protection we can muster for it.
Characters
: There are not many rules when it concerns characters and their creation. There is no skeleton, template, or what-have-you that needs to be made in order to submit a character.
Factions, Nations, Groups, Organizations
: If a player decides to submit a nation, or a type of group for the role play, please add it to the
Groups
Tab.
Posting and Writing
: Posts do not have to be perfect but the Game Maker does expect
effort
! Take your time and attempt to develop your writing skill. Take
constructive
criticism to heart if it is shared by the more experienced players. Placing posts in the correct Places is also important.
Double check to see where you are posting if doing so via the Activity or Posting Tab
.
And as always, RolePlayGateway's rules are enforced in this role play.
Arcs are bundles of posts that you can organize on your own. They're useful for telling a story that might span long periods of time or space.
There are no arcs in this roleplay.
There are no quests in this roleplay.
Here's the current leaderboard.
The followers of Dhaelhel, The Old God of the Sky, and those that seek to prevent Naar rising into absolute power in order to preserve Terra.
The followers of Naar. They wish to see Naar rise into his full glory so that Terra will be thrown into absolute Eternal Chaos.
Welcome home, Promethean. Here, you can manage your universe.
Arcs are bundles of posts from any location, allowing you to easily capture sub-plots which might be spread out across multiple locations.
You can create Quests with various rewards, encouraging your players to engage with specific plot lines.
Settings are the backdrop for the characters in your universe, giving meaning and context to their existence. By creating a number of well-written locations, you can organize your universe into areas and regions.
Navigation
While not required, locations can be organized onto a map. More information soon!
By creating Collectibles, you can reward your players with unique items that accentuate their character sheets.
Once an Item has been created, it can be spawned in the IC using /spawn Item Name (case-sensitive, as usual) — this can be followed with /take Item Name to retrieve the item into the current character's inventory.
Give your Universe life by adding a Mob, which are auto-replenishing NPCs your players can interact with. Useful for some quick hack-and-slash fun!
Mobs can be automated spawns, like rats and bats, or full-on NPCs complete with conversation menus. Use them to enhance your player experience!
Current Mobs
No mobs have been created yet.
Locations where Mobs and Items might appear.
You can schedule events for your players to create notifications and schedule times for everyone to plan around.
Add and remove other people from your Universe.
The Forge
Use your INK to craft new artifacts in Terra. Once created, Items cannot be changed, but they can be bought and sold in the marketplace.
Notable Items
No items have been created yet!
The Market
Buy, sell, and even craft your own items in this universe.
Market Data

Market conditions are unknown. Use caution when trading.

Quick Buy (Items Most Recently Listed for Sale)
Discussions
Most recent OOC posts in Terra