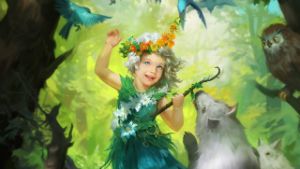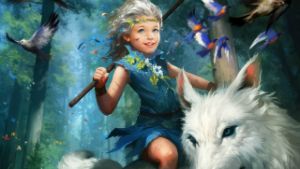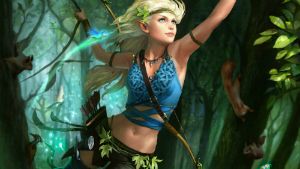 Anaree Laenalith-Eshnair Keegan is the second child and first daughter of both Maree Erd Lumariale and Aderas Keegan.
Taking more after her father, Anaree inherited his passive gift of color shifting eyes. Early in her childhood Anaree also had the white hair of her father but later on into her adolescent years her hair began to shift to a sunned-blond color. Her sense of adventure and general gaiety is attributed by both of her parents.
Being born from two highly magical and politically powerful rulers of their own realms, Anaree inherited not just physical traits from her family. Anaree has a natural gift of being able to commune with the spirits of animals and plants, just as her own mother did when she was younger.
Caum, Jad, and Reilt were her childhood friends, three white wolves that bonded with the elven child. Eventually Anaree's collection of friends expanded to hawks, day birds, night birds, snakes, deer, and several squirrels.
The trees would sing to Anaree as she played in the forest and the girl was always eager to sing back to them. Her songs always made their leaves greener, broader, and the roots of trees grow deeper. Though Anaree was a heavily "wooded" child of the earth, she made friends with people, elves, dwarves, and even the occasional zombie just as easily as trees and animals.
Nachtysm, Molko, Glixenheimer, and Jarlas were and are still considered family to Anaree even though the latter has taken to flirting with her heavily in the recent years. But it is not enough for Anaree to have only a mother and father. Her chosen and given family is truly loved by Anaree. However, she cannot wonder why it is that she was never allowed to know her brother; to not even be given his name.
And so, after running from her home to find the truth, Anaree visited an "old crone" (Jarlas Fraiture) that could teleport her back in time to figure out the hidden mysteries of her family. It is where her journey begins.