0000000000000000000000000000000000000000000000000000000000000000000000000000000000000000000000000000000000000000000000000000000000000000000000000000
Room D, 504

---
---

Full Name: Roisin Avery Ramos
Nicknames: Raisin (if you want to seriously piss her off), Rose, Roi, Avery ,Ave
Gender: Female
Age: Fourteen

Dragon
Sentenia is the eldest of the hatchlings, and to sum her personality, she's an asshole. A white dragon with eyes that can shift from red to blue and everything in between, Nia is a stuck-up, full-of-herself, and rather powerful dragon. The most likely reason that she picked Roi is because the girl seemed easy to command, because even as a tiny baby, Nia is full of herself and her importance. While she claims she's bending lesser beings to her will, she really does need someone to take care of her.

Physical Description
Roi is a petite girl, standing at about 5 feet and weighing a mere eighty pounds. She's quite curvy for her age, and skinny everywhere else. Her clear, pale skin is littered with light freckles, and despite the silly rumors that go around, freckles do NOT meld together for a permanent, fabulous tan. And tanning doesn't work either. However, with her bright green eyes for contrast, pale isn't the worst. She makes it work. She also has a tiny button nose, high cheekbones, and long lashes. Her figure is hills and valleys- large curves, slim waist, and thin limbs. Her fingers are long and delicate, and her wrists adorned with bracelets- usually wooden beads or silver charms.

---
---

Personality
A stubborn, adventurous nerd, Roi is quite the odd character. Everything she does, she tries to do it in her own style, from clothes to food to writing and art. She loves adventures, whether out in the mud or cuddled up next to her laptop. She loves games and is quite the avid gamer in her free time, when she isn't drawing, reading, writing, eating, or planning outfits. Or taking care of her egomaniac dragon (looking at you, Nia). She loves a good argument, and is as stubborn as a mule. She usually wins. Nevertheless, she's a great sport even if she loses, in which case you may get one mean look, and then you're good. Introverted as she is, the main reason she isn't super friendly is one of her main fears- Embarrassment. If she thinks she'll do something embarrassing, she'll avoid a situation entirely. That includes talking to the employee for a napkin at a restaurant, seeing baby pictures, and walking into a dinner party. If something's going on between her and her destination, she'll take the long way around, or if there isn't one, just wait until it's over. Which oftentimes takes far too long- but she's too scared to walk through it. If there was one word to describe Roi, it might be creative animal nerd. Oh, wait, that's three. Roi's personality can't really be confined to a word. She's a flamboyant, crazy, teenager.

Likes
|☪| Words |☪|Writing them, reading them, doesn't matter. Roi has always loved words.
|☪| Fantasy |☪|Knights, princesses, and dragons were her childhood.
|☪| Fancy Clothes |☪|She loves ties, dress shirts, and uniform skirts. And makes them look stylish.
|☪| Playing in the Dirt |☪|Roi has always loved playing in the mud and games of Knights and Dragons in the yard.
|☪| Spicy Food |☪|Ever since her mom tricked into trying wasabi as a little girl, she's loved spicy food.
Dislikes
|☪| Horror |☪|It just... Freaks her out, okay? And no need for unwarranted nightmares.
|☪| Haters |☪|She has lots of experience from her blog, and hates people that hate.
|☪| Big Egos |☪|What's all that great that people think about themselves, anyways? It's rather intolerable.
|☪| Writer's Block |☪|Oh, that detestable wall we all get. She hates losing inspiration and not knowing what to write.
|☪| Bug Bites |☪|SO. ITCHY. And don't tell her not to scratch, she will anyways. Did we mention how itchy they are?
Talents
|☪| Writing |To keep up a blog takes lots of practice... And a knack for writing helps.
|☪| Animals ||Roi has always had a way with animals, be it cows, dogs, cats, and now... dragons, maybe?
|☪| Art ||She loves to get thoughts down on paper with a brushstroke and put together tasteful outfits.
Weaknesses
|☪| Change ||New places, new people, and new situations freak her out. Just give her time and space.
|☪| Seasickness ||She loves the water, but boats are an absolute no-no. Unless you want her to barf.
|☪| Careless ||She can be a little daring... or convince you that your wool sweater is fine next to an open fire.
Fears
|☪| Being Embarrassed |☪| Y'know that dream where you go to school with no clothes? Yeah, that's extra horrible for Roi.
|☪| Car Accidents |☪| Having grown up with little technology, she hates thinking that maybe technology might fail... fatally.

---
---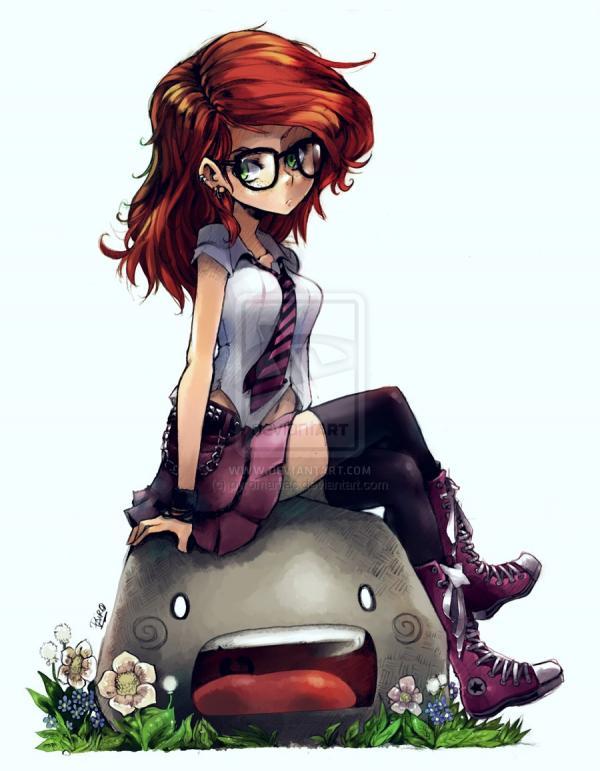 History

Roi lived in the Irish countryside for the beginning of her life. For seven years, life was good in the rural environment she had all to herself, with the nearest town three miles away. Her mom was the only person she knew for five years, and she learned the value of hard work and playing in the mud early on. The small farm she and her mom owned was home to a horse, seven sheep, two cows, and a flock of chickens. Roi loved taking care of animals, and when a stray dog wandered past their home, she rescued and nursed the pup back to health. Homeschooling was her only source of learning, but Roi wanted to know more. When their farm was purchased by a large company for land, they were forced to sell their house and animals. Roi's mom moved to America and wandered for almost a year, staying in hotels and friends' homes until she met her future husband.

Roi struggled with social interaction after all her years of seclusion, but she and Alexander bonded easily and became very close. When Roisin was bullied at school for her Irish accent, she begged her brother, the boxing prodigy, to teach her how to fight off bullies. With a couple detentions and a new skill, Roi got the bullies off her back and gained a bit of a reputation. When she was eleven, she finally got her own device- a laptop- and discovered blogging, which became her new hobby. She and Alex drifted apart, retaining their bond but not hanging out as much anymore. Her Irish accent faded as she grew older, she gained more freedom (as did Alex), and her fanbase started growing. However, in a twist of fate, she was bonded with a dragon hatchling and she and Alexander have been shoved back together.
Relationships
HUMANS


Alexander Ramos

: Alex is her role model and big brother, and she adores him- they played together, and even though they drifted apart, she still has a strong bond with him.


Hector O' Callaghan

: N/A


Lizbeth Cord

: N/A


Ned Ramsey

: N/A


Kyung-min Lee

: N/A


Uriel Evans

: N/A


NAME

: N/A
DRAGONS


Sentenia

: Nia is an egotistical, greedy dragon baby. And Roi loves her.


Moe

: N/A


Behemoth

: N/A


Lucifer

: N/A


Uma

: N/A


Noodle

: N/A

Other
Character Hex Code:

#f98009
---
---