---
---
---
---
Nickname
Ancalagon Mark 2
Gender
Male
Human
Ned Ramsey. Ned is a middle aged man with little to no background, he is a working private investigator and is a single father. He is a workaholic because he had lots of financial problems as a child and does not wish for that to repeat to his offspring. Ned is a To Uma, Ned is a father as well as a target of admiration.
Although Ned doesn't exactly spend a lot of time with him, he understands this because he is an adult and he needs to work to take care of him as well as Uma's elder sister, Serena.
Physical Description of Dragon Form
Uma is a black scaled dragon with glowing, ominous purple eyes. He has bat like wings, with retractable thorns all over his body (thankfully). Uma also seems to have black claws growing on his feet. Uma's dragon race is known to leave it's offspring on it's own to survive once it hatches. Therefore it seems to have an intimidation state the moment it hatches in order to increase the chances of surviving. In it's intimidation state, it's flesh looks like it has rotted with it's spikes all extended to it's maximum length and size, as well as glow with purple light as if it looks toxic to be near. Although it may look threatening, it's not actually any more dangerous then it looked before it's intimidation state. Since it's black, it also blends in well in dark areas, such as the swamp, which just happens to be it's natural habitat.
Physical Description of Child Form
Uma's human form is quite androgynous, so is mistaken to be a female toddler by others often. In his human form, he has long black hair and purple eyes, which he conceals with contacts and is green in public. Because Uma doesn't look anything like Ned and Serena, it usually brings misunderstandings, such as alarmed police who thinks Ned is a kidnapper or Ned has remarried not long after Jennifer has passed away. Uma's only flaw in his human form there are small patches of black scales on it's chest. That's why Uma is forbidden from taking off his shirt in public as well as banned in swimming pools or beaches.
---
---
Nature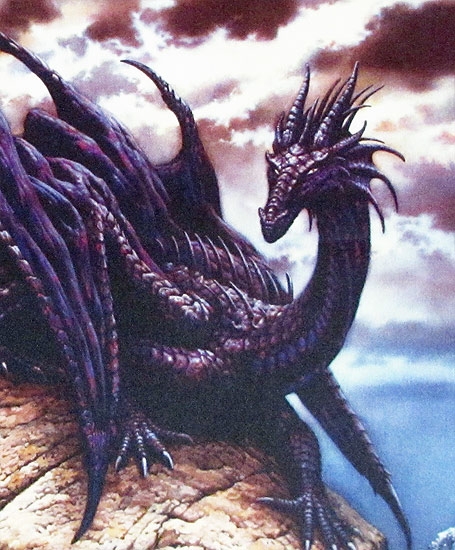 Uma is very shy and is afraid of strangers due to it's instincts as a newborn. Although Uma is extremely shy, he longs for more interactions with others. He is very curious about it's world, and because of his limited access to the public, Uma learns most of the world's mechanics and knowledge through Ned's collection of textbooks and novels that he accumulated over his years of trying to get into a good college. Uma is unusually and extremely attached to Ned because usually Uma's race of dragons abandon it's hatchling the moment it comes out of it's egg, yet Ned have not. For him, this is interpreted as Ned's extreme love for it's offspring. Therefore he is very obedient to Ned's requests and demands.
Likes
Ned
Serena
Charred meat
Learning
Swimming
Dislikes
Waking up early
Brown jackets
Competition
Fears
Ned's abandonment
Change in environment
Being bullied/dominated by other dragons
---
---
Heritage
It is unclear of what exactly Uma is. The legend of Cuélebre seems to fit the bill, although not entirely accurate in terms of physical appearance between a Cuélebre and Uma. Uma's natural habitat is that of a swamp, so Uma enjoys damp weather. It is clear that Uma is a poison dragon that spews venomous substance out of it's mouth, the venom can be controlled but the toxicity of the venom in his body seems to develop for the worse as it grows older. For now, Uma's most venomous poison slightly numbs a man once he or she inhales the toxic breath for 10 minutes.

There were many attempts to tame a Cuélebre in the ancient era to harvest it's never ending supply of paralyzing toxin for medical use as well as make use of it's vicious combat prowess when under attack. However only a few succeeded and those who have been successful have always gone incognito from the world.

In the ancient times, a black variant of the Cuélebre was one of the most vicious type of dragon in history, luckily only handful of them make it to maturity and only becomes as powerful as in the legends once it reaches a certain age and does not attack humans unless attacked. A Cuélebre is capable of flight, but it likes to stay on ground as it likes to conserve it's strength in case it needs to fight. It's venom at it's full potential could corrode another dragon from the inside in the span of thirty minutes once it receives full force of the breath. The only weakness of the dragon's combat style is that once it is forced to fight in close quarters, it is at a disadvantage, since a Cuélebre is not used to fighting up close and personal. The only way to cure it's venom is to consume a Cuélebre's liver before the poison corrodes you, but that proved to be difficult since a Cuélebre will defend itself as long as it needs to and is not to be looked down upon when it draws it's claws and spiked tail. A Cuélebre's hunting style is very luxurious, it only needed to spew it's venomous gas around it's prey while in hiding and wait for it's prey to fall. However, all of these legends only apply to Uma if he makes it to his full mature state.
---
---
Relationship (INCOMPLETE)
Ned Ramsey
A fatherly figure and a target of admiration.
Kyung min Lee
Hector O'Callaghan
Marilla Sanders
Uriel Evans
Alexander Ramos
Roisin Ramos
Noodles
Behemoth
Lucifer
Sentenia
Serena
Uma's elder sister, although of a different race, Serena loves Uma and Uma loves her back.
---
---