Name:
Elenour leah parks
Age: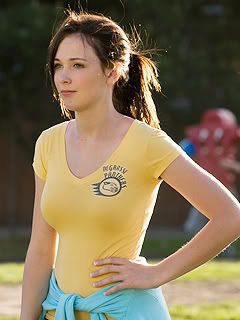 Sixteen
Gender:
Female
District:
District Six - Transportation
Appearance:
Elenour is a frail and all around petite girl, standing at 5'2. She has a slim, yet slightly curvy figure, and weighs approximately 120lbs. She has very dark hair that looks brown in the sunlight, that hangs in loose waves around her shoulders. Her eyes woul probably be describd as something of a washed out green, and her eyelashes are very dark. She has full, pink lips.
Any defining physical characteristics:
Well...she does have a scar,on her left cheek from messing around with sharp sticks
And she also has her District token, a small, plain silver ring she wears around her index finger on her right hand. It was her grandmothers wedding ring, when she was still alive. She died of diesease when elanour was five
Personality:
Elenour is a nice person - well, at least she tries to be. Her loud-mouth can sometimes get her in trouble, and she has a unique look on life. She tries to think of at least three different ways to look at a situation - the positive, the negative and the unbelievable. She can sometimes come off as cold and rather indifferent around strangers, just because of her shy personality. Well, around people she dosn't know. Around friends she talks alot, and loves to share her views and ideas. She gets embarrassed easily - and hates to be embarrassed. She probaly trusts a bit too easily - at least for her liking, as she knows this could be her downfall in the Games.
History:
Elenour was born on December 5th to Toni and DavidParks. She had an older brother at the time, Ty, who was only three years younger than her. they lived in a small house in a Residential street, and four years later came the twins, Beck and Tristen, two bouncing baby boys. They had always struggled with food, but had managed, mostly from her mothers hand-made jewellery stall.
Her home life was very struggling, to say the least. The soon found out that the youngest of the twins, Beck, was dyslexic. With most of the attention on him, the little food, and her parents constantly fighting, her life was a mess, her only joy when she was at work or at school with her friends -
She herself has used a knife, not on herself though. It was at a very difficult part of her life, as almsot all the money was gone, and no one else could afford to give them charity. She was sitting in her room crying on her bed when her mother came in and in a hushed voice told her that it was time for dinner. She leapt up and grabbed the kitchen kife still in her mothers frail hand and attemptedto stab her, for no obvious reason - even after the incident, Lara couldn't think of what could have brought her to do such a thing. She did not kill her mother, but scarred her hand, her father then came up and took the knife from her. As soon as he did, she knelt on the floor and burst into tears. This was the only sign that she might be slightly insane, and the family have never spoken of it again.She is afraid she will trun into that pyschopathic killing machine in the Games.
Special abilities:
She's quite fast, partly from the races she did with her siblings when she was younger, but mostly from her petite build, that helps carry her. She has used a knife before, though never to kill another living creature. She can identify any type of plant - . She also knows many different knots, though the names she can't remember.
weapon of choice:knifes and spears
((sorry its not organized im kinda in a rush))