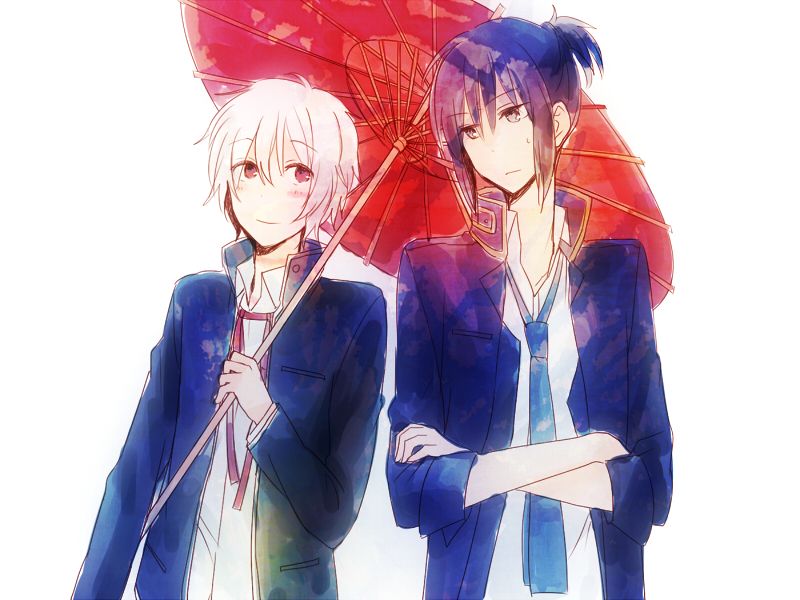 Age
— [18]
"There are two things people don't usually want to believe: that we're related and that we're adults. At least they don't think we're married."
Race
— [Witch]
"Luke turns the people he doesn't like into rabbits! No, really. I'm not joking."
Sexuality
— [Casper: Bisexual | Luke: Homosexual]
"Casper says each sex has its own benefits, but I've just never found myself attracted to women."
Height
— [Casper: 5'8 | Luke: 5'11]
"I think Luke got all the good genes. The lanky bastard."
Weight
— [Casper: 143 | Luke: 150]
"Luke's so skinny! He doesn't eat much, but he's stronger than he looks."
---
---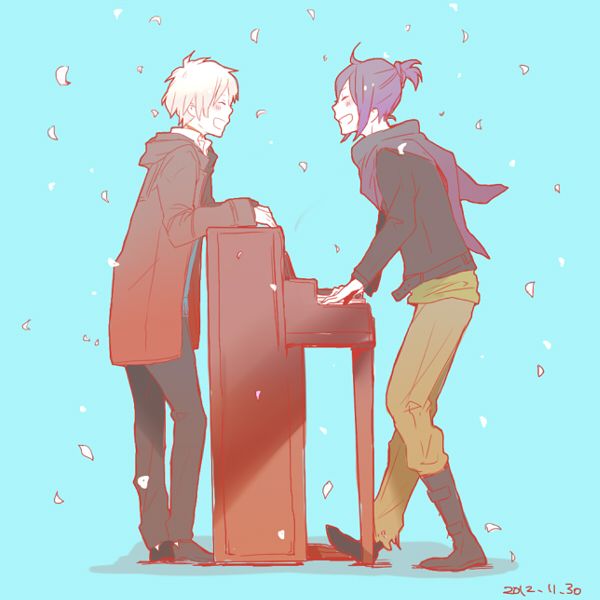 ---
---
Personality
If anyone spins a grand tale of the wild children, Casper and Luke Elbaum do the job just right. One's never found without the other; though they have their differences, the similarities in their personalities and the sheer amount of time they've spent with each other have made them an inseparable pair. Be it talking to each other, fighting with each other, making mischief, or checking out cute guys, Casper and Luke are rarely apart.
"Yeah. I'm very rarely apart from Casper's constant stream of white noise. It gets tiring, actually."
Casper is something of a brighter personality, bold, loud, and ever-talkative. Usually, his voice will be the first to fill any and every room. If Luke wasn't there, most doubt he'd ever shut up. Casper can run his mouth for hours without stopping. He's bubbly, and he enjoys spending as much time as possible in the company of others. Though he does tend to share more information than he should and sometimes talks over others, he tries his hardest to be a likable person, and so far, he's succeeded well enough.
At times, Casper can be extremely blunt, but his candid personality also allows him ask for help when he needs it. He's a very humble, honest person who sees no point in being judgmental or thinking one's self better than anyone else. Among the (too) many questions he asks often lie the ones that no one else wants to voice. He can seem almost childlike sometimes with his direct and sometimes tactless approach to the world— and his constant hunger for fun. There isn't a time when Casper isn't either asking questions or clowning around. Sometimes, Luke jokes that he'd be right at home it a circus: he loves colors, jokes, and he'd make the perfect clown.
Because he's such a happy, bright-spirited person, Casper's quite hard to anger or even slight. He doesn't take things seriously, so it's nigh-impossible to get him to settle down to even consider taking the time to be insulted by something. He just brushes things off— even if they
do
mean something. Very rarely has he gotten into a fight; in fact, Casper isn't the touchiest of people, and he's likely to feel uncomfortable if someone comes up out of the blue and hugs him.
"Yeah, but Luke's always touching someone! So that makes up for it, I guess."
Luke is the more tactile of the twins. Though he's quieter— as he's had to be to make room for his motormouth brother— he likes to have physical contact with other people, as it's something of a language in itself to Luke. That's not to say that he doesn't speak, however. Where Casper punctuates every other sentence with an exclamation, Luke is more soft-spoken and takes more care with what he says. He serves as the mediator when Casper says a bit too much. Luke's generally calm and cool-headed, though one should be wary of his temper. While he's not the easiest to set off, his rage is fearsome, and he holds grudges a lot longer than he should. When Luke is angry, things escalate to a physical level much faster than usual.
Luke's offended easily even if he doesn't show it most of the time. He's both sensitive to his own emotions and to others'.
Though he may be very aware of what others are saying, Luke is staunchly independent and doesn't like to accept help from anyone even if he's dying in a puddle on the floor. If someone does manages to force help onto him, he'll be huffy for the next day. Unlike the humble Casper, Luke's pride, much like his younger sister's, is a fierce but fragile thing. Still, despite his temper and his reluctance to accept help from others even when he needs it, Luke is a natural mediator. As he's very much a realist, he doesn't have too much trouble pulling his brother's head out of the clouds— though whether it stays down for more than a minute is another story altogether.
"Natural mediator, huh? I wouldn't put it like that, but I suppose I'm not too bad at getting Casper to shut up."
The boys are natural pranksters, never without some sort of mischief up their sleeves. While each would be a mischievous force to be reckoned with on his own, Casper and Luke, combined, consider themselves the ultimate pair when it comes to getting up to no good. Casper, shorter, lighter-haired, and ever the bright one, comprises the majority of the creative force behind their projects while Luke steps in to ground him into reality. Casper designs, and Luke plans; besides the actual putting-together stage, in which Luke and Casper share duties, that's all there is to it other than Luke getting Casper to shut his mouth before he ruins the whole thing.
Talents



[Both]

Pranks, jokes, and mischief.


[Both]

Sneaking around.


[Casper]

Imagining things.


[C]

Drawing.


[C]

Running.


[C]

Being open-minded.


[C]

Hiding.


[Luke]

Staying grounded in reality.


[L]

Reasoning.


[L]

Keeping secrets.


[L]

His surprising strength.


[L]

Getting out of trouble.

Likes



[Both]

Successful plans.


[Both]

Slacking.


[Both]

Not getting in trouble.


[Both]

Laughter.


[Both]

Being up to no good.


[Casper]

Spacing out.


[C]

Talking.


[C]

Yelling.


[C]

Freedom.


[C]

Hiding.


[C]

Sweets.


[C]

Open space.


[Luke]

A good plan.


[L]

Things that are mysterious.


[L]

Finding out others' secrets.


[L]

Cats.


[L]

Being in a confined space.


[L]

Independence.


[L]

Touching people.


[L]

Children.

Dislikes



[Both]

Failure.


[Both]

Getting caught.


[Both]

Having to study.


[Both]

Responsibility.


[Both]

Getting shown up.


[Casper]

Having his parade rained on.


[C]

Unfriendly people.


[C]

Being touched.


[C]

Bad smells.


[C]

Salty food.


[C]

Milk.


[C]

Large dogs.


[Luke]

Nosy people.


[L]

Having his life pried into.


[L]

Being helped.


[L]

Tea.


[L]

Noisy places.


[L]

Being stared at.


[L]

Being alone.

Powers/Abilities
Both Casper and Luke are terrible at magic. Be it a lack of studying or a lack of inborn talent, neither could cast a spell for his life. Casper's wand is usually broken, anyway, and Luke doesn't want to risk being offered tutoring sessions, so the both of them tend to just push it under the rug. They, in all honesty, wish they were just regular humans, as they dislike the added responsibility of having to practice their magic.
Luke, though he doesn't like to admit it, is something of an empath, albeit a very weak one.
Flaws
For both boys, the list is nearly endless. They share an abhorrence for responsibility and a complete lack of magical talent as well as their love for making the lives of others even more chaotic and hectic than they already are. Casper can be extremely irritating at times, and he's terrible at keeping secrets while Luke, who can manage to keep his mouth shut, will never let anyone know he's failing until its far, far too late. Luke also dotes on his brother a bit too much and is never able to tell him he shouldn't do something. As Casper is a very impulsive person, this often brings problems leading to massive messes. Neither boy likes to let the other out of his sight, and they can both be extremely childish at times.
Romantic Interest
Casper's girlfriend just recently broke up with him, but other than that, neither has any active romantic intersts.
---
---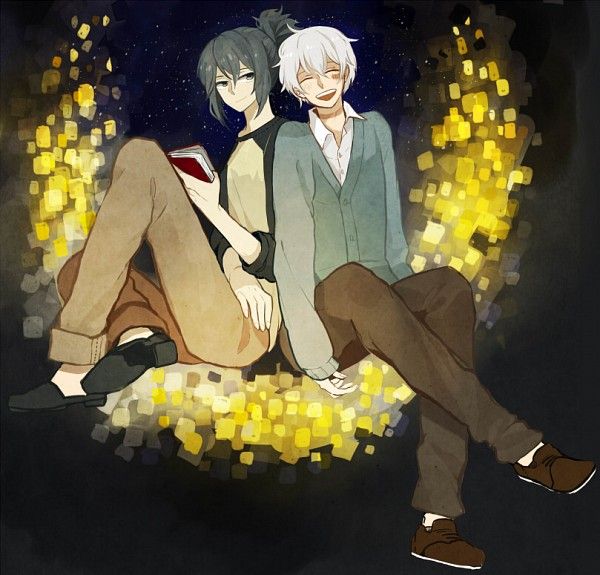 History
Born the third and fourth boys into an already-chaotic family of four, life was never calm and quiet for the twins. While their parents were managing the first two boys, Casper and Luke were left to their own devices. Needless to say, that was the start to their lives of mischief. A single smile between the two boys was all they needed to get to work setting up their very first prank: painting their brother's little plastic car in every color of nail polish their mother owned. Their parents spent the rest of the day washing the boys off with alcohol, and though they swore never to let the two out of their sight again, that promise hardly meant anything in a family already juggling two schoolchildren.
The story of their becoming notorious mischief-makers was relatively straightforward— much more so than the story of their being twins. From the start, most were surprise that they were even related, let alone fraternal twins. Though they shared the same fair skin and lopsided grins, the boys looked utterly different in terms of everything else. Where Casper was small, blonde, and full of energy, Luke was thin and tall and dark-haired. Casper got the roguish good looks, and Luke got the gentler face but what was arguably the better physique. They never looked alike.
But they did act alike. From birth, they were an inseparable pair. While each boy eventually grew to develop his own personality, the two followed each other around constantly when they learned to walk. Casper was always ahead somewhat in terms of development, but he never raced ahead of his quieter brother. When they were left alone as their brothers went to school and their parents worked, Casper and Luke had each other to play with. They grew impossibly close. Attending a small school as children, they were never far apart— after all, they spent about half their afternoons stuck in the principal's office.
When they were three years old, their younger sister, Delilah, was born, and they were at first fascinated by the tiny creature but their parents called them off her when they grew too worried one of their jokes would end up hurting her. They were never particularly close, as Delilah didn't seem to like their constant noise, and she was always too much of a studious goody-two-shoes for them. Though Casper had trouble disliking anyone at the time, Luke was one of the first to cross her off his list of people he wanted to hang around. The addition of the new baby also forced one of the boys into the middle seat of the car, which doubtless annoyed the both of them.
Come high school, the boys, now notorious for their mischief, were sent to the Academy like their brothers before them. They were always terrible students, just barely passing their classes, and their grades got worse with time. Both brothers made it to college, but the family is worried about about the twins, as they're both irresponsible and utterly talentless as magicians.
Other:
TBA?
Clubs/Teams:
Luke is quite the talented chef, but he won't join the cooking club because he thinks it's too girly. Casper, with his natural energy and his surprisingly long legs and his inability to give up, is making something of a name for himself on the track team.
Thoughts/Relationships to Other Characters:
TBA.