One thousand years ago, the precise date unknown, the earth was invaded by hordes of demons. A man, Jonathan Shadowhunter, had a warlock summon the angel Raziel. He begged Raziel to help save humanity so the angel mixed his blood with that of Jonathan Shadowhunter, in the Mortal Cup, and gave it to men to drink. These men became known as the Shadowhunters, as did their children, and their children's children. They were given the first Gray Book, listing all of the runes, to use in their fight against demons.
---
---
The year 1857 in London, Ralf Scott formed the idea of the Accords and together with his fellow Downworlders arranged a meeting with the Shadowhunters in order to discuss the terms. Unfortunately this first attempt was fruitless.

Years later, Scott's dream became true with the Shadowhunters and Downworlders signing the first Accords, an act which has since been repeated every fifteen years for the past one and half centuries.

However due to the fact that some Downworlders and Shadowhunters remain displeased with its terms, attempts have been made to sabotage the Accords. The most notable being the Circle's.

The Accords are peace negotiations signed between the Downworlders and the Clave. According to the Accords, as long as the rules stated here are not broken, they can live in peace without bother and may even provide each other help when the need ever arises.

The Accords are signed again every fifteen years to keep the magic potent. Although the Accords keep the two parties in good enough terms to avoid slaughter between them, hostility is quite unavoidable. They are signed in the Accords Hall in Idris.
---
---
The Institute, said to look like an old gothic cathedral, is located in New York. The well-known Institute is able to house hundreds of Shadowhunters looking for refuge, and acts as a safehouse and headquarters of the New York Nephilim.

Because of the Accords, the downworlders and Nephilim have been in a peace for several centuries. The different races all tolerate each other at worst, work together at best. The leaders of each Downworlder race would meet with the head of the New York Institute, informing them of any news. All was well.

Recently, there have been different incidents involving each race of Downworlders. Vampires and stolen from bars, werewolves fighting in allies, and warlocks are summoning demons. While these quarrels were small-scale, they are growing. More and more were happening every day, in all parts of the city, and the New York Institute was getting worried that the Mundanes would soon take notice. The threat of being revealed to the humans was far too large to consider, so the shadowhunters sent out a message. As they could not get a hold of the Downworld leaders, they spread a message through all of Downworld.

Surprisingly, the hubbub of Downworld slowed down a bit. Fewer and fewer robberies occurred, some apologies were sent out, and the Nephilim gave themselves a pat on the back for dealing with the situation so easily. For a short time, they even let their guard down, not getting worried or upset when the leaders diding check in. They didn't want to cause things to go back to the way they were.

One night, a few shadowhunters from the institute went out to a party with a group of Downworlders. Though it was forbidden before the Accords, the heads of the Institute didn't see a problem with it. The Nephilim left the safehouse without any weapons or means of protection. The next morning, the beds of the party-goers were still empty. The Institute decided to give them a few days, waiting for their return. Sadly, they did not. A frantic message was sent to the Clave, hoping for reinforcements to be sent to search for the missing children, and implying that they believed Downworlders were behind the disappearances. Angry, the Clave refused to send experienced adults to search for them. They refused to send their best on a mission created by ignorance, and sent only a group of young shadowhunters.

The group arrives at the Institute, eager to prove that they can face the real world, and wanting to save their fellow Nephilim.
---
---
Roles:
A Leader is needed for each Downworlders race. Also, you can choose to be the kidnapper, the traitor who ultimately decides to assist the recruited Nephilim, or all of the above. Just please include which one in the reservation. The Nephilim also need those who have been kidnapped. If you would like to be the kidnapped or recruited, include it in your reservation.)
Shadowhunters:
Leigh Bellefleur - 16 - Kidnapped
Amy Llewellyn - 16 - Recruited
Shinta Faythe - 18 - Kidnapped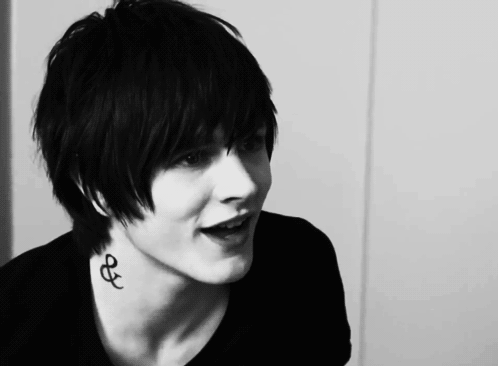 Chace Worrall - 17 and a half - Recruited
Vampires:
Mia Greene - 18 - Kidnapper
Werewolves:
Alice Maxwell - 17
-
-
Warlocks:
Dracovius Shadowbone - 300
Keiki Yagami - 275
Character Sheet:
Code: Select all

[center][size=400][color=#800000][b][u]Quote here[/u][/b][/color][/size][/center]

[right][img]GIF/Imageof your character here[/img] G
[img]Another GIF/Image here[/img]
[img]Third GIF/Image here[/img]
[img]Last GIF/Image here[/img][/right]
[b]Name:[/b] Your character's full name here, including middle name(s) if any.

[b]Nickname(s):[/b] Any nickname your character might have.

[b]Age:[/b] The age your character either is.

[b]Birthday:[/b]

[b]Physical Description:[/b]

[b]Likes:[/b]
What your character likes. At least five, please.

[b]Dislikes:[/b]
What your character dislikes. At least five here too.

[b]Fear(s):[/b]
What does your character fear? we'll need at least one here, but more is definitely preferable.

[b]Secret(s):[/b]
What's your character's dirty little secret(s)? Please do try to think of something. Unless having secrets contradicts your character's personality completely, we want something put here.


[b]Personality:[/b]
1-4 paragraphs on your character's personality. We need good points as well as bad ones. No one is perfect.

[b]History:[/b]
This doesn't need to be super long. Just enough for me to know your character.
1) I am the GM. Just listen to what I say and we'll get along fine.
2) This roleplay is for literate roleplayers. If you aren't an experienced writer, you should not join this roleplay.
3) To write in this roleplay, you have to have some previous knowledge of Cassandra Clare's The Mortal Instruments.
Reservations:
-Each reservation lasts for three days.
-If you read this, start a sentence with the word Mundane!
-Extensions will be given if you cannot meet the deadline.
-If you would like to play a role that is reserved, you may compete for it. The better character (based on my judgement) will win the role.
Characters:
-Each role is free to be changed in the way you like. If you have an idea that you would like to change, send me a PM and we can discuss it.
-Please, no cannon names. I don't want a Fairchild, Morgenstern, Herondale, or any other long-lost relative.
-FC can be given or changed. Let me know if you would like to reserve one, change one, or want to use drawn images.
-I do not personally like anime or manga. Please refrain from using these types of images. Send me a PM if you would like to discuss.
Roles:
-Each Downworlder race needs a Leader, a Kidnapper, and a Traitor who helps the Nephilim. You can be one, two, or all three. Please include this the reservation or PM me.
-If you read this, add the word Clary to the sentence!
-The Nephilim need Kidnapper, Recruited, and perhaps Traitor. Include this in your reservation or PM me.
Accepting/Declining:
-Before your character can be accepted, I will look over the application.
-If I accept you application, you will be asked to write a short scenario of my choosing. If I like your writing, then your character will be accepted.
-If you character is declined, I will try my best to let you know why that is.
-You can ask to redo your application or scenario, though I cannot guarantee that you will be accepted.
Posting:
-When we begin posting, wait until everyone else has posted before you write again.
-Romance is okay, but don't get too into it. If you want, take it to PMs but I don't want it here. No fade-to-blacks, or anything.
Taking place in...
10 posts here • Page 1 of 1
10 posts here • Page 1 of 1
Arcs are bundles of posts that you can organize on your own. They're useful for telling a story that might span long periods of time or space.
There are no arcs in this roleplay.
There are no quests in this roleplay.
Here's the current leaderboard.
There are no groups in this roleplay!
Welcome home, Promethean. Here, you can manage your universe.
Arcs are bundles of posts from any location, allowing you to easily capture sub-plots which might be spread out across multiple locations.
You can create Quests with various rewards, encouraging your players to engage with specific plot lines.
Settings are the backdrop for the characters in your universe, giving meaning and context to their existence. By creating a number of well-written locations, you can organize your universe into areas and regions.
Navigation
While not required, locations can be organized onto a map. More information soon!
There are no groups in this roleplay!
By creating Collectibles, you can reward your players with unique items that accentuate their character sheets.
Once an Item has been created, it can be spawned in the IC using /spawn Item Name (case-sensitive, as usual) — this can be followed with /take Item Name to retrieve the item into the current character's inventory.
Give your Universe life by adding a Mob, which are auto-replenishing NPCs your players can interact with. Useful for some quick hack-and-slash fun!
Mobs can be automated spawns, like rats and bats, or full-on NPCs complete with conversation menus. Use them to enhance your player experience!
Current Mobs
No mobs have been created yet.
Locations where Mobs and Items might appear.
You can schedule events for your players to create notifications and schedule times for everyone to plan around.
Add and remove other people from your Universe.
The Forge
Use your INK to craft new artifacts in The Accords: City of Secrets. Once created, Items cannot be changed, but they can be bought and sold in the marketplace.
Notable Items
No items have been created yet!
The Market
Buy, sell, and even craft your own items in this universe.
Market Data

Market conditions are unknown. Use caution when trading.

Quick Buy (Items Most Recently Listed for Sale)
None
Discussions
Topics

Replies
Views

Last post
Most recent OOC posts in The Accords: City of Secrets
There have been no posts in the OOC topic for this roleplay!