Captain Elcid Barrett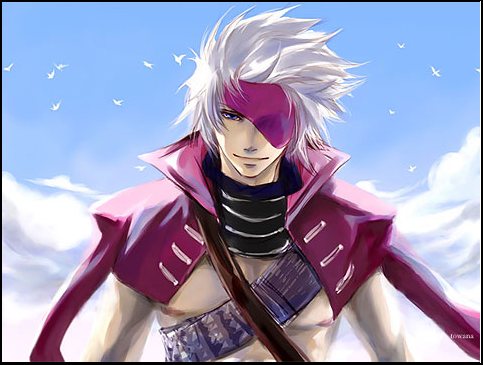 Name:
Elcid Barrett
Nickname
: Cid, Captain
Age
: 24
Height
: 6'0"
Weight
: 200lbs.
Skills
: Elcid is a veteran sailor. He has advanced skills in cartography, astronomy, meteorology, not to mention everything that comes along with running a ship such as rigging, navigating and sailing. Elcid is also an accomplished leader and is able to get even the rowdiest men to fall in line. He doesn't demand order, but he does demand respect and that his men be dependable. He inspires loyalty far more often than he demands it. He is a natural Alpha, in a way.
Elcid is also an experienced adventurer and hunter. He knows how to track and fight all kinds of beasts and monsters most have only dreamed of. He has a wide aray of knowledge about the world as he has been traveling it since he was a small boy.
It is an extremely well kept secret but the Captain was bitten by a once thought long dead mythical creature while he was exploring mysterious vanishing island chains. Due to this, Elcid is now a True Werewolf. This gives him a multitude of abilities even in his Human form. It also gives him an odd commanding presence and a gaze that turns lesser men into whimpering dogs.
-
Superhuman Senses
: His senses of sight, smell, and hearing are far beyond that of a normal humans and more akin to than of an actual wolf. It helps while sailing being able to sense drops in barometric pressure for storms and the like.
-
Superhuman Strength
: He is strong enough to bend steel bars and shatter limbs with a single kick. He is strong enough to lift several tons and able to beat large monsters with nothing but his bare hands.
-
Superhuman Speed
: He can move far faster than the finest human athlete or a wolf.
-
Superhuman Reflexes
: His reflexes are similarly enhanced and are much faster than those of the most physically fit human. Able to catch arrows or other things straight out of the air.
-
Superhuman agility, dexterity, coordination and balance
: His agility, balance, and bodily coordination are enhanced to levels that are beyond the natural physical limits of even the finest human athlete.
-
Superhuman Durability
: His body takes a much more extreme beating than a normal human body. He can take one hell of a beating, his bones only breaking under the most extreme of pressure and punishment.
-
Superhuman Stamina
: The Captain's musculature produces less fatigue toxins during physical activity than the musculature of an ordinary human, granting him superhuman levels of stamina. He can exert himself at peak capacity for several hours before fatigue begins to impair him.
-
Regenerative Healing Factor
: The Captain has some regenerative ability, even able to regrow limbs with enough time. Save for the upper left side of his face, most of his superficial injuries heal completely.
-
Shapeshifting
: The Captain can turn, at will, into a
half-man, half-wolf creature
and a
monstrous huge wolf
.
Unfortunately, this also gives him several drawbacks. He now has an extreme aversion to silver. The smell of it int he room can make him seem uncomfortable and on edge. It burns him even with light skin contact and can pierce his durable skin with ease. He also cannot heal silver sustained wounds quickly, having ot rely on basic medicine and surgery practices to stitch the wounds close, not even healing magics can aid him.
Compounded on that, is he is at mercy to the turnings of the moon. Every night for one week a month, Elcid loses his mind when the moon rises and does not regain it until the sun takes its place. He must always lock himself up in a very secure room, usually with silver scattered everywhere. He even commissioned a massive sealed chamber to place himself in during the voyage when his sickness comes up.
Occupation
: Sea Captain, Explorer, Adventurer, Trader, Smuggler.
Current Captain of the The Fallen Angel
Likes
: Strong drink, The open sea, Freedom, adventure, hearty food, good company, singing, vast open sky, Sailing, a good laugh, the sun
Dislikes
: Being landlocked, cells, silver, the moon, problem sailors, uncoordinated crew men, people who hate singing, pirates
Personality
: Elcid is a man who can always be found smiling. He loves this world and everything it has to offer. He believes the greatest things in existence have yet to be discovered, which is why he believes it might as well be him who discovers them. He can often be found cracking a joke, even at his own expense. He'll never say no to a drink and prefers ot get along with all he meets. Its not hard to anger him, but it is rarely seen. He has an intersting accent as he was raised around sailors. (It basically sounds like Irish slang).
He as an interesting test that he gives to anyone who wants to join his crew he asks them one question. "How good is your singing?"
Character Summary
: Elcid is the picture of the classic explorer hero from the old days. He is akin to this worlds Francis Drake. Before his "accident", he had flowing blond hair, two blue eyes and sun-kissed skin. Since then he now has one blue eye, white hair and pale white skin. He always wears a purple bandana that covers the missing part of his face. He wears a large purple colored captains jacket over his shoulders, never really putting it on. While on a ship he wears nothing beneath the jacket saved for some white pair of trousers with a lavender sash and black boots. He carries no obvious weapon with him save for a pair of flintlock pistols.
Elcid was born at sea. On his fathers ship called the "Bonny Diamond". His father raised him on that ship. Though they eventually dropped his mother off, Elcid wanted to stay on the ship. From then on, all Elcid wanted to be was a Sailor. His father was named Nelson Barrett, and he was a First Class Privateer. He and his crew were hired by the Briellan Royal Navy to hunt pirates and keep the waters safe for travelers and merchants. Elcid saw first hand the cruelty of men when he witnessed the pirates acts and was proud of his father from sending them back down where they belonged. He learned many skills from his father, how to sail, how to navigate, how to watch the stars and weather. His favorite lesson from his father was how to sing. It turned out singing was one of the most important part of being a sailor. He also learned how to drink. His crew used to say the only thing he loved more than drink was his son.
When Elcid was 12 years old, he decided to part ways with his father and set out on his own. He joined a whaling ship in service to the kingdom of Briella named the "Gay Lady". It was there he did a three year run and learned how to harpoon and bait and ho to think the creatures of the deep. You had to go deep into different oceans to hunt for whales and Elcid saw sights he never dreamed of. Creatures with rainbow colored scales flying in and out of the sea. Islands that defy the laws of physics and skies so alien, that you think you died and went to heaven.
When he was 15 he signed on for a merchant vessel called the "Seas Worth". It was there that he traveled all over the world meeting hundreds of new people with strange customs and foods. The ship also doubled as Smugglers sometimes for far off communities with strange fruits and spices to trade for blankets and grain. He learned several new languages, being taught by the natives themselves. He learned acceptance and tolerance of people from all creeds and species. He even might a tribe of two-headed giants called the Ettins, learning even they could be befriended. Its all when he sailed the
Demons Horn
, one of the most dangerous areas to sail, highest casualties out of nay other area recorded by civilize folk. He faced storms that looked like the Faces of the Gods were trying to pierce the veil.
From the Ages of 18-19 he stayed on shore to take care of his Mother who was ill. He also made the arrangements for his fathers funeral. He was killed in action. So famous was his father that many people, even the Admiral of the Royal Navy was in attendance of the funeral. Because so many people were there, they spread the word of the strange last request of his father. He said that he wanted to be sealed in a coffin filled with Rum and set out to sea, so he could be surrounded by his two greatest loves, Drink and the Ocean. From then on, every sailor referred to grog(alcohol) as Nelsons Blood.
When his Mother was well again, Elcid formed his own crew, bought a ship with savings and set out on the open ocean. It was a Brig, two masts and fully fledged for naval warfare. He named her "The High Wind". Twas this ship where Elcid won his reputation. He became an explorer and discovered all kinds of new lands, creatures and foods. He fought giant monsters that could fly and breathe fire, witches who lived deep within the ocean who lulled men to their deaths, cannibalistic tribes of creatures who worshiped Death. His adventures became legendary, as did he.
One adventure when he came back, he was missing the upper left side of his face and his hair and skin had gone white. For once to the shock of all, Elcid had no story to tell. To this day he has not explained what happened to him, nor his crew.
Soon, he was contacted by the Princess of Briella herself, Evankka Evelyn Evans. She was putting together a massive crew for an expedition to the most fabled lands in the world, and she wanted him to Captain the "Fallen Angel", the pride of the Royal Fleet. He agreed on one condition, he could bring his crew with him, she agreed.
Why do you want to join our adventure?
: Well any adventure would wet the whistle of this daredevil of a man. Besides he was hired to Captain the adventure, don't need much more of an incentive.
(Though, there may be a secret reason he wants to go, but and his crew won't say anything about it.)