''You don't know pain till it is a constant reminder of your mortality.''
---
---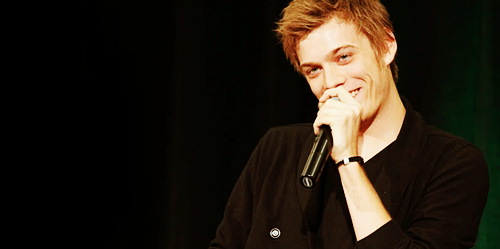 ---
---
PERSONAL PROFILE
Name:
Josh Francis Woodward
Nickname:
Fran
Age:
19
Sexuality:
Homosexual
Clique:
The Fourth
Likes:

+Books, Whatis a writer if he doesn't like reading?
+Drawing, This is his own choice of favored activities, born from painting....he loves drawing characters.
+Painting, He paints with his mother, a special time with the person he truly trusts and has a mother and son bond with...he is often found with dry paint on his hands and forearms because of this.
+Music, It is a big part of his life, being so sick he has not been able to go out like most children or teenagers and so music gives him a piece of the world.
+The outside, It calms him, the fresh air, the seasons that ever change with times passage, it also helps him write.
Dislikes:

-Loud people, loud people mean groups and groups of people make his pain worse, like something constantly crushing your rib cage...
-Intimidation, He is fragile both in mind and body, even if he would deny this..
-Whiskey, Not his favored drink...reminds him of his father..they don't have a good father and son relationship.
-Cigarettes, Sticks of cancer...he sees no point in them plus...his father smokes.
-The Elites, He just doesn't like their competitive nature...
Fears:

~Closed in spaces, Hospital rooms in the private sector though well decorated are lonely and were forced onto him, he hates small rooms that smell like cleaning fluid...white with one flower pot...he hates small places...the idea of going into a cubical makes him tense, he has bad memories of the hospitals.
~The dark, This links up with his fear of hospital rooms, though is far more sever due to the fact that one day he refused treatment for his illness from his father's workers and so his father came in and blindfolded him and they came him drugged up till he was better and in that darkness was the voice of his father....a harsh man.
~Being seen as weak, He has permanent illness and refused to live with it, rather deny it even to the point of his health declining...
Hobbies:
Writing, Drawing, Painting and museums.
---
---
---
---
ABILITY & SKILL PROFILE
Powers:
Josh is a Aura Reader, he can detect people all around him not like a orb of life force but the image of the person in a ghostly form that glows with the colours of the strongest emotion and their strength as individuals, the brighter the glow the stronger they are. He can also evaluate the a person's health and even the change of their mood. From being able to see a target's health he can define their strength and weak points in their body so he is able to use this as a way to hit certain areas on the target for efficient and precise hits without needing strength to execute it since he has none.
Weakness:
Due to the acute ability he has he suffers with chronic pain having to be popping pain killers left and right, often over dosing, this effects his mind which is a troubled one often going into lapses of paranoia. He has no strength to his name and so depends on his aura reading ability passively to hit certain areas of the individuals body without tiring himself out. The more people around him the more the pain heightens, he is often seen in the nurse's office recovering from passing out.

From his power comes the fact that sleep for him is near impossible or if he does get sleep does not feel relief, this is a medical condition called Hypersomnia, a sleep disorder that is the opposite of insomnia. A person sleeps longer and for more hours than what is normal - during the night or the day. It is difficult for them to wake up. The need to take naps is compelling, but provides no relief.
Strengths:
He has always been a creative soul at heart and therefore is talented in Drawing, painting and even writing.
Flaws:
Being insensitive to other people's emotions or beliefs because his ability reveals that person for who they really are inside and so considers most people liars, fakes and untrustworthy. And he is awful at dancing, he literally came make a drunk person's dance look elegant but this is mostly because he has over dozed on painkillers and so his balance is way off.
---
---
WRITTEN PROFILE
Personality:
Josh excels in making friends or 'playing nice' thanks to his ability he knows more about everyone one than they know about him, he paints himself as a cool, calm and a party animal to keep in 'the group' when the truth, he is a irritable, hot headed, sensitive and even caring guy. Breaking rules not to be 'cool' but because he just doesn't care. He always makes up excuses for the reason why he is in the nurse's office rather than appearing weak to others, mouthing off to others, he is most likely seen as a asshole but he cares about others and would put himself into danger for the others never asking anything in return. He is a warm soul but also a troubled one, he is a constant pain, it is surprising he has kept up appearances for so long around other students.

Teachers take greater care in him than others colouring him to the 'cool' people that he is a teacher's pet and often takes out his frustrations on them landing him into detentions in a instant yet they always continue to care for him even when he refuses the help till he falls over and rushed to the nurse's office. He is known for his paranoia by teachers and labelled in the school records as mentally unstable and when he loses his cool he is often tooken outside a classroom and sedated just to wake in the nurse's office with restraints with no memory of the time he was out.

Apart from his struggles with school teachers, students and medical needs he is in fact an intelligent young man, outstanding in mathematics and poetic in English and even French always getting himself As or Bs within these courses, he is also studious in the world of science, dabbling in chemistry with surprising fascination and poise despite his dream to become a writer and artist in later life. Despite the teachers worrying about him they find him a good student when he behaves.
|| Stubborn || Hot headed || Selfless || Studious || Approachable || Witty || Distrustful ||
History:
Born into a Wealthy Family and being the only heir to his parent's estate they went out their way to get him the best medical care needed and showering him in luxuries that he never cared or asked for, his parents often come and go from the school to check on in to see how his grades are without fail, embarrassing him. His Father, William Harrison Woodward is the sole owner of the two hospitals, both being far from Benjamin more into the city meaning Josh's relationship is strand further apart, almost like it were only his mother and him living in a flash town house.

While his mother, Jane Anne Woodward is a owner of a art gallery. Josh and his mother are closer than him and his father being that his father pushes him to follow in his foot steps but he and his mother share the same passion which is art, often spending hours painting or drawing new pieces for the art gallery and often having them sell in a day or two and this is how he got the life time wish to become a artist, just like his mother, he wants her to be proud of him but also wants his father to accepted him for who he is.

Being that Josh is gay, knowing this from a young age and instead of talking to his father about his sexuality he went to his mother who accepted him for who he was and in some ways they became closer for this however his father has yet to know as Josh has yet to tell him, in social parties he is set up with other girls from other wealthy families from his father who is oblivious to his son's sexuality or maybe in denial.

His mother and him have always been close especially since he was and is a sick child of hers where as his father was heart broken from this, the father's hopes and dreams into his son destroyed and so they have a harsh relationship and this stemmed Josh's dislike of himself and his hatred of his illness, that being Hyper chronic pain he as both primary symptoms and secondary symptoms of this which is both a rarity and a constant treatment. This was born from his ability primarily but because of certain traits within his fathers DNA strand and that just threw a father and son relationship of the window....constantly never seeing eye to eye with each other but when Josh was rushed to hospital when he was young and even at times now his father is always there....Somehow His father and Mother are still together to this day. His father also supports medical needs for the school and Josh.
OTHER:
Josh as a lot of pinprick scars on his hands and arms from countless needles being injected into him for pain relief. Josh's Father also gives his school medical materials for all to use and the support of money also for Josh's medical needs.
Lyrics:
Why even try to justify leaving, why not just run away?
Why even wait and hesitate breathing, why would you want to stay?
Nothing you say could change the way he feels, nothing could save you now
So just let this go

Every collapse that came to pass faded out of your memory
All of the times he left you blind, jaded, down on your aching knees
Why don't you see the lies that he's telling, why don't you give it up?
And just let him go

Shot down, with no sound
To the cold ground below
And there's no one around, you won't be found
So hang your head and [let it fade away]

Your heart on a string, without a wing flying, no one to hold the kite
He let you go, but still you blow by, oblivious to the height
Check out behind and you will find nothing's holding you to the ground
He just let you go

[Chorus]

Don't let him pull you down, just let him drown alone
You'll land, and someday you will find a truer hand


I know you tried to see his side clearly, I know you gave your all
I know you died a little inside when nobody heard your call
Every mistake you come to make grows and echoes inside your brain
You need to let them go

[Chorus]