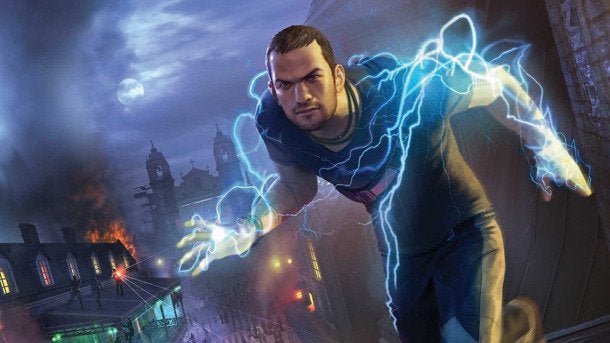 (*)
There a few inaccuracies with this image but it's the closest that I can find AND upload, see the description
(*)
(*)Thank you to Kotaku for the picture of Infamous's character Cole(*)
Full Name:
Rick Ronin
Nicknames/Aliases:
N/A
Age:
24
Gender:
Male
Gift:
Super Strength, the Ability to create and Manipulate Lightning/Electricity
(his maximum strength is 700 tons)
(his powers and abilities are still improving; it requires training and lots of pushing his powers to the limit before they improve)
Loyalty:
Any cause he believes in but also the Wanderers
Description:
He is 6'2", is 200 lbs of muscle, has short dirty blond hair and eyes that are blue with yellow mixed in around the pupils. He prefers to wear athletic wear that's blue and black. His most notable facial features are his chiseled cheek bones and piercing stare.
Personality:
Rick is naturally a kind, caring, loyal, loving, gentle, and good person. At the core of his being he will always be those things no matter what. However, not many people see that side of Rick because his life has been full of abuse, cruel living conditions, countless attempts of people trying to kill him, killing people with his own hands, and extended periods of time away from human society.
The personality that most people see is the silent, serious, stubborn, strong willed, distrusting, violent, loner who is way too willing to take another person's life. Many people consider him to be a monster because they have never seen any emotion that resembles remorse from him, which is caused by Rick's need to "protect" himself at all times by staying "strong". Rick doesn't sleep much because that's when his remorse comes out, in the form of horrific nightmares. People see him as a "might makes right" kind of person because he's bad at using diplomacy and he excels at fighting. He will therefore attempt to solve most problems with violence. Rick's anti-hero tendencies paint him a villain, causing more friction between him and others.
Everything that Rick does is an attempt to passively reach his life goals which are: Using his powers for the good of the world, become a hero, and be a part of and/or start, a family. His powers are only good for battle so at every opportunity he will fight for a worthy cause, once found he'll put himself in harm's way to protect more important people and those he cares about. He's been known to stand up and protect those who aren't strong enough or powerful enough to protect themselves. Rick does fear getting close to people because whenever he has, that person or people get killed.
On any given moment Rick is most likely to be gazing off in distance in contemplation.
Skills:
Seasoned warrior and hunter
If he's breathing he's still fighting
He's very resourceful and creative in battle
His lightning bolts aren't usually exploitable
He has a natural resistance to heat and cold (not impervious too it)
Rick excels in adapting to the worst situations especially in battle
He's willing to push his body, mind, and soul beyond their limits no matter the cost
Trained in kickboxing, martial arts, submission grappling, and using various weapons
Conditioned his body to function even under dire circumstances (starvation, extreme pain, extreme weather conditions, lack of sleep)
Weaknesses:
He's not highly educated
Mental Attacks hurt him the most
His static powers can be exploited
He's hasn't mastered any of his fighting styles
Every time he goes to sleep he has terrible nightmares
He has a tendency to rely heavily on his powers to defeat enemies (especially lightning bolts)
Brief History:
A local orphanage agreed to let Erubesco take their pick of children in exchange for money. One little boy showed more potential than all the other children. Both the boy's enhanced strength and electrical output consistently grew each year and he was selected for experimentation. That boy was Rick Ronin. Erubesco was confident that they draw out his full potential and quickly got to work.
Rick spent years living at a Erubesco Lab, specifically in a giant tube which was filled daily with different experimental goo. He was implanted with false memories so he could be better controlled once the experiments worked. The false memories were working perfectly and the higher ups were sure that they could utilize those painful memories as a catalyst for him needing a better life. Rick would be introduced to the ideals of Erubesco making him a loyal Knight who believes that the Erubesco way is best for the whole world. But success never came. For the boy's body and powers seemed to resist every treatment and experiment in Erubesco's arsenal.
One more chance.
A large thin rod like device was implanted directly into Rick's chest; it was a power enhancing device. The device was slightly too large to fit completely inside Rick's body, for the end of it protruded out of the center of his chest. The visible piece was dark blue in color and shaped like a sapphire the size of a quarter. The enhancer was working at maximum capacity for a week but still there was no sign increased power from Rick.
He was prematurely deemed a failure and immediately taken off life support and hastily thrown away. Such a disposal of a corpse was completely against protocol and the parties responsible were severely disciplined. Erubesco officials were sent out to correct this mistake but failed to find the body, it was gone. Before the officials could reach him, Rick's heart was restarted by a sudden of burst electricity once the power enhancing device finally started working with his powers. After reviving, Rick simply wondered off.
Throughout the rest of his life, Rick's newly enhanced powers, of super strength and the ability to create and manipulate lightning, kept him safe from the barrage of attacks by all sorts of people. He lived a difficult and dangerous life but his implanted memories started altering his perception of reality. What really happened to Rick during those years is a mystery but his personality suggests that he was, at one point, raised by wolves. It is confirmed that Rick erupted with lightning firing off in all directions. The result was the complete destruction of an entire population of a large city. It was a dark stain on his soul that has only gotten darker over time. Eventually he became aware of the Liberty vs. Erubesco war when he met Dawn. She was a younger girl who was in trouble with some dangerous folk, so he took care of them for her. Rick decided to look after her like a older brother and they then met Drake, a young man who constantly butted heads with Rick. However, after Rick rescued Drake the two of them started getting along. The three stuck together and protected one another and eventually founded the Wanderers, a group dedicated to helping one and other live safely from the warring Factions and other threats. But tensions rose too high between Rick and the others and he left the group dropping off the map to the Factions and Wanderers alike.
Time passed without incident until one day everything went wrong. The power enhancing device shut down, Rick's implanted memories started to break apart, and he was attacked by a random group of thugs. With his powers nearly non-existent, Rick could only rely on his rudimentary kickboxing skills and slightly higher than average strength for his size.
The result was losing all of the supplies taken for his journey, a savage beating, and the death of his one remaining friend, Belle. The thugs got away with minor injuries. Rick must now face his warped reality alone, once again.
Other:
[list]
[*]If you are one of the few people who has earned Rick's trust and friendship then you have a powerful warrior who'll put his life on the line to protect you no matter what (like a guard dog).
[*]If you choose to be Rick's enemy then there's nothing he won't do to take you down no matter how long it takes (like a wolf on the hunt).
[*]If you leave Rick alone then he'll leave you alone (like a bumble bee)