Brianna "Vyklade" Nofal
"Stay sharp; you might have a chance."
---
---
|Name|
Brianna Nofal


|Nickname|
Vyklade-- "Snake"


|Race|
Human
|Age|
17


|Sexuality|
Heterosexual

|Face Claim|
Evie Frye from Assassin's Creed: Syndicate

|Dialogue|

#4C004C

|Thought|

#004C00





|Abilitiesl|
Born Thief--Grew up on the streets, stealing just to survive.
Hide and Seek Champion--not officially, but if she doesn't want to be seen, it's gonna be really hard.
Great Hand-to-Hand Combat--Also skilled with a knife or a stick/cane. Also, punching people and whatnot.
---
---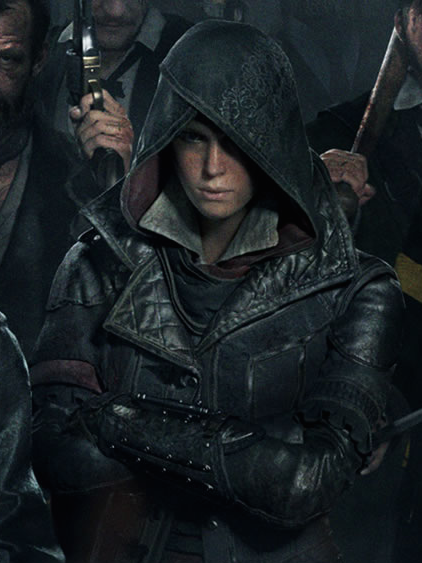 |Likes|
Peace and Quiet
A hot cup of Tea
A well thought out plan
The rush of infiltration
A good fight
Medium-rare Steak.
|Dislikes|
Unnecessary noise
Cold Tea
Fools and idiots
An overly-cooked steak
|Strengths|
Able to steal just about anything within reason without being caught.
Extremely quiet.
Very physically fit--can hold her own against men twice her weight in combat easilly
|Weapons|
Fists and feet
Various knives
A Cane-Sword that is both stylish, and functional.
Colt .45 Handgun with 2 magazines full of rounds, plus one already loaded; never one bullet in the chamber until after she draws it. It features a Silencer that can be removed and attached when needed.
|Fears|
Ending up alone in life
Bees
Wasps
Her past being used against her.
Feeling helpless
Being useless
|Role|
The Theft
|Personality|
She's a generally quiet girl who mostly keeps to herself. She's a quick learner, and a bit anti-social. She doesn't like being alone for very long though, nor does she like being in large crowds for a long time; though it makes it easier for her to vanish in plain sight. Once people get to know her, she opens up quite a bit, and will frequently joke with them, and become rather touchy; patting them mostly, or a light push, or hugs.
Should she find romance she becomes very cuddly and gentle; almost like a puppy, finding every opportunity to show affection.
When deployed (in the future) she will be almost stone quiet and emotionless when sneaking, fighting, and even killing. Whatever is needed of her she will do to the best of her ability.
---
---
|Family|
See history
|History|
Brianna originally was born into a decent family. Middle Class, nice house, good parents, beautiful dog. She got a lot of what she wanted on Christmas and on her birthdays when she behaved, and had a comfortable, easy life. Her parents were both smart people; father was a banker in downtown Brooklyn, Mother worked as a store Manager in uptown Brooklyn.
She went to a descent school in terms of preschool; but as she entered first grade catastrophe struck. Her parents both were killed in gang-related incidents within days of each other. Now a ward of the state and refusing all foster homes and orphanages, she took to living on the streets at about ten years old. The first year was rough; barely surviving. She found some friends and they helped her out. Eventually she became a decent thief, food and clothes, mostly. Eventually however she moved onto bigger and better things.
She began to pick pocket at 13, and as one would expect, sucked at it. Luckily she was fast, so she always evaded capture. After a few months she was practically a master, and was stealing things left and right, even if she just brushed up against someone, which in New York was easy to do. However she got even better when she could be feet away and manage to snatch a man's watch while his hand was in his pocket. Nothing could stop her! She'd sell the watch, actually buy food and blankets, then return to her hideout. Like many homeless, she often turned to shelters in order to keep up her personal hygiene, and as such she never specifically looked homeless, or like a thief, which only aided in her efforts to survive.
Puberty treated her well, developing her figure into that of a beautiful young woman, which she often used to her advantage as well, seducing men into lowering their defenses before knocking them out and taking their things. She had developed quite the reputation for being a thief, one that she apparently didn't think could lead straight to her. That could lead "Them" straight to her. After a quick chase and a rather violent fight, she was captured by staff of the "Agency" and inducted into their program. She found that the life they offered was much better; and she could get even better at doing what she found to be fun, so she decided to stay. Now her training will begin, and she's a bit eager to see where it leads her.