❝
Huh? Oh, don't mind me. I'm not crying. Well, I am crying, but I'm not sad. This just kinda happens.
❞
||Speech Color
#0000FF
||
||Thought Color
#00BFFF
||
♪[url=url here]Theme||Artist[/url]♪
Face Claim || Erio Touwa
---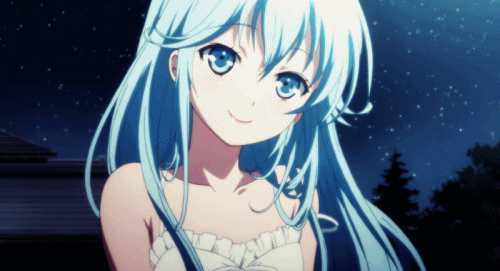 ♠Age♠
16
♠Gender♠
Female
♠Height♠
5' 4"
♠Weight♠
126 lbs
♠Type♠
Hydro
♠Physical Description♠
Raelyn is quite pretty for a mutt. Her hair is long and sky blue. Occasionally Raelyn's eyes, when exposed to natural light, will reflect colors of the rainbow like a prism might - however her eyes are normally a sky blue like her hair. She's somewhat short and has a slender frame; because she is a hydro mutt she's neither fast nor strong, but she's very energetic and her power is easier to control, so she uses these things to make up for what she lacks in combat.
---
Friendly || Childish || Cheerful || Loving || Playful
Likes
+ Swimming / Being Outside
+ Friends / Games
+ Toys / Stuffed Animals
Dislikes
- Dry / Cold Weather
- Meanies / Bullies
- Isolation
Fears
☠ Drying Out
☠ Freezing to Death
☠ Loud Sound
Raelyn is a very carefree, happy girl whose behavior is more similar to that of a puppy than a person (leading to many jokes about her being a "puppy" instead of a "mutt"). She's very playful and openly affectionate, though if someone is made uncomfortable by this she'll try very hard to restrain herself. She makes surprisingly good conversation as she's very smart, and excellent company whether you need someone to cheer you up or just remain with you in thoughtful silence. Raelyn is almost constantly crying however it's not because she's sad or anything, it's actually a sign of good health for a hydro - is she were not producing tears it would mean that she was either dehydrated or going into a state of shock. At first this annoyed her but eventually she got used to his trait and now carries around a pack of tissues which she graciously offers to anyone she thinks may need one.
---
"Doctor Yasuhiro! Doctor Yasuhiro!"
came a cheerful female voice from down the hall, accompanied by the pitter-patter of running feet.
"How'd I do on my tests? Did I do well?"
The man chuckled and patted the top of the bluenette's head.
"You did very well. You're in peak physical condition, Raelyn."
At this the girl cheered and spun around in a circle gleefully, her white lab-dress flaring out as she twirled. However she stopped suddenly and looked at the man again. Tears were freeing flowing down her cheeks, however there was only confusion with mild concern, no traces of sorrow in her sky blue eyes.
"Doctor Yasuhiro,"
Raelyn bit her lip a little,
"What about the others?"
"What about the others?"
"Well, I mean like Nelliel. And Dashure and Haruta. Are they okay for today?"
Doctor Yasuhiro sighed quietly. This was not unusual for Raelyn; she concerned herself with the well being off all her fellow mutts (older and younger than her), but was especially worried about the Aeros. She was well aware that they were constantly sickly and thus constantly asking how they were holding up. Doctor Yasuhiro didn't want to be the one to inform her one day that one of the mutts had passed away. Fortunately, today that was not the case.
Doctor Yasuhiro patted her on the head again and offered a reassuring smile.
"They're all doing just fine."
Immediately Raelyn's face lit up with a brilliant white smile.
"Oh good! Good, good, good."
she chimed happily, all the previous worry erased from her face (though the tears were still flowing).
"I was hoping to show Nelliel my new stuffie. I know she likes them and I just finished sewing him last night-"
The girl thrust a poorly sewn teddy bear into the Doctor's face in excitement,
"Doesn't he look great!"
This was a statement, not a question. He cleared him throat with a vague noise of approval (he didn't want to tell her what poor stitching she'd done) before gently pushing the bear back into her arms.
"Maybe later. Nelliel isn't feeling 100% yet, okay?"
He said gently, and Raelyn looked between him and the bear as if debating something before she finally sighed.
"Oh, okay. That's too bad. But I'll show her later, and she'll be happy."
the delight had returned to the girl's voice as she looked up at the man,
"Right?"
Doctor Yasuhiro cleared his throat and nodded again before turning away.
"Now I have work I need to do Raelyn. Go play with your stuffie for awhile and I'll talk to you later, okay?"
he said as he walked away.
Raelyn waved cheerfully at him as he disappeared around the corner before she herself turned and went back to her room, plopping down on her bed and sitting the stuffed animal upright on her lap.
"You're going to love Nelliel, Mr Bear."
she told the toy reassuringly,
"She gets sick a lot and can't really see all that well, but she's going to love you because you're soft and fuzzy and warm."
Upon saying this she gave the bear a hug before raising him up over her head, looking up into the glass eyes with her own watering, aquamarine eyes.
"If we get the chance I'll introduce you to everyone else, too. They're great. All the doctors and the mutts - like me - they're all my friends."
Raelyn giggled, hugging the bear tightly again.
"And so are you!"
◤
◥
◣
◢