||FC: Mitch Hewer||
---
---
||Human Name||
Leon Dallan Gail

||Angel Name||
Leon

||Age||
Twenty-one / 21

||Race||
Angel
---
---
||Height||
5'9

||Weight||
160lbs

||Hair Color||
Blonde

||Eye Color||
Blue

||Tattoos||
None

||Piercings||
Top of the left ear

||Scars||
N/A

||Overall||
Unlike the majority of the other angels, Leon dresses very casually. Plain long sleeve shirts and jeans are usually his favorite thing to wear. He doesn't style his hair, just leaves it naturally messy and he very rarely ever dresses up. He's fairly thin, but has muscles in all the right places. One of the upsides of being an angel.
---
---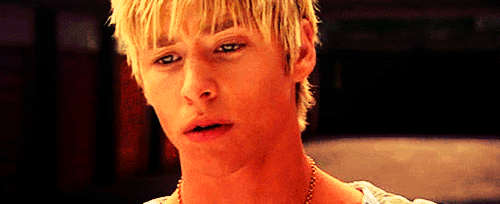 ||Likes||
Peace and quiet
The ocean
Flying
Getting to be himself

||Dislikes||
The council
Having to act heartless
Having to hide his sexuality
Being called Leo

||Fears||
Being betrayed
Being rejected
Falling for a human

||Secret||
He's homosexual (He keeps this a secret because if others knew, mainly the council, he'd be ridiculed/rejected/abused and kept as a slave just like any other angel that doesn't fit the council's idea of 'perfection')

||Personality||
Despite his angelic good looks and charming smile, Leon tends to come off as completely unapproachable. He's cold and indifferent towards most and tends to scare people away with his stone cold glare and "fuck off" attitude. He seems completely apathetic and invisible. The type of person who has no weaknesses, no vulnerabilities and is downright indestructible. The type of man who wouldn't think twice before taking someone's life. But all this couldn't be further from the truth. Leon is caring, vulnerable and very fragile. When he was still just a normal human, he was known as one of the sweetest people you would ever meet. Extremely kind an gentle hearted. So kind, in fact, that people would sometimes take advantage of that kindness. He was screwed over more times than what he could count. Now, after going through everything he's had to go through, he promised himself he would never let anyone take advantage of him again. He swore he would never let anyone see his weaknesses. He made it his purpose to stay as far away from people as possible, not just angels but humans too, even if that meant feeling painfully lonely. Despite how much he hates having to act like a heartless jerk, he's convinced himself its for the best.

There is only one person that knows the real Leon. She has been like an older sister to him since the moment he stepped into Eden. Cordelia not only knows the truth behind his facade, but she also knows his secret. She has sworn to never tell a soul, and Leon has come to trust her deeply. He trusts that she'll keep that promise, even though in the back of his mind he's still terrified of being betrayed yet again.