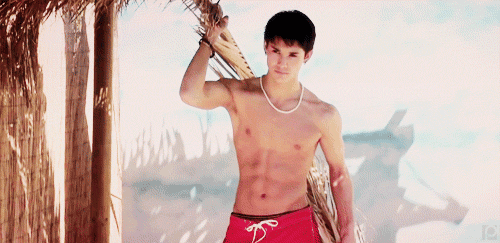 Full Name:
Eden Adam Haven
Nicknames:
I'm pretty sure most people just call me Eden. It's already pretty short, so I don't think I need a nickname.
Age:
I've been on this Earth for 17 years.
Birthdate:
I'm not sure, but I celebrate on the 8th of June.
Home Town:
I was born in L.A. but I moved to the island of Oahu when I was adopted.
Sexuality:
I guess I'm bisexual, but I prefer the term "fluid."
School:
Arcana
Power:
So most people think that my power's really basic. I can bring seemingly inanimate objects, such as statues and dolls, to life. But it doesn't really work like that. I believe that everything has a soul, but "lifeless" objects are in a state of spiritual unconciousness, or sleep. All I do is wake them up from it. They're amazing beings and I can't help but be amazed everytime I talk to them. They can recall almost everything they've ever seen during their sleep. They remember actually being created! How cool is that? They have emotions, opinions, thoughts, and worries, but all people see when they look at them is a piece of rock, metal, wood, or plastic that's pretty to look at.
To be able to wake up one of these beings, I have to make physical contact with them and desire for it to wake up. I have to
want
them to be alive. They also have free will, meaning they don't have to listen to what I say, but most of them take a liking to me. I also have to put my brand on them, so that we are binded together. I'm not sure if it's nessessary, but after years of working with them, they all insist it is. I don't know why, but who am I to argue with them? It's a weird process, one in which I have to give them a new name and somehow write it on them. This usually means I have to carve it into them with a pin, but it varies with the material of the object I'm being binded to. Then I have to draw my
brand
as well.
Another thing about awakening these beings, is that despite the fact they're moving and talking like an organic person, they're still made from the same materials they were originally made from. So depending on their material, they can all break at a certain point and they all have their own propeties. Like, stone statues are very strong, but they're kinda slow and will break if they're hit hard enough. Wood statues are very fast and durable, but they're still really flamable, unlike Clay sculptures that can withstand heat, but they break easily. But it doesn't matter what material they're made of if they need to sleep. The longer they're awake, the longer they have to sleep. Like, if I woke one up for a day, he or she would have to go back to sleep for about the same time. Sometimes, if they're awake for to long, or they've wasted to much energy, they'll just freeze in the position they're in and sleep until they've recharged.
I also have some other setbacks that shouldn't surprise anyone. I can't wake up something huge, like the Statue of Liberty (I tried. I think she might have blinked though.) I can't make them go back to sleep. I can't force them to do anything and I can't wake up some things like chairs or tables. Or mops (I tried to do that whole dance number that Mickey Mouse did when he had the wizard hat on, but it didn't work out).
Likes:
~Listening to people
~Statues
~Hanging out with friends
~Sketching (I've gotten pretty good)
~Jogging
~Watching T.V.
~My family
~Going to the beach
~The occasional party
~Sparring (I've gotten pretty good at that too)
Dislikes:
~People who judge others
~If someone calls me a Jesus Freak
~When someone tells me that statues and toys aren't really alive
~Myself (Sometimes)
~When people talk about sex
~Stupid movies
~When I do something wrong
~When someone points out that I'm asian. (I've noticed)
Fears:
I'm so scared that I'm going to lose my family. They've been so good to me and I'd be ruined if anything happened to them.
Personality:
I'm a pretty low key guy. I'd rather spend all night with a few friends and a T.V. than with a huge crowd of people that I don't know. That being said, I do like to go to a party every now and then, just as long as it doesn't get to crazy. I've also been told that I'm lacking in the confidence department. I guess I'm a little modest and I admit I can be really hard on myself sometimes. It's not that I hate myself, I just know that I could be better in certain areas in my life and I recognized that a lot of stuff is my fault. I don't think there's anything wrong with some self criticism, especially when you're me.
I'm well known as a happy guy and most people notice that I smile a lot. It's my automatic response to a lot of different situations. I have an awkward "You're making me blush" smile, a "I'm covering up how I really feel" smile, a "That's really funny" smile, and a "I really want to kill you" smile. I don't know why I do it so much, but it's worked for me. Smiling makes everything feel a little better, y'know? I've been told that I blush easily, which is true. Whenever someone gets a little flirty with me, I turn red. I respond the same way when anyone mentions sex. Even when they say the word sex. It's really embarassing, but I don't get it. It's not like I'm a virgin, but I can't help it. I feel like talk about sexual things should be reserved for the bed room, between the people in it.
People also say I have a weird relationship with my statues and toys. I respect them for what they are, highly intelligent and magnificent beings, and I guess other people don't see them like that. They just see them as a moving rock that looks like a person. I love talking to the statues and that's were I formed my knack for listening to people. Person, statue, doll, or sculpture, I adore listening to people, and I actually care about what they say. I'll spend days trying to find out a way to help someone. What can I say, I like helping people out. I also credit this to my faith. I'm pretty religous and I believe that God has a plan for all of us.
History:
So...my early childhood wasn't great. Something happened to my parents and I was put into foster care. My first family were extremely nice to me. They seemed like they cared about everyone, but there were just too many kids there. We were all split up when our foster parents were convicted of selling drugs. My second family wasn't so friendly. They were strict Christians (the kind that hate gays and everyone that wasn't a "good Christian") and they didn't like me for some reason. I'm not sure why, but they were convinced I needed to be saved. It also didn't help when I brought my foster sister's barbie to life. I was thrown out of the house when I was only 8 years old. Thy yelled at me and told me I was a child of the Devil. And I believed them.
I didn't understand my powers and I was scared of them. I wandered the streets for a long time, until I got really lonely. I slept in a cemetery one night. I found the statue of a crying angel and I felt sad for her. I wanted her to tell me why she was crying. I wanted to know why she was hurting. I put my hand on her hair and I was shocked when she looked up at me. I was scared at first, but she seemed confused. I explained that she had just randomly come to life and she seemed to understand. After several minutes of just staring at her, I asked her why she was so sad and why she was crying. She told me that she was weeping for the families of those buried there. We spoke for hours and I listened to everything she had to say. We became good friends and she asked me to name her and bind myself to her. She seemed to know something I didn't, but I went along with it. I named her Mary and I used a pin to carve her name and my brand(a symbol I saw at a Native American store I saw once). I went back there every night to talk to her and the other angels in the cemetary.
One day, I met another boy in the cemetary. He appeared to be homeless as well and I spoke to him. He held a sketchpad in his arms and he seemed so scared. He said he ran away from an abusive home and he was looking for a place to stay. I told him that he could stay with us, but he seemed rather scared to sleep somewhere that dead people are buried. I also noticed he wasn't very shocked to see statues moving and talking. I asked him about it and for the first time, he smiled at me. He opened his sketchpad and showed me an amazing picture of a dragon breathing fire. As I stared at it, the beast started moving on the page and the flames jumped out of the paper.
During the day, Aiden (the boy with the sketchpad) and I searched for a new place to live. We found an abandoned house and it was just perfect. The walls were lined with paintings and statues were all over the house and the back yard. We moved in, bringing all my angels during the night (I'm pretty sure the story of the missing statues was aired on the news) and we were happy. We all lived there for years and I think Aiden and I started to developing feelings for each other. But then, someone found us. Aiden was returned to his family and I was put into an orphange. I was adopted shortly after and I loved my new family, who moved me to Hawaii. They were Christian, which scared me, but they were different than the family before them. They were loving and kind. They helped everyone, rather than judging them and I felt like I could tell them anything. Well...almost. I didn't tell them about my power or the fact I was attracted to boys.
They were my family, though I missed Aiden, Mary, and the other angels with all my heart. I actually remeber begging them to go back to my old house so that I could get a few of my statues. They did, but they were surprised that I wanted to retrieve all the angels. They were all moved back to our Hawaiian home and life was just perfect. I wanted to find out more about my power, so I started doing some research. I found out about Arcana. I enrolled and told my family about my ability. They were skeptical a first, but it was hard to argue when Mary came in. They told me that my ability was a gift from God and I agree. They sent me to Arcana and I've only been going there for about a year. I'm still considered a new kid, but I think people like me.
Anything else?
My family still doesn't know that I'm bisexual. And my angels followed me over to Arcana. Mary is usually sleeping in my room, but the others are all over the campus. And since I've been sketching for a while, I've been drawing comic book strips based off of the two schools. Seriously. I've even made a costume design for everyone and given them all their own super hero or villain codename!