---
---
"Do you think, maybe one day, we can all be truly equal?"
---
---
Name
Kosei Kasahara
Nicknames/Aliases
Powerhouse
Age
16
Gender
Male
Sexual Orientation
Heterosexual
Academy Year
Tenth
Birth Date
September 4th
---
---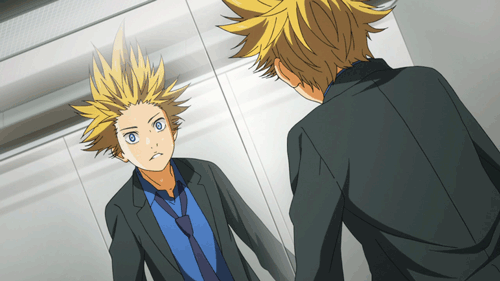 Hair
Blonde, Somewhat Long, and Incredibly Spiky
Eyes
Dark Blue, Fades into Light Blue
Height
5'9"
Weight
135 Pounds
Body Build
Average, Slightly Toned
Physical Mutations
N/A
Notable Scars
A Curved, Jagged Scar Down His Left Forearm
Piercings and Tattoos
Single Piercings, Both Ears
Casual Wear
Kosei's casual attire tends to be "comfortably simple", or at least that's what he calls it. The outfit consists of a grey t-shirt that seems somewhat loose, and a black pair of pants that are more fitted. A black belt sits around his waist, while a pair of dark colored, comfortable shoes cover his feet.
Face Claim
Takeshi Aiza – Your Lie in April
---
---
Personality
Kousei, despite how he was before he came to the academy, has regained some of his cheerful, friendly, and humorous personality over the time he spent there during the summer. He seems to be more open to others again, and enjoys to be around with his friends and other groups. Some of his confidence appears to have returned, and he occasionally will join in with others to play games or talk or even play some pranks inside of the campus. Yet even with all of that, he still acts nervous about his powers, and seems to get anxious with topics about it. He hasn't come to accept it yet, and is even scared, and doesn't like using it around others after the incident with Hachirota. He also seems to have trust issues, and is slow to allow himself to trust anyone.
Strengths
Kosei, when he was younger, enjoyed playing the piano, and invested a lot of time into it. He still knows how to play it quite well, even now.
Kosei seems to be pretty fast on his feet, and can move around incredibly quickly.
Kosei has a pretty high stamina, and can go for lengthy times running, physically fighting, or anything that requires energy (though it takes a while for him to get his energy back once he's used it all up).
Weaknesses
Kosei doesn't have very good control over his ability as of now, if any at all.
Kosei's trust issues tend to get in the way of positive relationships with others that he could have, because he holds himself back.
Kosei has troubles sleeping at night, and will lay awake for hours in bed, just tossing and turning. This can leave him exhausted in the morning, and sometimes he has trouble concentrating or listening to the lectures in the school, or to conversations he's apart of. Ocassionally he'll just zone out altogether.
Fears
Kosei is almost afraid of his ability, and doesn't like to use it around others, due to the fact that he's scared that something may go wrong while attempting to use it, and he could end up hurting someone around him by accident.
Kosei seems to be afraid of the normies, thinking they're all the same after his experience with those in his hometown.
Kosei has a literal fear of rainy and thundery wheather; he refuses to go outside during them, and often times will lock himself up in his room when one begins.
---
---
Power Name
Generator
Power Class
Elemental
Power Description
Kosei's ability allows him to slowly create electricity to house in his body over time. The electricity inside of himself can be released in different amounts, from small zaps to high voltage bolts, depending on how much he chooses to release, and how much electricity he is storing in his body at the moment. Kosei's ability also allows him to tap into power lines and other electricity generating things to give himself a temporary boost in power. If he has enough power stored within himself, along with a temporary boost, and he releases it all at once, he can change into a form of pure electricity for a short amount of time. He seems to attract lightning strikes/bolts as well, and when a storm is around, if he is outside or somewhere open, he is likely to be hit with one. The high volts of electricity immediately charge his storage up the maximum, while the rest of the excess travels through him into the ground. While it doesn't visibly injure him, it causes pain. To mostly prevent any accidental bursts of his power, Kosei wears two special black, rubber armbands on his wrists that insulates his electricity. He has to take them off before using his power.
Power Limitations and Weaknesses
If Kosei stores too much electricity within his body, it releases without his control out around him, sending out powerful electrical waves in all directions, with the possibility of harming himself and those around him, be it friends or foes.
Releasing all of his electricity at once (i.e. when he has enough power to become pure electricity; he accidentally releases it all) causes him to run his power dry, leaving him empty and without his ability.
Trying to activate his powers while he is wet (i.e. after taking a shower or swimming or being splashed/soaked with some kind of liquid or just water) causes Kosei to "short out." The electricity stored within himself is immediately expelled, as well as prevented from recharging for some time. There is also a chance for him to be electrically burned. If there is any conductive material between him and those around him, they may be hurt by the expulsion of energy as well.
He isn't immune to electricity, and if it were to hit him or attack him from some other source or person without him tapping into it, it would cause harm.
---
---
History
Kosei was born the youngest into a family of five, not including him, who was residing in an incredibly small, mainly agricultural town. The family themselves owned a small plot of land there, now even with a cow and a couple chickens, but they had moved there mainly because they had found it a good place to raise their children, instead of the farming part of it. It had proved to be a good choice as well, with a welcoming community of people and a freedom from the chaos of a city. Not to mention the fact that the city they had been in before was a beginning to become a dangerous spot with all of the controversy over the awakened still going on. They found that escaping all of that was the best for their family, even if it meant having to make their older children restart in a new school and community, and even find new jobs because of how far they'd moved.
After some time of settling in, the family began to find their places in the town. His mother started her own flower shop, while his father, a doctor, found himself a job at the small clinic they had there. They did well enough money-wise, and soon enough, they were comfortably living in the town. Kosei, himself, who was soon enough four years of age, even befriended several of their neighboring children, and found his little self happy in the place. There was plenty of things to do, lots of places to explore, and so much more for him to do than there would have been in the city.
As Kosei continued to age on, he soon enough began to start school at the small elementary in the town. He seemed nervous at first, even though he had the friends from his neighborhood there with him. It was a new place, and he didn't get out around the town enough to recognize every newly starting student there. Even so, he had to go, and decided he would do his best, no matter what happened. The only problem was, he and his friends were seperated from each other into different classes, leaving Kosei alone in his. This made him all the more uncomfortable, until he was forced to sit by one of his classmates, Hachirota. Hachirota was an outgoing, hyper kid at the time, and easily began talking with Kosei and trying to befriend him. Because of his persistance, it didn't take much time for Kosei to drop his childhood shyness with the boy, and soon enough, they became close friends. After some time of hanging out around each other, Hachirota even introduced Kosei to another friend of his, Harumi. Together, they became a friendly trio, with Hachirota being the "mastermind troublemaker", Harumi the "partner in crime," and Kosei, soon enough, joining in their mischief and becoming something like the second "partner in crime." They would often get in trouble with their teachers and parents, and cause trouble and come up with pranks within the town to annoy the townspeople.
It was at the age of thirteen, in Junior High, that Kosei's life was suddenly turned upside down. He'd stayed home from school due to being sick, and not even his father could figure out what he had. He guessed it was something along the lines of a fever, but wasn't entirely sure, and decided it would be best if he just rested for a day, and then they would see how he looked after that. Soon enough he was left home alone, with his siblings having gone to school, and his parents to work. About halfway through the day, he moved to go shut off his lights so he could sleep, and as he placed his hand over the light switch and flipped it off, before he felt a sudden strike of pain that was strong enough to force him onto the ground. Shortly after, he noticed his hands seemed to spark, and just then, a sudden burst of electricity shot out from himself all around the room, hitting in random spots and leaving anything electrical either shorted out or seemingly burned. Shocked over what had just happened, it didn't take long for Kosei to realize what had just happened. He'd learned about it in his school classes once, during history. They'd called it the awakening where people were suddenly able to do strange things, similar to what people could do in comic books. There was no way what he'd just done was normal. No way.
A feeling of panic came to Kosei, and he immediately began looking for some kind of confirmation to see if that was really what had just happened. His fever was gone now, but that wasn't enough to know for sure. He began to move around, touching anything he could that had electricity flowing through it. After some time, he returned back to his room, sitting down, and then concentrated, though he felt as if he couldn't breathe the entire time. If it was really true...what was he going to do? What would the others say?
After sitting on his room's floor for over a half an hour, Kosei had mixed feeling of fear and frustration. He couldn't take it anymore, and even though nothing had happened in that amount of time, he couldn't help but still try. He needed to know. And finally, after all of that, it happened. Another burst of electricity, this one much weaker than the last, but it was enough to know that it had really happened. Enough to know that he was one of them.
It was an awful feeling, to say the least. He immediately came to the conclusion that he needed to hide it, he needed to be normal. While there was still a chance that he could be accepted by the townspeople and his classmates, the opposite of that was also there was well, and he wouldn't chance it. But keeping a secret as big as that one came with its consequences. He began to feel almost insecure and nervous, and he wouldn't go along with Hachirota or Harumi as much to play their pranks, and even if he did, it didn't feel the same as before, with the fear that something could go wrong. He began to shut himself in his room as well, trying to keep himself away from others in case he accidentally lost control of it.
But even with the effort he put forth to hide it, it couldn't last forever.
A year later, Kosei was making his way home from Junior High. It was a stormy day, with the rain pouring down in giant drops. Kosei was making his way home at the time, through it wasn't pleasent to walk in this kind of wheather. He at least had a rain coat to keep him partially dry, and he slowly made his way through the streets, along with the others walking home, and the parents picking up their younger children from the elementary. It was about halfway through his walk, that something strange happened. The lightning began to sound closer and closer, and as Kosei moved out from where the others were walking to look up at the sky, a bolt of thunder struck down right at him. Normal people would have been right on the ground unconscious, if not dead, if something like this, but Kosei simply stumbled back several feet in shock, with some pain inflicting his body, especially around his forearm, but not enough to make him collapse. With wide eyes, he froze in his spot, and slowly looked around at those who had been walking around him, now dead in their tracks. The mothers with their children were staring at him with a look of complete terror and something like disgust, holding their children protectively close to them. Other adults were staring with wide eyes, or pointing and saying something he couldn't make out to those around them. Even people he recgonized from his school were looking at him as if he were some kind of monster, or as if they had never known him. So many mixed emotions were being thrown at his direction, and his heart was racing, his mind flooding with fear and panic. All that time of hiding it, and now it had been forced out of him in a complete accident. There was no way, if he was a normal person, that he would still be fine like this after being struck by lightning. It was clear they'd all come to the same conclusion: he was one of the awakened.
Finally breaking himself out of his fearful trance, he began running, to seemingly no where. He just wanted to get away from all of them. He needed to. Could he even go back? How would the town treat him now? Wasn't it just better if he disappeared?
Soon enough, he found himself out and in the middle of the mountains, a mile or so away from the town. He finally stopped there, too tired to run anymore, and fell onto his knees, a sobbing, nervous wreck. Staying where he was for several hours, it wasn't until the sun had fallen and left him in the dark that someone came looking for him. News spread fast in the small town, and Hachirota had caught some of it by chance when he'd gone over to the small grocer in the town to grab his mother something she needed. Visiting Kosei's houses had revealed that he hadn't returned home from school, and that his parents couldn't find him anywhere. No one else in town had even attempted to look for him, only said that they'd seen him running east, towards the mountains. It had taken him hours to find his friend, but finally he spotted him curled up in the grass, soaking wet. When Kosei took notice of him, he panicked, and tried to get away, but Hachirota managed to slow him down, and get him to calm himself. When he finally got him to talk, Hachirota was shocked by his story, amd soon enough realized why he had been acting so strange in the last year. It took some convincing, but finally the teen got Kosei to trust him, and to know that he wasn't going to hurt him. Finally he managed to guide him back to town, and there they were able to return to his home to get help from his father to clean out and wrap the burn up Kosei's arm from the lightning strike, that would later scar over.
Hachirota was the only one that acted like that. The town had all heard about it, and it seemed there were no others who even looked at him the same anymore. His classmates wouldn't talk to him anymore, not even Harumi, who Hachirota later told him was because many of their parents had told to stay away from him. Though, the news of his awakening stayed within the town as their own "secret," and because of that it would be some time before he received a letter for the school.
Around one and a half years after the incident, Kosei had gotten used to everything that had come with him being one of the awakened. Constantly ignored and ridiculed inside of the town by adults and his classmates alike, it had become clear to him that not everything the government and the things he read online about those with the abilities had been fixed. People still hated them.
It was some time around then that Kosei's life went completely downhill. He'd been cornered out by some of the well known bullies of the school, and he quickly cowered down onto the ground, curling into a ball to make himself smaller. He blocked out everything they were saying in a panic, and forced himself into his own world for a moment, before he felt a hand on his shoulder, and without thinking, struck out with his ability. When he looked up from his spot, he found Hachirota unconscious on the ground, with the people who'd cornered him from before no where to be seen. Horrified about what he'd just done, he quickly began to try and shake his friend awake, before Hachirota's eyes cracked open, and he spotted Kosei over him. It was that that marked the end of their friendship, as Hachirota shoved Kosei away from him, and quickly ran away, shouting all kinds as slander at him as he did. That marked the end of the town's secret, as the event was reported to the government by an unknown "messenger," and Kosei recieved a letter of invitation to the school. He easily accepted, wanting to get out of the town, and away from Hachirota as soon as he could; he couldn't face his friend again after what had happened.
---
---
║ Neutral – ◉ ║ Friends – ♪ ║ Enemies – ✗║ Romantic – ♡ ║
---
---
Lucien Ashford ║ ◉ ✗


"H-huh? You mean him? Well um...I don't know...he kind of makes me kind of feel uneasy. I just can't figure out what's going on inside of his head...what he's thinking at the moment, or at any time of the day."



Kosei doesn't seem to really...enjoy Lucien, to say the least. His fellow classmate's personality (Or does he even have a personality? It doesn't really seem like it) makes him feel rather nervous, or as if he is simply an annoyance to him. His blunt way of speaking doesn't exactly help Kosei's views on him either, especially with how sensitive he tends to be. The idea of being around him or stuck with him isn't exactly something he would like, so, Kosei just tries his best to avoid Lucien.

---
Alfred Komatsu ║ ◉ ♪


"I don't really know him, but he seems really friendly. Maybe he would want to hang out some time? Er, maybe not...he probably doesn't want to waste time on someone like me."



Kosei thinks of him as a kind person, patient, and smart too; someone that he would love to have as a friend. In fact, he even looks up to him. Yet at the same time, he's unsure if Alfred would even want to be around someone like him. Maybe it's just because he's always paranoid, but the idea of approaching him and trying to talk freaks him out. It would likely be the same way with Alfred trying to strike up the conversation. He seems to freeze up or stumble over his words...but he'll still try his best. So for now he just needs to get past his nervousness.

---
Nova Aria ║ ◉ ✗


"Nova's actually kind of...crazy? I don't really know how I could put it nicely...I mean, just the way they act, and they're always laughing about the weirdest things..."



Kosei doesn't seem to particularly enjoy being around Nova for the most part. The way the upperclassman acts seems to put him off, especially with the way that they're always up in his personal space without seeming to care much, or noticing his discomfort (yet for some reason if Kosei himself tries to push them away or touch them, or anything of the sort, Nova quickly backs off). Nova almost seems a bit, if not completely insane to Kosei, something he is a bit uneasy of.

---
Tomimoto Taikan ║ ✗ ✗


"W-wait, what? Him? Erk...no, really...please. I just...I don't want to talk about him. Not right now."



Saying Kosei is absolutely terrified of Taikan would be a massive understatement. The blonde can barely be around him without shaking from head to toe, and just the upperclassman's presence makes him feel as though he can't breathe, and that he needs to get away from him as soon as he possibly can. He hasn't seen him much, but he's caught rumors and conversations from other students occasionally that further confirm that his feelings are shared amongst many of his classmates and the others at the academy. Taikan is bad news, and he makes it more than just obvious with the way he acts.

---
Kurmochi Keiji ║ ◉ ✗


"Yeah...I'd rather not be around him. He's kind of...gross sometimes. I'm not really sure how I feel about his ways of doing things."



Kosei was taught from a young age by his parents to treat the opposite sex with respect and not to view them as sexual objects...but from what he's seen, Keiji acts the complete opposite. The red head is constantly spewing out sexual comments, giving nasty suggestions, and so many other things. Though while he doesn't really agree with his motives or ideas, he doesn't say anything about it to him either. He finds it much easier to ignore and keep his mouth shut rather than try and get him to stop. Though if he were to go to far...Kosei actually isn't sure what he'd do...

---
Abel Coelho ║ ◉


"Wait, your sister needs help? Oh um...um, one second I think I have a dollar or two..."



To say the least, Abel has really caught Kosei with his...lovely selling strategies. Kosei doesn't really seem to register the fact that that photo is probably off the internet, or Abel's stories are probably made up off the top of his head. Luckily for Kosei, he barely has any money to spare, so even if Abel were to approach him about buying something, he wouldn't be able to give up much. But, all the same, Kosei doesn't really mind Abel. He seems to be a nice person, even if he is a bit flirtatious and sometimes goes a little too far with his...things.

---
Elias Emerson ║ ◉ ♪


"He's actually really nice...a cool person. He seems to genuinely care for others."



Kosei seems to really like Elias. The way he acts towards others, his genuine kindness that he seems to have...even the way he talks (it's kind of funny don't you think? but it's still kind of cool...different?), not to mention how comfortable Kosei seems to feel around him, or at least, more than he normally does with other people. He doesn't feel like he needs to get out of the room he's in as soon as he turns up. He quite enjoys Elias's presence, actually. Nice, genuine people are really hard to come across these days.

---
Bardon Hemos ║ ◉


"He seems really cold and almost emotionless sometimes (but not as much as Lucien!). But I mean, he can't really be that bad, right? He is the academy's guidance counselor and doctor..."



Kosei isn't really sure about how he thinks of Bardon at the moment. The doctor/guidance counselor seems rather cold and off putting for what he's supposed to be within the staff, though Kosei wonders if maybe he's different when working with all of the students of Furushima Academy. He can't imagine a guidance counselor who is cold would keep the job for very long, right?

---
---
Nakana Nao ║ ◉ ✗


"Ah, Ito Nao? She always seems rather...intimidating, or at least to me, I don't know how the others feel about her. I can't help but feel so nervous whenever she's near."



Kosei usually finds himself quickly intimidated by Nakana. The "aura" she gives off is what Kosei feels as incredibly cold, and almost as if she's much older than she actually is. He finds himself nervous, if not paranoid, when he's around her, and when he happens to fall underneath her stare, he feels as if he's going to shrivel up and die, but perhaps it's just him overthinking things again, as always. Even so, he can't help but feel the need to steer clear of her, not wanting to accidentally get find himself on her bad side (a place he's sure he would actually die in, if he managed to get there).

---
Natalia Elwyn ║ ◉ ♪


"She's nice. I haven't really talked to her much, though. Er, that Nova person always hangs around her too...and I'm not really sure why."



Kosei finds Natalia to be a nice person that he would likely feel comfortable around, or wouldn't mind becoming friends with, though it's a somewhat similar situation with her as it is with Alfred. He feels somewhat nervous about the idea of trying to approach and talk with her, and occasionally seems to struggle to get his words right. Not to mention that Nova person is always around, and they quite scare Kosei.

---
Akiyama Shizuka ║ ♪ ♪


"She seems really nice, just really quiet. But that isn't a bad thing, of course. Maybe I can try talking to her sometime? She seems like she'd be a good friend."



Kosei finds Shizuka to be someone maybe he could become good friends with, perhaps get a positive relationship going with her, or something along those lines. He feels like they would get along pretty well. Though, she is very quiet, so he'd have to figure out a way to get himself past that, while being rather nervous about crossing those kinds of lines himself. But if he were perhaps able to, he'd be sure to do his best and be as good of a friend to her as he can.
---
Kylie Bennett
║ ◉
"Oh...yeah...um, she's okay. She's kind of scary though, and so I just stay away..."
Kosei doesn't necessarily hate Kylie, he just doesn't really want to be around her. She's rather scary, with a crazy personality, and an intimidating appearance that makes him feel like she could snap his neck at any second. So, to say the least, he's more scared of her, less angry and hateful towards her. So, as long as she doesn't do anything too insane around him, he should be okay. He'll just keep quiet and keep his distance when they're stuck in the same room, and try not to do anything that might set her off.
---
Amari Chiharu
║ ◉
"Oh, I dunno. I don't really talk to her. She just ignores me so it's okay I guess."
Kosei doesn't really think much about Chiharu. He hasn't exactly interacted with her too much, and she doesn't really care about him as a person, so they seem to just kind of...ignore each other? Is that the right word? They'll talk if they have to, and occasionally wave or say hello, but they're relationship doesn't show any signs of moving past something simple like that...and both of them don't really seem to care.