---
---
---
---
Dream Hunters are few in number, only an average of sixteen Dream Hunters are present at any given time. It's incredibly rare for Dream Hunters to converge in one area as they are assigned a territory that they must patrol. These Hunters are indeed human. They are the few who are capable of synchronizing with their Nightmare and Daydream counterparts. This "talent" does not mean they are not human or that they are above the level of a regular human, for these Dream Hunters are only able to synchronize with their Nightmare/Daydream when their Dream Domains are active

The process of becoming a Dream Hunter is incredibly difficult. The first step is to synchronize with their Daydream since they are more benevolent than their nighttime counterparts. It's relatively easy to synchronize with them but more often than not the Daydream will try to take full control simply so they can protect their human. The next step, which is also the most dangerous, is to synchronize with their Nightmare. By nature, Nightmares are always striving to terrorize their humans and to gain complete control. It is necessary for the human to conquer their fears but to also accept the fact that they must always be wary of the power a Nightmare is willing to, and can, grant.

---
---
---
---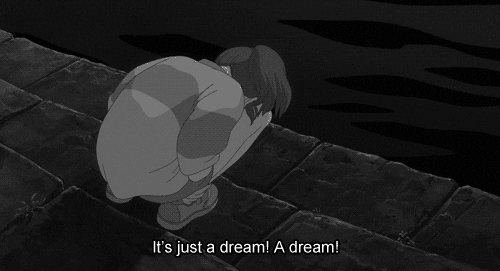 Nightmares & Daydreams:
Within the Dream Domain, Dream Hunters surpass the levels of a regular human being, meaning they are faster, stronger and more durable than the average human. Although Dream Hunters can take a few hits, they must remain cautious towards their foe. Hunters must be extremely careful as to how much power they take from their Nightmare/Daydream. If they lose any semblance of control, they risk the chance of the Nightmare/Daydream, more so the Nightmare, of taking complete control and giving themselves a vessel. Although it's possible for a human to take back their body, it's incredibly difficult and there is a short time frame in which they may be able to do so. They must take the body back before the Nightmare/Daydream grows accustomed to the body.

Nightmares are a race of beings that embody the stuff of dreams. They are everyone's worst fears, they're opposites and sometimes a person's deepest, truest self. They come in all shapes and sizes but generally keep a grotesque humanesque form to terrify their human. Like their nighttime counterparts, Daydreams are everyone's best dreams, their highest hopes, the ideal person they wish to be and like Nightmares a person's truest self. They come in all shapes and sizes often taking on a humanesque form that exudes well-being. Every Nightmare and Daydream reside within a Dream Domain. It is in essence a reflection of a Nightmare's or Daydreams being as well as the fears/dreams they embody. Their domains are endless and it is near impossible for a human to hide within them. A Dream Domain is like an extension of a Nightmares or Daydreams "soul". In regards to a Nightmares/Daydream's appearance, they are indeed influenced by their human's fears, traits, inner self ect however they do not dictate how a Nightmare/Daydream is entirely.

Nightmares and Daydreams, when first created, are young and weak. They don't have as much control of their Domain as they do when they get older however the older the human is the stronger the Nightmare/Daydream is. While Nightmares are capable of appearing during the day however it's incredibly difficult as their human's age determines their ability to do so.If a Nightmare is able to deprive their human of sleep long enough, they'll be able to force their Domain out while a Daydream is present. It's during these moments that a Nightmare can challenge a Daydream and thus kill it and vice versa (it's unusual for a Daydream to act out so violently). The act of killing generally classifies any Nightmare or Daydream as a Dream Eater.
---
[hr]
---
---