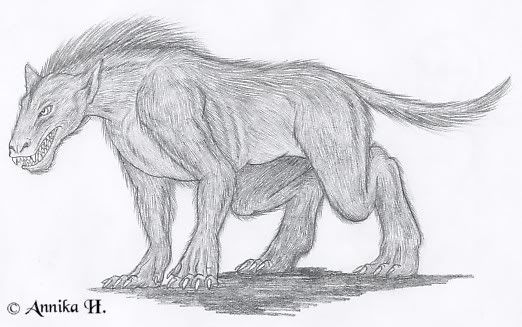 During the year of 1750, in the western frontier of the Pennsylvania Colony, along the border with New France, brutal attacks started happening on setters and trapper alike. Reports came in from both English colonists and French traders. Any attacks on the local Iroquois, Delaware, Erie, Shawnee, or Susquehannock were either not reported or fell on deaf years. What few survivors are found babbled about being attacked by a large wolf-like creature, with reddish hair and a foul odor.
Most victims however are found, with their throats torn out and partially eaten or ripped open. The setters have either been driven away in fear or franticly call out to their governor for help. A bounty is placed on the beast in both New France and Pennsylvania, calling in hunters and trappers from all over the colonies. Both English and French regulars and militia are also sent, as tensions left over from King George's War rise, leading to small clashes along the border.
Well, Irish Wolf is at it again. After watching Le Pacte Des Loups (Brotherhood of the Wolf for us English speaking people), I did some research about the Beast of Gévaudan, on which the movie is based and decided to make a role play loosely based on the tale but as with most of the rps I make based off of something, I'm giving it a few twists. The attacks from the beast started in June of 1764, in the province of Gévaudan and ended in June of 1767, with 210 attacks resulting in 113 deaths and 49 injuries.

Maybe the beast (or beasts, I might make it a pack of the things) will get captured and transported to France and explain where the Beast of Gévaudan came from or maybe it will be a good looking mounted head on someone's fire place? Maybe there will be pups to tame? Who knows when I'm at the wheel as GM.

The creature itself was described as It was much higher than a wolf, low before, and his feet are armed with talons. His hair is reddish, his head large, and the muzzle of it is shaped like that of a greyhound; his ears are small and straight; his breast is wide and gray; his back streaked with black; his large mouth is provided with sharp teeth
by one eyewitness and
it appears he is neither a wolf, tiger or hyena, but probably a mongrel, generated between the two last and forming, as it were, a new species by another source. An anonymous 18th century author gave the Beast the binomial name of Lycopardus parthenophagus (Panther-wolf, devourer of maidens).

I'm looking for hunters, setters, soldiers or natives that are looking to avenge loved ones killed by the beast, collect the bounty or maintain order (borders). Everyone may fight over who gets to kill the beast or if its on whos side of the border, which will most likely lead to the beast being able to escape most easily.
Taking place in...
1 posts here • Page 1 of 1
The virgin forests the Pennsylvania frontier softly swayed in the breeze. The light buzz of insects and song of birds only was silenced only by the limited passing of man. Not many people remaining along the border between the Pennsylvania Colony and New France. For two months now, something had been attacking settlers, English and French, what or whoever it was had no distinction between the two warring powers. Some English settlers blame local native but several villages in the area lay abandoned. What ever it was, it had a fondness for attacking women, ripping their throats out and then eating some of the internal organs. Any men it killed, it simply ripping them apart and scattered the pieces around in a small area.

However, reports have been pouring in, from the few survivors or the people that find the unlucky soul that got attacked of a huge beast, covered in reddish hair and with a horrendous stench hanging about it. As more and more reports of missing settlers or bodies pour into English and French authorities, action is demanded. Both the governor of Pennsylvania and the Police Chief-director of Louisiana placed a bounty for the head of this beast. They also arranged for patrols of made up of local militia and soldiers, to keep an eye on things, encase this was just some Indian trick.

-----------------------------------------------------------------------------------------------------------------------------------------

Young Molly Stark clutched her shawl around her shoulders tightly, despite the warm air of the late spring. The birds sung in the trees, crying out in their joy of chicks growing in the shell. It should have been a happy and light hearted time for the sixteen year old lass but the tales of the beast had been told so many times in her home, that she was loathed in leaving the safe walls. In fact, she never would have gone outside but for the fact that her papa was on a trip to Philadelphia, to meet with some bankers and her mother was bed bound with a child due soon.

She stooped from time to time, collecting ripening berries in a small basket. A feeling of general dread was slowly growing strong and making the girl want to run back home and cower beneath a blanket. Then, the stench of rotten meat assaulted her nose and a low growl teased her ears.

Swallowing and biting her lower lip in fear, Molly Stark slowly turned. Not twenty feet behind was a sight that caused the girl to pale in fear. A massive wolf-like beast stood on the path behind her, covered in thick, red-brown fur. It's mouth was filled with long, sharp teeth and it's yellow eyes looked at her with hunger or was it cruelty?

Slowly the beast crept forwards, the panicking girl could see long, sharp claws scratching the ground. At least, she tore herself from the beast gaze and screamed. She could swear that the beast smiled as she did. Yanking up her skirt, Molly turned and fled down the path, racing towards the Starks closest neighbor, her legs pumping with a speed born of fear. The beast's heavy footfalls grew closer and closer behind her. Soon she could feel the hot, putrid breath on the back of her legs.

With luck or the beast's playing with her, Molly burst from the woods, into Farmer Wickliff's pasture. As she raced across green fields towards the rough farm house, the back of her left leg burned with a sharp pain, as the beast took a swipe at her legs, raking the back of her left leg. She collapsed onto the sweet smelling grass. The beast placed on paw on her back, pushing her young body into the earth and keeping her from trying to wiggle away. It's hot and rancid breath seemed to pour over the back of her neck, as a little drool dripped down in globs over her smooth skin and into her rich brown hair.

As the end drew near for the young colonial woman, it would seem that she would need an act of God to save her and one seemed to appear. One of Wickliff's two oxen, a big black Gloucester bull, with his horns filled down, bellowed and charged at the beast, head lowered. If Molly had her wits about her, she might have wondered why a normally docile ox was attacking such a beast but the thought didn't resister.

The charging bull caught the right side of the large beast with his blunt horns and tossed it away. Landing on it's feet, the beast issued a challenging snarl and disappeared into the woods. The big ox stood over the bleeding girl, until Bill Wickliff, the farmer's unmarried son, came to see what had upset the farm's animals.

-----------------------------------------------------------------------------------------------------------------------------------------

Ross Barr leaned back in his chair, a long stemmed pipe between his teeth, tobacco smoke curling around his head. He, like many in the Backwoodsmen tavern, was heading out in the morning for the Pennsylvania border, only a few hours march away. A tankard sat on the small table in front of him, half full of the local brew. it wasn't too bad, he had drunk worse and at least the beer had a good head on it. The stew on the other hand, had been lacking in flavor but the bowl he had been served was empty and the remaining brow had been soaked up with a hunk of bread.
---
1 posts here • Page 1 of 1
Arcs are bundles of posts that you can organize on your own. They're useful for telling a story that might span long periods of time or space.
There are no arcs in this roleplay.
There are no quests in this roleplay.
Here's the current leaderboard.
There are no groups in this roleplay!
Welcome home, Promethean. Here, you can manage your universe.
Arcs are bundles of posts from any location, allowing you to easily capture sub-plots which might be spread out across multiple locations.
You can create Quests with various rewards, encouraging your players to engage with specific plot lines.
Settings are the backdrop for the characters in your universe, giving meaning and context to their existence. By creating a number of well-written locations, you can organize your universe into areas and regions.
Navigation
While not required, locations can be organized onto a map. More information soon!
There are no groups in this roleplay!
By creating Collectibles, you can reward your players with unique items that accentuate their character sheets.
Once an Item has been created, it can be spawned in the IC using /spawn Item Name (case-sensitive, as usual) — this can be followed with /take Item Name to retrieve the item into the current character's inventory.
Give your Universe life by adding a Mob, which are auto-replenishing NPCs your players can interact with. Useful for some quick hack-and-slash fun!
Mobs can be automated spawns, like rats and bats, or full-on NPCs complete with conversation menus. Use them to enhance your player experience!
Current Mobs
No mobs have been created yet.
Locations where Mobs and Items might appear.
You can schedule events for your players to create notifications and schedule times for everyone to plan around.
Add and remove other people from your Universe.
The Forge
Use your INK to craft new artifacts in The Beast. Once created, Items cannot be changed, but they can be bought and sold in the marketplace.
Notable Items
No items have been created yet!
The Market
Buy, sell, and even craft your own items in this universe.
Market Data

Market conditions are unknown. Use caution when trading.

Quick Buy (Items Most Recently Listed for Sale)
Newest
Trending
Most Followed
None
Discussions
Topics

Replies
Views

Last post
Most recent OOC posts in The Beast
This is the auto-generated OOC topic for the roleplay "
The Beast
"
You may edit this first post as you see fit.