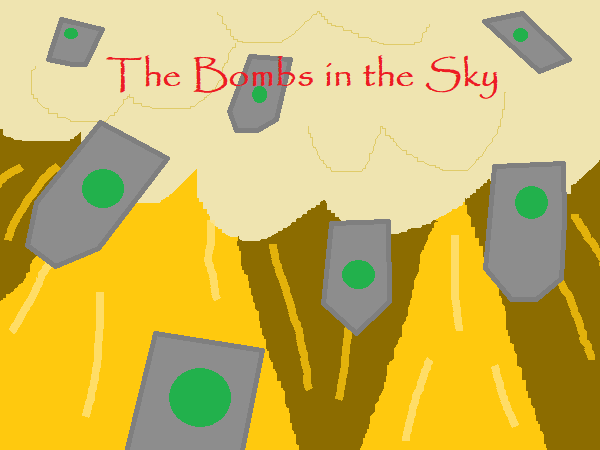 Nobody knows how those bombs landed on the United States of America on that fateful autumn day. Nobody knows who sent them. Nobody knows
why
. And yet it happened. The USA, reduced to a harsh, bitter wastelands.
But not yet. It would happen, but not yet. It is only just happening. You are the survivors of the Bombs in the Sky, and this is your story.
* * *
Welcome to the Bombs in the Sky RP! In this roleplay, you play as a normal, everyday Joe living in Washington D.C. in the United States of America. Perhaps you're a white-collar office worker in some big tech company. Maybe you are a government agent, serving your country and all it represents. Or a street urchin, or barista, or even the President. Then, out of the blue, strange missiles rain out of the sky, smiting the United States and causing great chaos. You must survive this attack in any way possible. And after you do, you must clamber out of your bunkers to see what happened to the world you once knew.
Before making a character and posting, read the rules so you know what to and what to not do. Have fun!
1. No racism, sexism, homophobia or other prejudice.
2. No NSFW content. Kissing and hugging are allowed, and so is sex - BUT ONLY IF IT IS OFFSCREEN.
3. There will probably be a lot of death and gore in this RP. YOU HAVE BEEN WARNED.
4. Don't create a character if you are never going to use them. Make sure you will be able to make time to RP in this before joining.
5. This is a Paragraph RP. That means that in each post you must use a 3 SENTENCE MINIMUM. Don't just say "He shoots the guy and runs away". Actually take the time to explain your character's thoughts and what they are doing.
6. Do not randomly state that a theory on how the bombs came about to be absolute truth. I am the final deciding member on how it goes. Your characters can theorize but never impose their theories. You can also suggest ideas for how it happened by PMing me, and I may take them into account. Until then, keep guessing.
7. Please, please, please do not break the fourth wall. It's annoying and grinds the action to a halt.
8. Have fun!
Taking place in...
The capital of the United States of America.
0 posts here • Page 1 of 1
0 posts here • Page 1 of 1
Arcs are bundles of posts that you can organize on your own. They're useful for telling a story that might span long periods of time or space.
There are no arcs in this roleplay.
There are no quests in this roleplay.
Here's the current leaderboard.
There are no groups in this roleplay!
Welcome home, Promethean. Here, you can manage your universe.
Arcs are bundles of posts from any location, allowing you to easily capture sub-plots which might be spread out across multiple locations.
You can create Quests with various rewards, encouraging your players to engage with specific plot lines.
Settings are the backdrop for the characters in your universe, giving meaning and context to their existence. By creating a number of well-written locations, you can organize your universe into areas and regions.
Navigation
While not required, locations can be organized onto a map. More information soon!
There are no groups in this roleplay!
By creating Collectibles, you can reward your players with unique items that accentuate their character sheets.
Once an Item has been created, it can be spawned in the IC using /spawn Item Name (case-sensitive, as usual) — this can be followed with /take Item Name to retrieve the item into the current character's inventory.
Give your Universe life by adding a Mob, which are auto-replenishing NPCs your players can interact with. Useful for some quick hack-and-slash fun!
Mobs can be automated spawns, like rats and bats, or full-on NPCs complete with conversation menus. Use them to enhance your player experience!
Current Mobs
No mobs have been created yet.
Locations where Mobs and Items might appear.
You can schedule events for your players to create notifications and schedule times for everyone to plan around.
Add and remove other people from your Universe.
The Forge
Use your INK to craft new artifacts in The Bombs in the Sky. Once created, Items cannot be changed, but they can be bought and sold in the marketplace.
Notable Items
No items have been created yet!
The Market
Buy, sell, and even craft your own items in this universe.
Market Data

Market conditions are unknown. Use caution when trading.

Quick Buy (Items Most Recently Listed for Sale)
Newest
Trending
Most Followed
The capital of the United States of America.
Discussions
Topics

Replies
Views

Last post
Most recent OOC posts in The Bombs in the Sky
I would like to add a character here. A girl if I can. If you want though, I don't mind playing a boy since there's already a girl here.
This is the auto-generated OOC topic for the roleplay "
The Bombs in the Sky
"
You may edit this first post as you see fit.