Desini Wrenholm
---
---
Name:
Desini Wrenholm

Champion Title:
N/A

Gender:
Female

Age:
Twenty three

Allies:
N/A

Enemies:
N/A
Description:
Desini is a petite young woman, standing a little over 5'2, most wouldn't really call her attractive not only and if they did think so, she wouldn't care to know. Her clothes are simple and unencumbering simple leather and cloth designs, that make it easy to disappear in a crowd and get away quickly. When you spend a big part of your time stealing from people you really don't want to stand out. She has a strong jaw line which has given her a less effeminate look her entire life, not that she's worried about how she appears to the opposite gender, she has better things to do than to waste her time on men folk. Her brown, hair falls in choppy layers that frame her face, and her eyes are a nice shade of sky blue. She wears nothing to make up her face, once again something she feels is frivolous when you're trying to either steal something for yourself or for an 'employer'.
Discerning Marks:
Desini has various scars all over her body, most are nick and cuts on her hands, but her most discerning mark is typically covered by her gloves. When she was a young child she lost the last two fingers of her left hand, it is something that she has overcame with time but still has issues with from time to time. Most are unaware of the deformity, since she has the gloves made to appear as though the fingers are there she didn't want to stand out, and it would be easy to point out someone missing fingers if the authorities were aware of it.
---
---
Desini has a very simple view of the world, money fuels her life. If it is something she thinks will put coin in her hand then therefor food in her belly and a roof over her head she will do whatever it takes. Determined and focused, these traits make her in high demand for rich antiquarians. Even though she often relentless in her search for these objects, she is not stupid, if she feels that something will risk her own life too much she wont take the job. Desini thinks highly of herself in certain respects, she is a sucker for challenges to her skill and always seems to trying to top her last 'job'. She has had little failures in her 'professional' thieving career, so perhaps that strokes her ego a bit.
Her ability to think on her feet and go virtually unnoticed are something she prides herself in. Even though Desini's life is ruled by money she isn't really greedy, she typically takes what is given to her, lives, and when the time comes that she is in need of coin again, she seeks out work. She mostly does what she does for the emotional, and physical rush it gives her to takes something from someone who is wealthy beyond belief, and in many situations corrupt, and then watch them after they discovered their prized item is missing. Maybe, it's a personal thing for Desini, to see those people that looked down on her when she was a poor orphan child wandering the streets, feel as helpless, and violated as she was.
---
---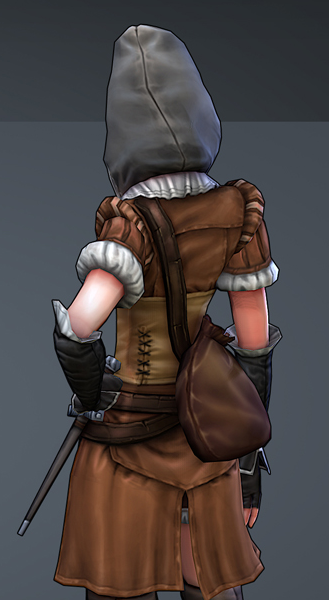 Alliance:
She really doesn't have any sort of alliance with any of the Gods.

History:
Desini knows little about her parentage she left on the steps of a monastery run orphanage as a babe and lived their till she was old enough to run the streets alone. Eventually she was taken in to a factory where many other children like herself worked, it was a grueling 10 hours each day with barely anything to eat, and cold nights spent sleeping on the dirty factory floors. One day while young Desini was cleaning a machine, her left had became caught inside ripping off two of her fingers. After, almost dying of blood loss and a shoddy stitch up job, she was told to leave the factory, since she would be unable to work. Left to wander the streets of the city once again, Desini took to stealing anything to survive.
Food set out my merchants in the market place, a mans coin purse... ultimately one day taking the purse of Terriel Rathborn a thief. Needless to sat the master thief was impressed with the child, he had neither seen nor heard her till he felt the small hand on his purse. He was even more impressed when he grabbed the small hand and saw that it was mangled and deformed, his coin purse clutched in three small fingers. Terriel took the child under his wing seeing potential in the young girl, he taught her everything that he had learned over the years. Desini absorbed it like a sponge, this was never a relationship like that of a father and a daughter.
Terriel never showed much love of affection for the child, but he always made sure his young 'apprentice' was well cared for. Desini stayed with him till she was sixteen, when Terriel was caught in a heist, and then ultimately sentenced to death. She has sense made a name for herself, in as much demand as her teacher before her. Her latest, job has taken her to Kevaug's Crater her employer wanting her to find the reliquaries before the champions so that they can sell them to the highest bidder.
Weapon/Method of Defense:
Mostly daggers and sometimes a bow, she does know some hand to hand combat, but typically she just tries to run.