---
---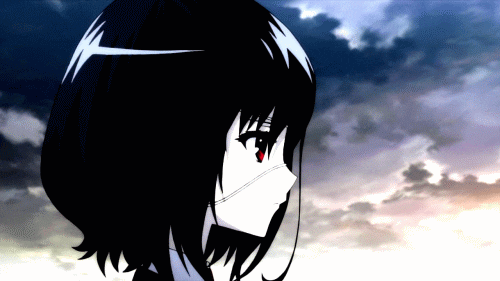 The world's not gonna get any better, so just face it.
Normal
||
Bad Apple-Music box | Project Tohou
||
Angry
|| [url=URL]THEME SONG | ARTIST[/url] ||
Emotional
||
Hirari Hirari | Vocaloid
||
---
---

♔ || Name || ♔
Airi Ban
♔ || Nickname(s) || ♔
*Ai, Gloom

♔ || Age || ♔
14

♔ || Gender || ♔
Female

♔ || Sexuality || ♔
*Asexual

♔ || Romantic Interest || ♔
TBD

♔ || Nationality || ♔
*Chinese American

♔ || Face Claim || ♔
Mei Misaki


---
---

♔ || Height || ♔
*4'11

♔ || Weight || ♔
*97lbs

♔ || Hair Color || ♔
*A pitch black.

♔ || Eye Color || ♔
*One of them is crimson red while the other forest green.

♔ || Skin Tone || ♔
*Porcelain white

♔ || Birthmark/Piercing/Tattoo/Scar/Noticeable Features || ♔
*Her eyes are mismatched one of them being a green's doll's eye while the other red, but she uses her eyepatch to hide that fact.


---
---

♔ || Personality || ♔
Airi has a quiet and solitary personality, staying away from others and preferring to mind her own business and simply ignore other people, as she is very distrusting of them. Nothing good ever comes out of relationships in her opinion, and they are things that are distant and complicated to her.


---
---

♔ || Likes || ♔
✓Sweets l Everyone has their guilty pleasures and Airi's just happens to be sweets. She could never resist those treats, and could be easily bribed with them.
✓Occult l Even though its a topic most people steer clear of, Airi is fascinated with occult, trying to learn basic seals and purifications no matter how outrageous people think they are.
✓Order *

♔ || Dislikes || ♔
✗Pain l Self-explanatory. If there's one thing she hates, it would be pain, as it makes her feel hepless and scared.
✗Her eye l The doll's eye, as green as the forest, has caused her to see things that are not supposed to be seen. She's covered it up with an eyepatch because of that, and her childhood friend is probably the only one who knows about it.
✗ Sun l It burns her skin, and she usually avoids going out unless absolutely forced to.

♔ || Fears || ♔
✄ Someone finding out l Her eye can see things that are not supposed to be seen, and she is afraid of what people might think if they found out about that.
✄ Enclosed spaces l Her fear of enclosed spaces is relatively serious, and she sometimes have asthma attacks because of that.
✄ Ghosts l It seems ironic coming from a girl who sees them all the time, but Airi has a intense fear of ghosts. She tries not to show it, but she gets afraid sometimes when she sees them, so she covers her green eye up because of that.


---
---

♔ || Bio || ♔

♔ || Other || ♔
*