Code: Select all

[hr][/hr][hr][/hr]
[center][img]http://txt-dynamic.static.1001fonts.net/txt/dHRmLjYwLjZmNGMyMC5TMkZ6ZFcxcElFNWhhMkZuWVhkaC4wAAAAAAAA/computer-7.regular.png[/img]
[hr][/hr][hr][/hr]
[img]http://25.media.tumblr.com/tumblr_m4gir3pBtM1qgg7hmo1_500.gif[/img][/center]
[hr][/hr]

[font=avenir light][right][img]http://animelife.ya1.ru/uploads/posts/2013-01/1358407087_tumblr_ma9f73rape1r22u5oo1_400_large.jpg[/img][/right]

[/font]
---
---
You have to get a head start in life and being the best student through high school is just the boost to an easy life.
Normal
||
Yuukei Yesterday | UN :C
||
Angry
||
Lost Ones Weeping | JubyPhonic
||
Emotional
||
Dareka Umiwo | Aimer
||
---
---

♔ || Name || ♔
Kasumi Nakagawa

♔ || Nickname(s) || ♔
Kasu | People who are his casual friends tend to call him this which he doesn't mind at all.
Sumi | Only one person in the world calls him this and that person is his rebellious friend who won't drop the nickname.

♔ || Age || ♔
16

♔ || Gender || ♔
Male

♔ || Sexuality || ♔
Homosexual

♔ || Romantic Interest || ♔
TBA

♔ || Nationality || ♔
Japanese

♔ || Face Claim || ♔
Oreki Houtarou | Hyouka

---
---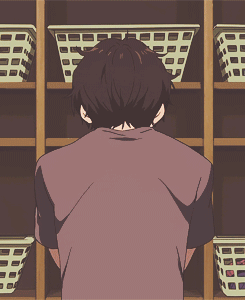 ♔ || Height || ♔
5'9"

♔ || Weight || ♔
138 lbs.

♔ || Hair Color || ♔
Brown

♔ || Eye Color || ♔
Asparagus Green

♔ || Skin Tone || ♔
Lightly Pale


---
---

♔ || Personality || ♔
Kasumi is a highly intelligent boy who has no difficulties with keeping up in most lessons. He is rather quiet and doesn't like to waste his energy. Kasumi is also very observant even though he doesn't seem to pay attention in most social situations, he makes sure to pay close attention to details and things that are important to him such as anything relating to school work. He is non-judgmental, respecting others and accepting their faults. Kasumi doesn't think anyone has the right to judge, no matter what situation and he knows he's no better than anyone else. His most positive traits are that he is calm and patient and hardly ever loses control over his emotions which makes him appear a bit cold or uninterested at times. He is quite lazy and never puts his best effort in much, well except his school work, he doesn't find social events quite rewarding as most common high school students do. Kasumi does get a sense of pride, once in awhile, when he seems to know more than others. He even has a bad habit of correcting peoples mistakes whether there math, language, writing, or even reading mistakes.
With focusing on studies and school work, there comes a price to pay. Kasumi gets stressed easily, especially around the time of exams, and often locks himself from the whole world in the process. He really puts himself down when he fails and it takes a lot to cheer him up but his best friend somehow always manages to find a way to lift up his spirits.

---
---

♔ || Likes || ♔
✓ Sleeping | Well who doesn't? Kasu likes to sleep after he's finished all his homework and studying.
✓ Fish | Kasu admires fish, and sea creatures in general, but fish seem the most likable to him. They mind their own business, not bothering much, and swim around care free.
✓ Quite Places | When he needs to study he'd rather do it in the isolation of his own room, rather than at school or somewhere public where it would be loud.

♔ || Dislikes || ♔
✗ Group Projects | He doesn't like the idea of being grouped up with a bunch of students who will slack off and then he'd have to work his ass off just to not get a bad grade.
✗ Gardens | There pretty right? Well no, not in Kasu's opinion. All those flowers cluttered together just don't appeal to him. The smell of flowers are bland to him.
✗ Wasting Energy | He believes that only actual work and studying should be used on his energy. Social events and chores are something he dreads and makes sure to let everyone know that with his sour attitude.

♔ || Flaws || ♔
✄ Feelings | He can't express his well and has a hard time understanding others' emotions so his sensitivity isn't the best.
✄ Lazy | Kasumi is extremely lazy. He has no pep in his body and often thinks that even socializing is a chore.
✄ Claustrophobia | The fear of having no escape and being in closed or small spaces or rooms. It is typically classified as an anxiety disorder and often results in a panic attack, and can be the result of many situations or stimuli, including elevators crowded to capacity, windowless rooms, and even tight-necked clothing.
✄ Failing | Failing is not an option for Kasumi and even a C is unacceptable to him. Bad grades leads to pressure and harsh self judgement.


---
---

♔ || Bio || ♔
Growing up, Kasumi had the closest thing he could count as a normal childhood. A happy and quaint little life with his older brother and baby sister. Kasumi's parents both had jobs and often worked overnight. His mother was the one who was most dedicated to her job and he would often at times see his father more than his mother. Kasumi's older brother, Hiroshi, practically raised both his younger siblings though Kasumi was always the one to cook since his older brother was busy with school work. The brunette had always took school seriously and would always rather do homework than play outside with friends. This set him off as a loner in his younger years. Making friends wasn't something Kasumi troubled himself over as he went through life. People made their effort in gaining his friendship but his cold and blunt words usually scared others off.
At the age of thirteen, Kasumi's father lost his job which put the Nakagawa family in a tough situation for quite sometime. Though there powerful matriarch, Mei, was determined to keep her family stable even with the screw ups her husband had made to put their family in such a state. Kasumi saw very much less of his mother and she often called or faxed her children to remind her children that she loved and missed them so much. Kasumi's father, Midorima, was permanently a Stay-at-Home dad for quite some time. He tried to find work though most of the time he'd get fired, as Mei always said, he was completely and utterly useless as a man. Kasumi was never sure about his mother and fathers relationship. Honestly, the kids always thought a divorce would come along the line for their family but even Mei didn't have enough time for that sort of stress. Despite the family's obvious flaws, Kasumi's home life was pleasing to him.