Takehiko Kuro
---
---
"Yeeees... I am Chou... No. Not Choo-Choo."
Normal || What's My Age Again | Blink 182 ||
Angry || What I'm Made Of | Crush 40 ||
Emotional || Down | Jason Walker ||
---
---
♔ || Name || ♔

Takehiko Chou Kuro


"Please just call me Takehiko for my own sake."



♔ || Nickname(s) || ♔
Chou | A middle-name given to him by his mother, which now serves as a nickname though often confused for "Choo-Choo" much to his displeasure. Only his girlfriend may use it. Only her.


"Chou. It is Chou! Chou! Chou! NOT CHOO-CHOO."



♔ || Age || ♔
17


"Apparently I'm near adulthood... but I'm not ready yet."



♔ || Gender || ♔
Male


"I always assumed that was kind-of obvious but who am I to say..."



♔ || Sexuality || ♔
Heterosexual


"Never really thought about it, but yeah."



♔ || Romantic Interest || ♔
Shy Girl


"She's my... everything. But let's not go into details, haha."



♔ || Nationality || ♔
Japanese


"My whole family is Japanese. Parents, Aunts, and even Grannie."



♔ || Face Claim || ♔
Akihito Kanbara
"Hm."
---
---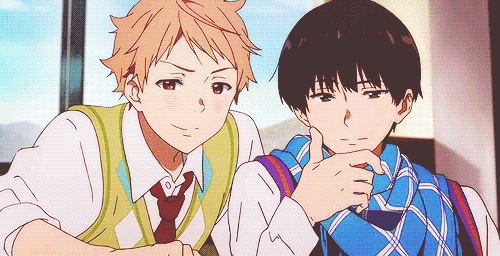 ♔ || Height || ♔
5'9"

"My families always been one for tall genes."



♔ || Weight || ♔
140 lbs

"I don't really wish to talk about it."



♔ || Hair Color || ♔
Saffron Blonde

"I take after my mother."



♔ || Eye Color || ♔
Mahogany Brown

"I have my fathers eyes."



♔ || Skin Tone || ♔
Lightly Pale

"I don't tan. At all. I just burn."



♔ || Birthmark/Piercing/Tattoo/Scar/Noticeable Features || ♔
Takehiko has a pretty average appearance and isn't really one to stand out in a crowd. To a degree he could be considered attractive with all things considered, though he's not the type to really believe such things. When it comes to piercings and tattoos he's a bit of a wimp and would rather avoid unnecessary pain! And as far as he's aware he has no birthmarks to mention.


"Average. Yeah, that's how to describe me. Well maybe just above average, if I dare to say so. But I'd happily settle with plain, old average if I'm honest. Just don't make a fuss about me."
---
---
♔ || Personality || ♔

Takehiko is a very constant individual. He likes things to stay as they are and isn't one to openly welcome the innovation change into his little world. The same could also go for his personality too. Since he was young he hasn't changed all that much. Kind, considerate and very happy-go lucky, Takehiko has always been someone who others take to and welcome into their lives.

When it comes to friends and loved ones he can be very selfless and tends to put others needs before his own. He's a very trusting lad and likes to believe that there's good in everyone, and rarely will ever belittle anyone unless his buttons are truly pushed. In most cases Takehiko is considered a lover as appose to a fighter, which is mainly true, however he isn't slow to put someone in their place if there is a great need for it. Likewise he doesn't hesitate to defend himself either, not that he has to often.

Takehiko is very mature for his age and is considered to be a reasonable all-round nice lad. He knows when to have a laugh and similarly knows when to be serious. He's got a good head on his shoulders and most people tend to rely on him somewhat because of this. People know he'll get the problem sorted and trust his good-nature to not let them down.

All in all he's the sort of person you'd want as a friend rather than an enemy. Not that he has many enemies, if any. Takehiko prefers to get along with others, even if their opinions class, for the sake of making progress. He's confident in his convictions and stands by what he believes to be right, not often showing any signs of shyness, but rather boldness and unwavering confidence.


"You got to do what you got to do really."




---
---
♔ || Likes || ♔
✓ Sweet Foods | "I have a... big appetite when it comes to desserts, haha. I really like to eat. It's my weakness really."
✓ Playing Around |

"Taking things seriously isn't really my thing. I like to mess around with friends and joke about and have fun."


✓ Writing |

"Being an author would be kinda cool, I suppose. I don't really share what I write about however. It's weird."


✓ Music |

"Can't really function without it. You should see me in the morning, I'm all over the place. I need music to live really."


✓ Scary Movies |

"I love the whole 'on the edge of your seat' sort of thing. It's really thought-provoking once you get into it."


✓ Cuddle-Time | "Only me and her know about that. Ehhh... I don't really talk about that in front of the others, you know. Hush."

♔ || Dislikes || ♔
✗ Fighting |

"There's just something about it that I can't really watch... but that doesn't mean I wouldn't defend myself."


✗ Surprises |

"If you want to give me something then just hand it over - no need to jump out and scream in my face. Please don't."


✗ Loud Noises |

"Particularly if it's heavy and annoying and constant. There should be a law about this sort of thing, I guess."


✗ Reality TV |

"It really does not interest me in the slightest. Why do people encourage such nonsense? I don't really get it clearly."


✗ Foolishness |

"Some people do really stupid things then whine about it later. Just don't do stupid things people! Think a little."


✗ Hot Weather |

"It nearly killed me once to go outside when it was so hot. Honestly, deadly weather! I swear I'd live in an igloo."



♔ || Fears || ♔
✄ Arachnophobia |

"Spiders are the worst. I hate them. I see one on the wall and I hide in the next room, you know, bravely."


✄ Buried Alive |

"It's an odd thing to say that you want to be dead when your buried. You'd think that was obvious, really."


✄ Sicknesses |

"If I get so much as a sniffle I'm in a panic. I really don't like being bedridden, so it worries me to think that."


✄ Rejection |

"I think everyone has this fear, so you can relate to me in that regard. What's worse than having your heart broken?"


✄ Shadows |

"I use to love my shadow as a kid, it was friend and everything but now I can't stand the thing. It's kinda creepy."


✄ Tough Girls | "Those girls with the attitudes? Normally with the weepy boyfriend scurrying behind them? Yeah, them. Scaaaaary. Hope my girlfriend doesn't become that. I'd still love her though."


---
---
♔ || Bio || ♔
Ever since he was very young Takehiko has lived a pretty as-you-would expect life. He was the only son and child to his married parents and generally lived a happy existence throughout his early years with the couple. His mother was a school teacher and his father a postman. Whenever his parents were at work he was generally left in the care of his grandmother.

Once older and when school came around Takehiko seemed to blossom almost as he gradually excelled at making friends and achieving good grades. He settled in well with his peers and was even considered popular to a degree. Initially once missing the company of his parents Takehiko quickly found contentment with his school friends and hasn't looked back since.

In the years to come it was during one day in particular at school that Takehiko caught the sight of a rather lovely looking girl, Konatsu. For days after that moment he continued to secretly observe the girl, not so much as stalked her, but he always knew when she was near by you could say. It was through his observations that he soon picked up on the bullying that Konatsu had been enduring. Like many others he merely watched at first. By the time he had gathered enough courage Takehiko finally stood up to the bullies in the defense of Konatsu. He still doesn't really know how he managed to do it but he's very thankfully that he did since that encounter later resulted in a date between the pair. A date which would lead to a growing friendship and eventual romance shared between them. When hearing of the Bravery Test both himself and Konatsu were up for it. Personally, himself believing it could bring them closer.

♔ || Other || ♔
☼ Pet | Has a chubby cute cat called Rocky.
☼ Speech Colour |

#CC9933