(maybe subject to
slight
edits later when master/other servant profiles are made)
Name
: Valor Astratti
Nickname
: Among his 'colleges' he's known as the White Jester.
Age
:
human
age 25
Role
: Butler
Employed by
: rich Kid 3
Crush
: Despite his his apparent 'flirtatious' nature he doesn't really have anyone in the mind for romantic interest. However that won't stop him from teasing someone about it occasionally.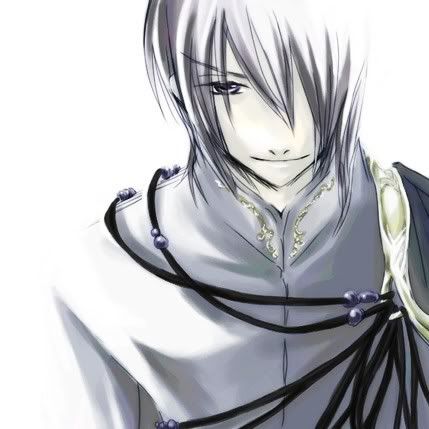 Appearance
: Light blond hair that almost appears white. His attire usually sports white or silver colors. He is somewhat on the taller side with a lithe frame. Despite his 'pretty boy' appearance outwardly however he hides a
lot
of scars under his shirt. He could alter his human form slightly to remove them, but he keeps them as a reminder.
Personality
: Valor likes to consider himself a gentleman first and for most. He is kind, courteous, polite, organized and cheerful all through the day. In fact... he can be so cheerful that can even become annoyingly so. He is seemingly always in his light hearted mood and it carries over into his interactions with others. Very often this can lead to him teasing others, as he finds it immensely humorous when someone blushes and stutters in embarrassment.
He does have a mysterious side though. He can be tight lipped about certain subjects, often redirecting the conversation. Especially when it comes to matters of personal or private business. That coupled with his cheery aptitude leaves an impression of being sly when discussing serious matters.
Fears
: Not essentially a 'fear', but he does show some distrust around ravens. They remind him of a certain
individual
he knew in the past.
Likes
: Bright colors, sunny days, walks in the garden, animals and classical music and a little bit of...
rough housing
.
Dislikes
: the color black, messes, loud erratic noises, boredom.
Weapon
: He is very skilled with unarmed fighting though there are two weapon types he prefers to use. The first is long steel ninja wire that he keeps on him at all times. The other is a
halberd
that he has stored way for when it's needed. However just because he likes to use these doesn't mean he will restrict himself to them. A man must keep up with the times after all.
Other
: Since his master Thalia is often on a busy schedule between her recreational activities and home studies, Valor often assist her with managing her families company. He acts as part time accountant and secretary for her when needed.
One thing to remember is to never
ever
play the song
I'm a dentist
from little shop of horrors around him. He will start singing along, and it is very terrifying.
(more to be added/edited as other servants are made)
Nyan nyan nyan nyan nyan nyan nyan nyan nyan nyan nyan nyan nyan nyan nyan nyan nyan nyan nyan nyan nyan nyan nyan nyan nyan nyan nyan nyan nyan nyan nyan nyan nyan nyan nyan nyan nyan nyan nyan nyan nyan nyan nyan nyan nyan nyan nyan nyan nyan nyan nyan nyan nyan nyan nyan nyan nyan nyan nyan nyan nyan nyan nyan nyan nyan nyan nyan nyan nyan nyan nyan nyan nyan nyan nyan nyan nyan nyan nyan nyan nyan nyan nyan nyan nyan nyan nyan nyan nyan nyan nyan nyan nyan nyan nyan nyan nyan nyan nyan nyan nyan nyan nyan nyan nyan nyan nyan nyan nyan nyan nyan nyan nyan nyan nyan nyan nyan nyan nyan nyan nyan nyan nyan nyan nyan nyan nyan nyan nyan nyan nyan nyan nyan nyan nyan nyan nyan nyan nyan nyan nyan nyan nyan nyan nyan nyan nyan nyan nyan nyan nyan nyan nyan nyan nyan nyan nyan nyan nyan nyan nyan nyan nyan nyan nyan nyan nyan nyan nyan nyan nyan nyan nyan nyan nyan nyan nyan nyan nyan nyan nyan nyan nyan nyan nyan nyan nyan nyan nyan nyan nyan nyan nyan nyan nyan nyan nyan nyan nyan nyan nyan nyan nyan nyan nyan nyan nyan nyan nyan nyan nyan nyan nyan nyan nyan nyan nyan nyan nyan nyan nyan nyan nyan nyan nyan nyan nyan nyan