Matthaus Julian Ivano
[Theme. ]
Bad Apple Music Box
[Image Song. ]
Roustabout - Beats Antique
---
---
▌▌ █ █ █ THE BASICS
"'Tis some visitor,' I muttered, 'tapping at my chamber door-

Only this, and nothing more.'"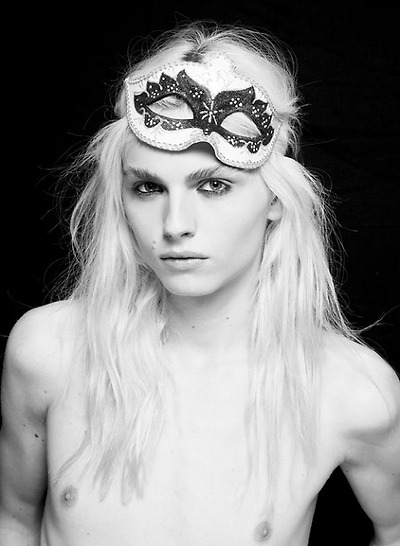 [Name. ]
Matthaus Julian Ivano.
[Gender. ]
Male.
[Nickname. ]
The Flexible One is generally what Matthaus calls his stage name. Although he doesn't have a preference as to what he is called in the show, if it applies then that is usually what he titles himself as. However, Matthaus usually goes by Julian when first meeting people, an because of his usually glittery and bedazzled costumes, he's sometimes known as Jewlz.
[Age. ]
28
---
---
APPEARANCE █ █ █ ▌▌
"That I scarce was sure I heard you'- here I opened wide the door;-

Darkness there, and nothing more."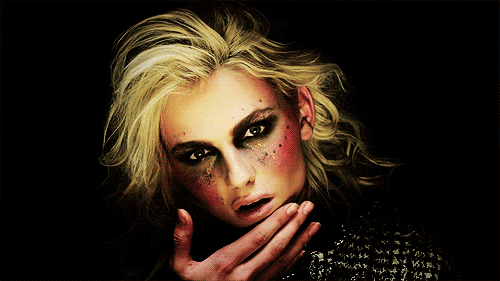 [Face Claim. ]
Andrej Péjic
[Height. ]
5'4
[Weight/Build. ]
Matthaus has a particularly small frame and build and is quite shorter than most men of his age. He's purposefully thin to the point that joints and obvious bones (such as ribs and spine) are painfully noticeable during his act, especially when wearing tight fit clothing. He weighs hardly any more than 100 pounds and naturally has a curvy physic, unlike his male counterparts.
[Hair. ]
Naturally blonde and hefty in length. It isn't beneath Matthaus to braid or pull up his hair after shows, but he refuses to keep it in during his acts, believing that his luscious hair being tide back would take away from his act.
[Eye Colour. ]
In their natural state, Matthaus' eyes are considered cornflower blue, but he has Central Heterochromia which makes the immediate area around his pupil a light brown. However, Matthaus has been found to try on various contacts to see how they match his costumes and how people react to them. So one hour his eyes may be normal but the next he might have bright neon green and purple contacts, or flaming dragon pupils. It all depends.
[Scars/Piercings/Tattoos. ]
Matthaus will do nothing of the such. He's very cautious about injuries and will always take the most extreme length to make sure they heal quickly and pomptly as to not leave scars and he refuses any tattoos. Appearance means so much to his act that Matthaus believes if he gets a scar or a tattoo, his act would shatter. And piercings are just asking for it. Try pulling your head back and between your legs with a belly button piercing. Hell no.
[Notable Features. ]
Matthaus is fully and utterly aware of the fact that he is very feminine. As a matter of fact, he makes a point to make it difficult to discern his gender not only to the audience, but also to people he has never met or those who don't know him very well. He embraces the aspect that he looks like a woman with complete confidence and knows exactly how to show it off.
[Preferred Clothing. ]
Matthaus is very bold in personality, and this definitely translates to costumes. His costumes are never short of elaborate at the very least and are always fancy, bright, and definitely flashy. Most times they are full body suits that are skin tight that he makes and customizes himself with accessories and other modifications. Things he wears during his acts are always skin tight, and if he is not wearing his costume outside of his act (which is common, actually), he usually wears various variations of shorts and shirts.
---
---
▌▌ █ █ █ PERSONALITY
Let my heart be still a moment and this mystery explore

'T is the wind and nothing more.
[Sexuality. ]
Matthaus has never admitted to anyone directly what his sexuality is, but various hints he leaves behind leads many to believe he's bisexual.
[Oddities. ]
Matthaus should be, if not notoriously known for his bizarre oddities. He crawls sometimes instead of walking, he doesn't wear shoes, he makes seemingly useless items and clothing, he talks to mirrors, he makes sound effects for other people's conversations, and he hardly ever sleeps in a bed. He sleeps either on the floor or outside. There is quite a few more, but hardly anyone can keep track of them all.
[Habits. ]
Matthaus can be considered a workaholic. He seems to always be making something new for his costumes or act and he's always practicing new moves and choreography for his act. Matthaus also tends to purposefully step on people's toes and push their buttons. A motive is extremely hard to discern as to why, but he does, and he seems to enjoy it, so he usually interjects himself into conversations and situations in which he does not belong.
[Likes. ]
Matthaus firmly enjoys brain games, tongue twisters, riddles, and philosophy. He sometimes speaks in rhymes and poses impossible questions so that way he can tease his and other people's brains. He also is an avid reader of dark poetry and macbre.
[Dislikes. ]
Matthaus dislikes bulky figures. He finds it amazing that those who possess large amounts of muscle can move at all isn't fond of their usually arrogant personality. But it is a mild dislike and Matthaus usually finds himself in the position of having to let it go.
[Fears. ]
Matthaus has never before admitted to anything fear related besides getting scars, and even then, his sarcasm usually drips enough to make that unreliable information. Most figure he's afraid of losing his spot in the circus, but it isn't known for sure.
[Hobbies. ]
Matthaus is a fan of poetry and stage design. He is extremely talented at rhymes and can sketch up a fairly decent set design or macabre picture.
---
---
ABILITIES █ █ █ ▌▌
Perched upon a bust of Pallas just above my chamber door-
door!'
Perched, and sat, and nothing more.
[ Extreme Flexibility. ] The well known fact about Matthaus is that he is the human pretzel. Matthaus is unnaturally flexible, and this talent is mainly due to his ability to "micromanage" muscle fibers within every, if not most parts of his body. His muscle control is so fine tuned, he can even select one or two fibers at a time and control them individually, allowing him to relax and move his muscles in ways that would tear tendons and ligaments in many other contortionists. He can also dislocate joints at will and pop them back into place with muscles in that area, and for the most part, without hurting himself. Matthaus even has more Collagen (a protein that makes a bone's frame flexible) in his bones which allow them to bend more than the average human, amplifying his contorting abilities.
[ Stretch. ] Although it relates heavily to his flexibility, it is sometimes known as an entirely other skill that Matthaus is able to stretch his arm, leg, and torso length when stretching. Because he is able to choose what muscles can relax and how relaxed they are, Matthaus has found that he can reach up to an entire inch in extra length in some areas if the muscles in that area are relaxed and he dislocates his joints.
---
---
▌ ▌ █ █ █ HISTORY
And my soul from out that shadow that lies floating on the floor
door!'
Shall be lifted- nevermore!
[ History. ] Matthaus' story is generally a mystery to those who do not know him well. Although he isn't against talking about his origins, his sarcasm and incongruity in his stories make them unreliable. Matthaus was put into a Foster care system at a young age, moved from family to family numerous times ever since he could remember. But upon being taken in by a "maliciously boring" family, so he calls it, he ran away and wandered, looking for work. Because of his age, hardly no one would take him, but having found out his talent for contortion at a young age, he "was a street performer" up until a circus came in town. He "bought" himself in and ended up "talking" to one of the act members. That talk "lead him" to a job working as the ticket master and peanut boy until his talents excelled and he was finally given an act at the age of 17. He's been preforming with the Freakshow ever since.