---
---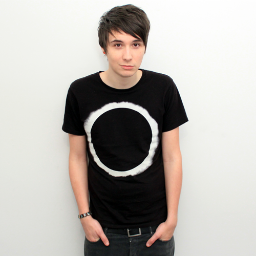 Full Name:
David Jackson

Age:
17

The Gender They Prefer:
Female

What They Are:
Human

What They Do:
Student


---
---
What They Like:
-Secretly, Kaitlin.
-Photography
-Writing poems and short stories
-Anime shows
-When someone like him
-Animals(dogs especially)

What They Dislike:
-Being unpopular
-Not to know what others think of him
-Being humiliated
-Cruelty to animals or weak people
-Pranks, not done on him or done by him. He never prank.

What They Fear:
David worst fear is to be rejected. Rejected from the girl he likes, or rejected from the collage he will pick, rejected from trying to join anything that interests him. Dan feels very ashamed and guilty when he will get rejected, as it is everything his fault and not some of it on the other side.

---
---
Who They Are:
David is quiet, serious, sensitive and kind.He Does not like conflict, and not likely to do things which may generate conflict.David can be very Loyal and faithful to his friends. He has very aesthetic appreciation for beauty which leads him to love taking pictures. David is not a good leader, he is not very charismatic and can't control others, but he is flexible and open-minded, original and creative. He does not dwell in the past but in the present.

Their Story:
David was born to Michael and Jane Jackson, he is an only son, but he is a very good son. He never misbehaved or got rude to his parents. He does his chores and homework and even help other weak students cause he is smart and has good grades. But because he is such a good boy and smart, he is also a bit shy and not popular. The popular kids tease him as calling him 'nerd' or some people don't remember his name so they call him the camera man. Because he is the official photographer at school. His talent is that he is a very good photographer and his pictures looks very professional. This is his way of becoming someone a little important and known. The school newspaper's team like him and their his best friends he mostly hang out with. Some say he even a little weird as he addicted to anime and always on Halloween he wears cosplay costumes. He usually wears silly hats on his head, but not in school cause he does not want to be tease more. Only with his best friends. Also, ever since David saw Kaitlin, a popular girl, he is feeling really different than before. He really likes her and her enjoyment of life, although he never told her and he does not know if she likes him back. He is so afraid she will reject him cause he knows it might break him. But for now, he uses his photography skills to get excuse to take pictures of her.

Anything Else You May Need To Know About Them:
(Other)

---
---
The Song That Sums Them Up:
(Optional)
Union J- Head in the clouds
Magazines and TV screens are telling me the world is going, going down
Happy days are few and far between
And I don't really like the way it sounds
I think my generation is growing up complaining
I need to shake it
Honestly, I need to dumb it down
I think my brain is burning out
Wo-oh, call me a fool
'Cause sometimes I just don't care
I don't right now
We all gotta do it, do it
'Cause life can be a b*tch then we die, we die
There's so much sh*t to worry about
And that's the reason why
It's why I spend all my days with my head up in the clouds
All my days with my head up in the clouds
All my days with my head up in the clouds
Like wow, wow
Well call me crazy, call me lazy
Maybe you can even call me ignorant
Here's a tissue for your issue
I don't care right now if it's on CNN
I've got a lot to deal with
I'd rather just be chillin'
It's how I'm feeling
Maybe I can worry about it all tomorrow
I just won't today
Wo-oh, call me a fool
'Cause sometimes I just don't care
I don't right now
We all gotta do it, do it
'Cause life can be a b*tch then we die, we die
There's so much sh*t to worry about
And that's the reason why
It's why I spend all my days with my head up in the clouds
All my days with my head up in the clouds
All my days with my head up in the clouds
Like wow, wow