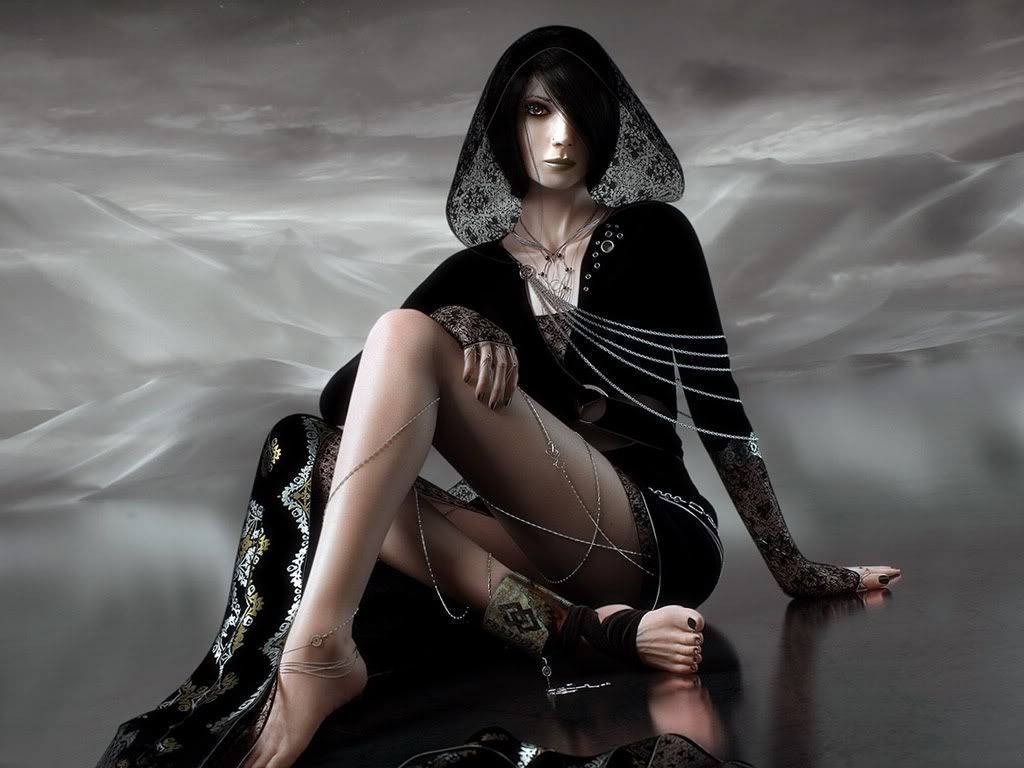 Full Name:
Daeri el Ma'Taerwen
Nickname:
Daeri
Gender:
Female
Age:
1172 years old, the Eldest of the elders
Role:
Elder 1 - One of the two corrupt Elders
Physical Description:
Daeri stands at an even seven feet tall and has pearly white skin that has a light pinkish sheen to it. Her lips are naturally grey-green in appearance and contrast strikingly against her pale skin tone. Her ears are three-quarter's the length of her hand and seem to fold to a soft point. Her eyes are silver, though rimmed in black. They appear piercing and cold, almost cruel in a sense. Daeri also has short, chin-length black hair with bangs that match in length and cross over to hide her left eye. The only noticeable, and it's only semi-noticeable, blemish on her skin is the scar seen extending from the topmost ridge of one cheek to the other and crossing the bridge of the nose. It is a straight line with several perpendicular lines etched along it as well. Her hair happens to hide most of it though.
She wears a formal, wrap-around skirt that is longer on the right side and goes to her ankle while being short, thigh-length, on the left side. Daeri also wears a black long-sleeve that is also a wrap of a sort, crossing over-top the left side with the right but leaving some of her midriff bare, with thin, silvery-black material from the elbows to just past the knuckles on her hands. This same thin material, same colour, makes up the hood she wears over her head to shadow her features. Silver chains seem to envelope the Elder, circling around her neck, torso, arms and legs. An additional fact, a rather interesting one too at that, would be to know that Daeri is constantly barefoot. She is never found to be wearing shoes of any sort.
Personality:
Daeri was once kind and caring, a pacifist who wished for nothing but peace and harmony, but time and power has corrupted her. She has become cold and cruel, one to make a decision regarding the lives of many 'Chosen' with ease regardless of the situation. The Elder is as intelligent as she is older than many and she is rather proud of herself for these facts among others. Daeri is distrustful of others, aside from her fellow Elder.
Likes:
Black and silver
Authority
Being obeyed
Dislikes:
Being disobeyed
Those who oppose her
Loneliness
Strengths:
Pain tolerance
Secretive
Lack of empathy or sympathy
Weaknesses:
Her belief in the Sun God and Moon Goddesses
Her age, believe it or not
Loneliness
Gift:
Daeri has the Gift of Psychokinesis. This allows her the ability to move objects with her mind, animate and non-animate alike, and occasionally will the outcome of such things as, say, an accident..? She can make trains lose control and come right off their tracks, elevators plummet despite to ground level being in working order, etc. Anything that has a possibility of being moved, she can do it and all with her mind. Of course, she can make good things happen too but, let's face it.. She's a villain not a hero.
Love Interest:
An Elder is not allowed the pleasure of taking a husband, wife, nor a lover. Their Guardian is just that, a 'Guard' to protect and shadow the Elder in all that they do.
Family:
Daeri neither has a surviving mother or father and was an only child. She also has no children due to being unable to take a husband or lover as it is an ancient law for Elders made by Elders.
History:
Daeri, to be rather blunt, is the main cause of the problems concerning Khatali. She is both the mastermind and the main hand in enforcing the new curfew and any additional laws that have been introduced in the past century.
Anything Else:
Nothing yet -- Keep checking though because things may be added.