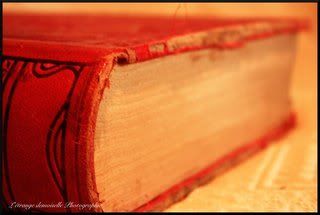 In existence are two realms. One is the physical realm known as reality, it's the one in which we live. The other is the realm of imagination, thought, and ideas. This realm doesn't physically exist, therefore in some ways it doesn't exist at all. These two realms aren't completely separate, however, and sometimes mesh together in the fabric of space. Things that do not exist become real, things that are real become imagination. Ever wonder where things like the Bermuda Triangle came from? Ever wonder were Amelia Earheart went? How about the law of attraction? Those appearances and disappearances are results of two realities that exist in different ways briefly coming together in an unholy melding of worlds.
A group of six high school friends are studying at the library one evening when one brings over an old book. There's nothing special or magical about this book, but reality, time and space are about to warp with the other realm and send them into a story imagined almost a hundred years ago. It's a world of witch craft and dragons, of princesses and castles. It's a little cliché, being of magic in the middle ages. But it's also classic, and ideas that have existed in the other realm for hundreds of years. These modern day teenagers stick out like blue jeans at a wedding and don't have any idea how to get back, let alone how they got there! Now they need to find a way to get home, less they to wish to spend the rest of their lives in this book.
★☆★☆★☆★☆★☆★☆★☆★☆★☆★☆★☆★☆★☆★☆★☆★☆★☆★☆★☆★☆★☆★☆★☆★☆★☆★☆★☆★☆★☆★☆★☆★☆★☆★☆★☆★☆★☆★☆★☆★☆★☆★☆★☆★☆★☆
✜
Character Profile
✜
Name:
Age:
Gender:
Description:
Personality:
History:
Anything else:
✜
Spots Open
✜
Open spots go to the very next characters submitted! (If I find them appropriate for approval)
1❧ Andy Cortez played by strawberryorange
2❧ Winter Augustine played by breemee
3❧ Ethan Morris played by Censored69
4❧ Open
5❧ Ren played by DuelingDragons
6❧ Lynn Raven played by Shadowfighter
★☆★☆★☆★☆★☆★☆★☆★☆★☆★☆★☆★☆★☆★☆★☆★☆★☆★☆★☆★☆★☆★☆★☆★☆★☆★☆★☆★☆★☆★☆★☆★☆★☆★☆★☆★☆★☆★☆★☆★☆★☆★☆★☆★☆★☆★☆
✜
Other Information
✜
The book they find will be called The Princess in The Tower. I wanted to keep it simple to make things easier. You can make up a creature or in that book to come along (as long as you are one of the kids), like they meet an elf or they get attacked by a dragon or something. As for who brings the book over... I imagine a girl, but it really doesn't matter who. But if no one does then I will to move the story along. I also think it would be fun if someone made up a character in the book that fell in love with one of the kids! lol! But keep them realistic for the age. They didn't have sparkly vampires back then =P
❋ No godmodding, powerplaying, mary sues, you know the drill

❋ I don't believe length determines literacy, but please try to keep it more than a few lines and use good grammar and spelling

❋ You don't have to just float along, feel free to contribute to the story! But please consult me before making any major changes

❋ Post Regularly

❋ Nobody gets left behind! If 4 people are online, they can't advance the game very far with out the other 2

❋ No canon characters

❋ MOST IMPORTANT RULE: have fun!
Taking place in...
16 posts here • Page 1 of 1
16 posts here • Page 1 of 1
Arcs are bundles of posts that you can organize on your own. They're useful for telling a story that might span long periods of time or space.
There are no arcs in this roleplay.
There are no quests in this roleplay.
Here's the current leaderboard.
There are no groups in this roleplay!
Welcome home, Promethean. Here, you can manage your universe.
Arcs are bundles of posts from any location, allowing you to easily capture sub-plots which might be spread out across multiple locations.
You can create Quests with various rewards, encouraging your players to engage with specific plot lines.
Settings are the backdrop for the characters in your universe, giving meaning and context to their existence. By creating a number of well-written locations, you can organize your universe into areas and regions.
Navigation
While not required, locations can be organized onto a map. More information soon!
There are no groups in this roleplay!
By creating Collectibles, you can reward your players with unique items that accentuate their character sheets.
Once an Item has been created, it can be spawned in the IC using /spawn Item Name (case-sensitive, as usual) — this can be followed with /take Item Name to retrieve the item into the current character's inventory.
Give your Universe life by adding a Mob, which are auto-replenishing NPCs your players can interact with. Useful for some quick hack-and-slash fun!
Mobs can be automated spawns, like rats and bats, or full-on NPCs complete with conversation menus. Use them to enhance your player experience!
Current Mobs
No mobs have been created yet.
Locations where Mobs and Items might appear.
You can schedule events for your players to create notifications and schedule times for everyone to plan around.
Add and remove other people from your Universe.
The Forge
Use your INK to craft new artifacts in The Children of Other Realm. Once created, Items cannot be changed, but they can be bought and sold in the marketplace.
Notable Items
No items have been created yet!
The Market
Buy, sell, and even craft your own items in this universe.
Market Data

Market conditions are unknown. Use caution when trading.

Quick Buy (Items Most Recently Listed for Sale)
None
Discussions
Most recent OOC posts in The Children of Other Realm