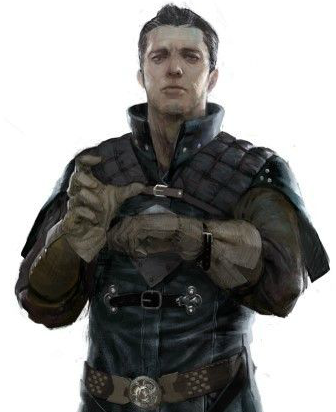 Name:
Alcuin Grimfell
Race:
Dwarf
Rank:
Lieutenant
Birthdate/Age:
Winter of 893 Fourth Era, 36
Gender:
Male
Alignment:
Chaotic Neutral
---
Appearance:
Alcuin stands a little under five feet. He is a dwarf, no questions asked. That being said he doesn't fit the stocky nature of some of his kin. He is muscular but lithely so. He doesn't wear a beard, or his hair long because it might get entangled in his bowstring. Practicality outweighs tradition in his mind. He has gray eyes and black hair. He wears light armor, usually favoring blue. Though that is not the stealthiest of colors.
Personality:
Alcuin is well spoken, well dressed, and carries an easy-going air about him. Many enjoy to take stabs at his past, and he enjoys rebuffing their need to learn more about him. "What happened, has happened, and living in the present is more rewarding." He is charming, yes, even if humans are a bit put off by his size. Eloquence is his strong suit. That being said his inability to speak the truth about himself, his causes, or others—can be more than disconcerting. Alcuin is quite the secret keeper. Some may doubt his loyalty to the Watchers, but he assures them that they are of the same interest. "I would have not joined had the Watchers carried a different torch than myself." The nature of 'that torch' is an explanation for another time. He is there when he is needed, and that is all that matters.
Skills/Abilities:
Marksmanship:
Alcuin is a talented ranged fighter, capable of firing off arrows in rapid succession. While his proficiency lies heavily in using his short bow, he is also talented with throwing knives (and less useful: darts, he is pretty good at winning tavern bets.) He wears a short sword on his back, but only for a last ditch method. While many a swordsman has trained him in how to properly use it, it is not his most his most combat ready ability.
Artificer:
Not the most useful ability in a skirmish, but in a tactical battle it is more than helpful. Alcuin can create traps, devices, and other small mechanical items to help in a battle. While they are more than useful being set up ahead of time, he has created a few things that can be deployed instantaneously. There is a spring-action bolt that is loaded into a device on his arm. Creation is not the only way Alcuin can use this ability, he can also disable traps and devices as well. More complicated ones will take longer, but the simple traps he can disable with ease. This is also useful for complicated locks, and other sealing mechanisms.
Diplomacy:
This skill has it uses, sometimes. Alcuin does know that most things cannot be solved with words, but he does give it his best shot. This is probably the most telling ability of his past. He is worldly and uses that knowledge to find bridges in many conversations. And while far from savant, he is capable of picking up on continuity issues when people lie.
---
History:
Alcuin is the eldest son of a merchant. One could more-or-less surmise that given the pieces that he presents. Still, he doesn't really care to discuss his family life or the events that forced him to leave. "Trivial," he says. "Practically swimming in the egotism of youth." And maybe it is that continued egotism that keeps him away, or maybe it is duty with the Watchers.
Away from the dwarfen civilization, Alcuin used the knowledge of his family's trade to scratch out a meager existence. The money eventually ran out, just like his wares. He didn't know anything about human investments, and had made poor choices. Destitute and not wanting to limp back home, Alcuin employed his secondary set of skills. They had once been the folly of a curious mind and agile digits. Odd how such things can become your life. Needless to say, he stole. That drew the attention of a crime ring called Red Fingers. It was either join them or be removed as competition. Alcuin rather enjoyed living.
Years passed. The reputation of the Red Fingers escalated, though not solely with his help. He was just another cog in a wicked machine. But that gave him time to perfect his skills in both archery and artificing. He visited various towns, and got to see the sights of the world. At least the underbelly of them, anyway. While Alcuin had been far from a pious person, he didn't own the downright cruel nature of his comrades. This may be how he managed to escape. The Red Fingers had received a rather cut and dry job to raid a merchant's caravan in a rather deserted part of the woods. It turned out to actually be a raid by the king's men. At that moment Alcuin knew what he had to do, he pretended to be a victim of the Red Fingers. "I was abducted and forced to work into their ranks." Which was a little of the truth peppered in with lies. He never really had a choice in joining them. He also never tried to leave, either. Whether the lie was particularly eloquent, or whether the king's men were confused on what to do with a dwarf, Alcuin managed to not be captured.
Now, with his slate clean, Alcuin was in a rather odd predicament. He figured he could go on doing what he had been doing, or carve out a better life. Or at least one where he didn't sleep next to cutthroats and cut purses. He had heard some of the king's men speak of the Watch, the most holy of orders. Alcuin wasn't the most pious of individuals, but he also wasn't the most corrupt either. Usually he did whatever struck his fancy. And
that
struck his fancy. He had never cared for the Red Fingers, and if he could use the information he acquired while with them to help others, then even better. That was several years ago, and while he may never be as devout as the others in the order, he'll not falter either. Though, he doesn't say much about his past, as there seems to be quite a bit of disdain for bandits--even if Alcuin left that life behind.