Mei Lee.
Age: 14
Height: 5"2
Body type: Mei is very skinny and thin. She has big breasts.
Hair: Long, Brown, and usually braided. She has two buns on top with braids flowing down. She also has some green and brown feathers in her hair. (Picture gives better example)
Eyes: Green and long eye lashes.
http://www.deviantart.com/art/Untitled-495698529
http://www.deviantart.com/art/Untitled-495698518
Abilities: She is very gifted in the art of knives and taijutsu, and Also very fast.
Background: Mei is Rock Lee's cousin. From a young age Mei was taught by her father to use taijutsu. She often trained and practiced trying to become a great ninja one day.
Personality: Mei is happy and a nice girl, but she can be strict and will put you in your place. Mei is often more concentrated on their missions and enjoys tests.
Missions: D-rank (8) C-rank (4) B-rank (5) A-rank 0 - (all together 17)
SAI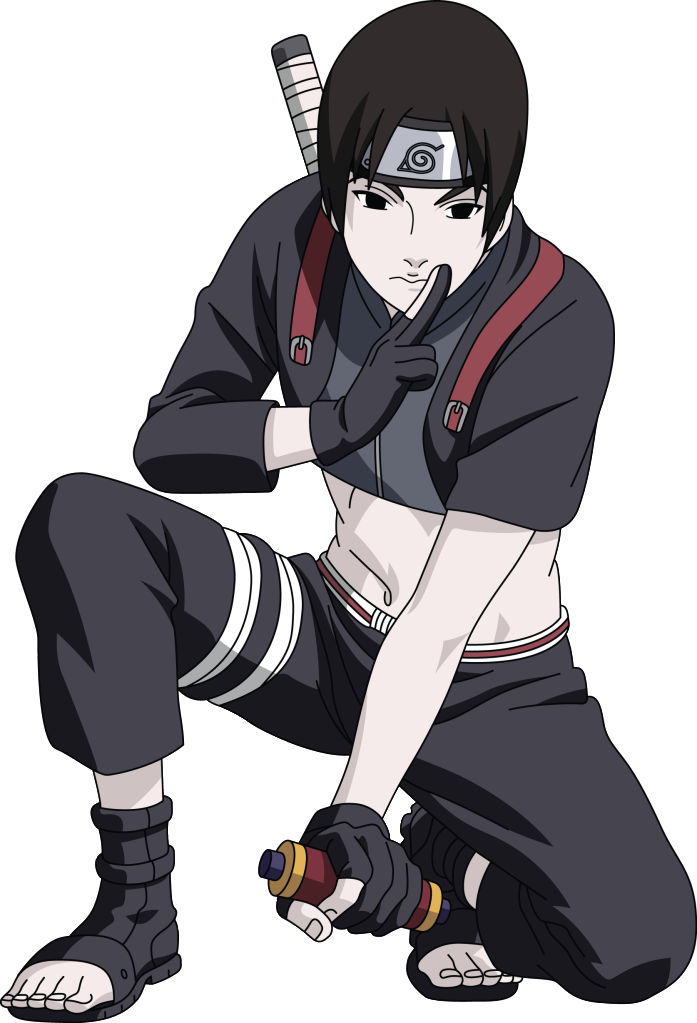 Age: 16
Height: 5"10
Body Type: Thin, very pale and skinny.
Hair: Straight, and Black.
Eyes: Black.
Abilities: Sai can use his scrolls to draw and then make them come to life. Ninjutsu. Sai also has proficient skill in Earth Release able to use the nature transformation to conceal himself underground without disrupting the surface of the earth. He can also use the elements of Fire, Water, and Yang
Background: Sai was orphaned as a child and recruited into Root, a secret branch of the ANBU. There he was raised and conditioned to have no personality, personal connections, or a name; The name "Sai" being given to him.
When Shin, an older Root member, discovered Sai's drawing ability, he encouraged Sai's talent and they became very close.
Over time, Sai came to think of Shin as an older brother and looked up to him. Unfortunately, Sai and Shin were supposed to fight to the death by Root regulations, in a final step to eradicate emotions. Before that happened, however, Shin died of an unnamed illness and Sai's Root training suppressed most of the memories he had of him.
Personality: After much mental conditioning and training while in Root, Sai had suppressed almost all of his emotions, laying all of his loyalty to whoever commands him, and thus making it easier for him to accomplish dangerous, unpleasant, or unethical missions. Due to this training and his lack of social experience and personal initiative, Sai has great trouble in understanding how bonds between people can motivate others.
Missions: D-rank (10) C-rank (8) B-rank (8) A-rank (7) - All together (33)