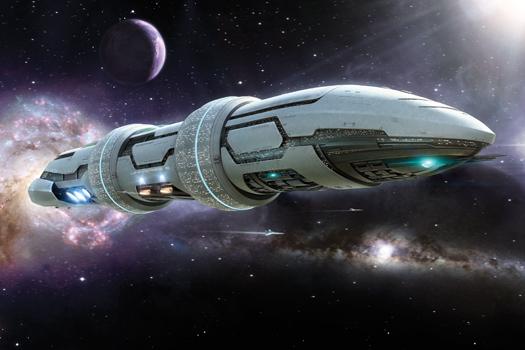 With the neverending push forward of technical advance, humanity has outgrown the bounds of their home planet, Earth. The entirety of the Solar System is now the home of combined humanity. From the solar plasma farms orbiting between the Sun and Mercury to the mining operations on the asteroid belt to the water mills on the farthest edges of the Kuiper Belt, humans have taken dominion of their home system. Even farther out, humans have begun exploring the vast Oort Cloud, a sphere of orbiting debris that marks the very edges of their system and their space. Space travel between objects within the solar system can take anywhere from months to days to hours, depending on the distances between the objects with the Oort cloud taking years to be able to even reach, let alone explore. Within the System, humanity has taken strives towards longevity and immortality while still conducting war and ever enhancing the methods in which they kill each other as is their nature.
In Humanity's neverending quest for immortality, they have even gone so far as to upload the consciousnesses of those who have grown too old or too sick to live normally into a vast computer network filled with hundreds of billions of other uploaded consciousnesses collectively known as The Cloud. This collection of ancestral knowledge and memory is respected and revered and over time has become the ruling body of humanity as a whole. Democracy is absolute within the cloud with the consciousnesses being placed in control of the area they were most acquainted with in life. Those that were civilians control most of the social matters while those that were military control the armies and navies, etc.
Medical sciences has seen advances in grafting technologies that allow people to receive transplants of any organ from any donor without complication as well as easily induced mechanical and biological enhancements and implants to limbs and organs. Most diseases can be cured and those that have proved resistant are rare. This, combined with organ cloning practices have made the average lifespan of most noncombatants skyrocket to almost two hundred years. The biologic and mechanical enhancements have been taken to an extreme extent in some cases, especially within the military.
For hundreds of years, most soldiers were almost more cybernetic than they were organic until recent jumps in genetic grafts and splices that led to the ability to change a person at the genetic level to be more (some say less) than what a human had ever evolved to be. These genetic enhancements are almost mostly used by the military to create powerful soldiers, though the more affluent of human society use these advances for cosmetic or personal reasons as well. As technology advanced, more and more people started to argue that these so called 'enhancements' were actually diminishing humanity as a whole. And so, like always, things escalated to war, which only encouraged the military to further delve into enhancing their weapons, vehicles, and soldiers.
_____________________________________________________________
This is one of the most dynamic periods in human history. Your ship, Nadia, is but one of many traveling the solar winds in and around human space. It is but a small cargo ship, able to hold a maximum crew of only eight or so and enough fuel to get between any of the terrestrial planets without much difficulty. With very little weaponry or armor to speak of initially, it will be up to you to add or remove necessary parts. Your story begins here.
In this game the player characters can come from all walks of life, from any known planet, moon, planetoid, asteroid, or planetesimal within the Solar System. They can be uploaded, cybernetically or genetically enhanced, or simply just a normal person. They can have any history (within reason) and have any reason to be part of the crew of the Nadia.
The rules are simple. I'd just like to have everyone try to get along OOC and have regular, coherent posts with no godmodding.
Taking place in...
Arcs are bundles of posts that you can organize on your own. They're useful for telling a story that might span long periods of time or space.
There are no arcs in this roleplay.
There are no quests in this roleplay.
Here's the current leaderboard.
There are no groups in this roleplay!
Welcome home, Promethean. Here, you can manage your universe.
Arcs are bundles of posts from any location, allowing you to easily capture sub-plots which might be spread out across multiple locations.
You can create Quests with various rewards, encouraging your players to engage with specific plot lines.
Settings are the backdrop for the characters in your universe, giving meaning and context to their existence. By creating a number of well-written locations, you can organize your universe into areas and regions.
Navigation
While not required, locations can be organized onto a map. More information soon!
There are no groups in this roleplay!
By creating Collectibles, you can reward your players with unique items that accentuate their character sheets.
Once an Item has been created, it can be spawned in the IC using /spawn Item Name (case-sensitive, as usual) — this can be followed with /take Item Name to retrieve the item into the current character's inventory.
Give your Universe life by adding a Mob, which are auto-replenishing NPCs your players can interact with. Useful for some quick hack-and-slash fun!
Mobs can be automated spawns, like rats and bats, or full-on NPCs complete with conversation menus. Use them to enhance your player experience!
Current Mobs
No mobs have been created yet.
Locations where Mobs and Items might appear.
You can schedule events for your players to create notifications and schedule times for everyone to plan around.
Add and remove other people from your Universe.
The Forge
Use your INK to craft new artifacts in The Cloud. Once created, Items cannot be changed, but they can be bought and sold in the marketplace.
Notable Items
No items have been created yet!
The Market
Buy, sell, and even craft your own items in this universe.
Market Data

Market conditions are unknown. Use caution when trading.

Quick Buy (Items Most Recently Listed for Sale)
None
Discussions
Topics

Replies
Views

Last post
Most recent OOC posts in The Cloud
There have been no posts in the OOC topic for this roleplay!