Description:
Name:
Ben Hill
Gender:
Male
Age:
24 years old
Role:
Police Detective
Location:
Currently in Maine helping with the Case
Orientation
: Straight
Status:
Married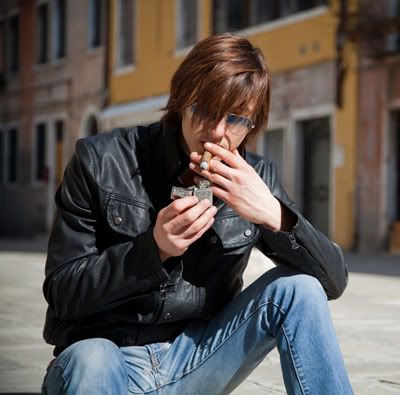 Ben stands at six feet and 2 inches; with a muscular and slender body, specifically his upper body that packs on muscle and strong bones. With a young handsome face; he has shaggy straight brown hair that is often unkempt since he's up for many hours doing work on the case, and he always has a bottle of coffee or alcohol in his hands to help keep him awake. His eyes are a creamy brown hazel color that are usually covered by his black sunglasses he never takes off. He has naturla tan skin from living in Arizona with his wife most of the time, who is expecting a child. He has a roughish and a tough bad boy appearance; and has a strong jaw line and high cheek bones.
He usually is seen wearing his black leather jacket with a presentable shirt and jeans with his black combat boots. He was offered to be the FBI but decided to take this case as a detective instead in the police force; with his uncle who is chief of the police force of Maine. He always can be seen wearing a leather jacket, since it's his favorite jacket and makes him feel more secure in dangerous situations. He always has his gun on him; as well as a tazer and a flashlight, and usually has them strapped to a security belt around his stomach.