Description:

Name: Emery Corliss (née Emily Brennen)
Gender: Female
Age: 18 years old
Role: Victim #5
Special Talent Singing
Location: New York City
Orientation: Heterosexual
Status: Single (and planning to stay that way)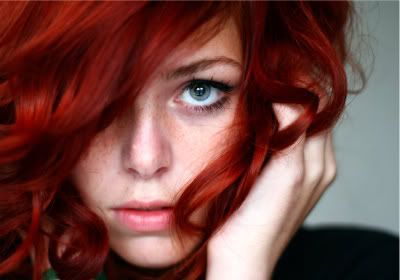 Only five foot four and rather thin, but thankfully not underweight at a 108 pounds. Her most obvious feature is her strikingly red hair, curly and medium length. It makes her stand out in a crowd, much like a traffic cone on the gray asphalt. Emery has grey-blue eyes that are quite expressive and usually has an earnest, thoughtful look in them. Though her lips don't smile unless amused, a faint trace of a smile hovers on her freckled face.
Though she herself is more of a free spirit, she dresses rather strictly. Emery never dresses messily or too casually, even at home. Her closet is mostly made up of jeans, crisp white dress-shirts and various pea coats, as well as quite a few scarves and hats.
She doesn't care enough about her looks to use makeup regularly. If she finds that she has extra five minutes, she might dab on eye shadow (most of the time a green or silver) and perhaps some lip balm. With her hair it's very routinely done; shampoo, condition, dry, brush. She rarely does anything with it, unless it's tying it up into a tousled up-do.
Emery was wearing her dark jeans, dress shirt and navy pea coat along with a gray scarf and hat when she went missing while walking to the house she was supposed to be babysitting for. She had black shoes on as well as a ring on a necklace around her neck.