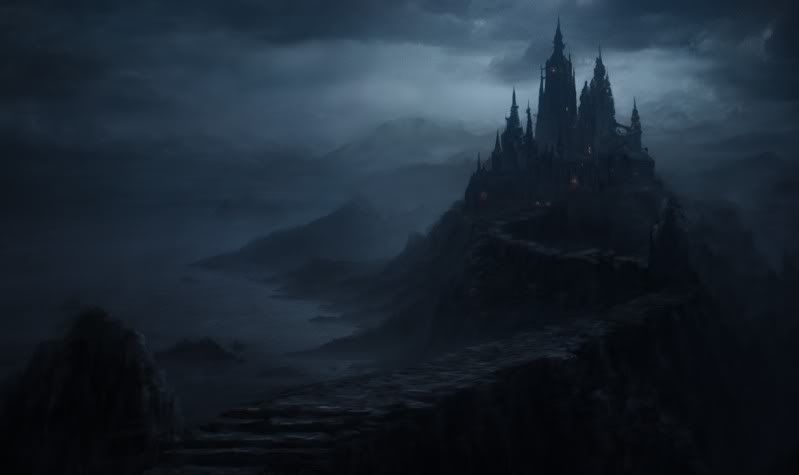 ~.-*The Court of Darkness*-.~
In many worlds across the multiverse, evil manifests itself in one form or another. Vampires, Lycans, witches, Drow, demons, succubi...the list goes on forever. The Great Covens and Houses of these rogue Nations know that no matter how thier world may reject and eschew them, there was one place where they may be safe. A golden tetrahedron, said to be cast in the very fires of the Pit itself, opens the dimensional gateway to The Court of Darkness. These keys have been useless for a hundred years, until they began to radiate pranic energy, signifying that this had now changed.
Ruled over by Empress Constanza Bathory, High Priestess of the Unholy Order of Hecate, all that were born with the unremovable stamp of sin and blood upon them may find a haven under her watchful eye. And perhaps even, a measure of power to take back with them to their respective worlds to ensure their survival, and perhaps their supremacy over the lesser races.
A hundred years ago, there was a great War between the Order of Hecate and thier White-Light Counterparts, the Order of Athena. Midian was purged of it's residents, all sent back to thier respective 'homes', while the Empress was sealed within. However, the Empress is ever wiley, and merely bided her time until the forces of the universe came back into a more favorable alignment, allowing her to reopen the Gates of Midian.
The dimensional pocket that the Castle Yaldebroth exists in is a land of eternal night called Midian, and storms rage across it in order to release the 'pressure' that is generated by creating such a rift in space-time. There is a 'sun-like' star that is in it's death throws, casting very minimal light during the 'day', but it's not of the spectrum that causes vampires to be affected.
Now, the forces of evil may reach out to one another once more, forming alliances or beginning feuds. And all wish to curry the favor of the Empress, for she is one of the oldest, most powerful women who serve all that is Yin. Her gifts come in gold, blood, and magic. And some say that she may choose a husband to become her Emperor, so that apprentices of her art may be born of their combined magic. As the Races of the Night jockey for power, who will be the victor, and who will be damned?
Character Rules

1. Evil aligned characters only. You can be human, but you must have some tie into the 'scene', shall we say.
2. Go nuts as far as customization goes.
3. For those who like to impart supernatural powers on your characters, I will say this: No godmodding. The Empress is the most powerful, period, and can counteract/nullify any magical effects. If you make a fool of yourself at this court, or insult the Empress, your character may very well be EXECUTED. This isn't me just being a bitch, think about the setting people. The Court could not exist if factions were consistently fighting each other without a formidable referee.

Articles of Note:
-This is more about diplomacy and intrigue than anything. Not all of these races get along (we all know how much Vamps and Lycans love one another), but there is no open fighting permitted at the Court. Formal Dueling, however, is acceptable, and there is a Dueling Hall that is designed for this purpose.
-When your character arrives, they are transported immediately into the Great Hall. A small army of undead, mute butlers will handle your luggage, and arrange for your accommodations. While here, you live in the lap of luxury, if your ranking indicates you are worthy.
-The Empress' rule is absolute. You don't have to like her, but everyone is kinda afraid of her.
-There will be scenes of violence, gore, and cannibalism. This is supposed to be macabre.
-There will be multiple boards in order to ease crowding. Also, I expect a post order of sorts. Don't run off with a scene that involves 5 people but only two are online. It's rude in my opinion, and it makes gameplay choppy and awkward. Take your posting elsewhere, or RP in PMs if it's just two of you, and take some Patience pills.
-Posts are like mini-skirts, short enough to keep you interested but long enough to cover everything.
10 posts here • Page 1 of 1
10 posts here • Page 1 of 1
Arcs are bundles of posts that you can organize on your own. They're useful for telling a story that might span long periods of time or space.
There are no arcs in this roleplay.
There are no quests in this roleplay.
Here's the current leaderboard.
There are no groups in this roleplay!
Welcome home, Promethean. Here, you can manage your universe.
Arcs are bundles of posts from any location, allowing you to easily capture sub-plots which might be spread out across multiple locations.
You can create Quests with various rewards, encouraging your players to engage with specific plot lines.
Settings are the backdrop for the characters in your universe, giving meaning and context to their existence. By creating a number of well-written locations, you can organize your universe into areas and regions.
Navigation
While not required, locations can be organized onto a map. More information soon!
There are no groups in this roleplay!
By creating Collectibles, you can reward your players with unique items that accentuate their character sheets.
Once an Item has been created, it can be spawned in the IC using /spawn Item Name (case-sensitive, as usual) — this can be followed with /take Item Name to retrieve the item into the current character's inventory.
Give your Universe life by adding a Mob, which are auto-replenishing NPCs your players can interact with. Useful for some quick hack-and-slash fun!
Mobs can be automated spawns, like rats and bats, or full-on NPCs complete with conversation menus. Use them to enhance your player experience!
Current Mobs
No mobs have been created yet.
Locations where Mobs and Items might appear.
You can schedule events for your players to create notifications and schedule times for everyone to plan around.
Add and remove other people from your Universe.
The Forge
Use your INK to craft new artifacts in The Court of Darkness. Once created, Items cannot be changed, but they can be bought and sold in the marketplace.
Notable Items
No items have been created yet!
The Market
Buy, sell, and even craft your own items in this universe.
Market Data

Market conditions are unknown. Use caution when trading.

Quick Buy (Items Most Recently Listed for Sale)
The primary area of action.
Here is the formal Dueling Arena. All disputes between feuding parties is to be carried out here.
Discussions
Most recent OOC posts in The Court of Darkness