---
---
Name:
Jacobi Michali Stephens.
Nicknames:
"You either call me by my name or don't call me at all. Got it? Good."
Age:
25.
"Why is so important for you to know my age? You like me, don'tcha?"
Gender:
Male.
"Do I need to show to proof because I can?"
Sexuality:
Pansexual.
"I don't like putting a label on my sexuality. I like almost anything."
Affiliation:
Ayers.
"I hope their accepting of a young warlock."
---
---
Personality:
[+Adventurous. +Charming. +Determined. +Intelligent. -Aggressive. -Combative. -Flirtatious.]
Above are all of the traits that describe Jacobi's personality to the T. He is extremely adventurous and he probably got that from traveling all over the war with his both of his parents. And as he was getting older, he wanted to experience a lot of things that he quite didn't understand when he was a child. Luckily, he fully understands the things that use to confuse him when he was little. His charming nature would come from his dad, since he always seen him using it against his mother, making her do almost anything with his looks and those puppy dog eyes. He always thought that his father was a terrible person for doing that but again, he was young so he didn't know much. Two of his personal traits about him, is that he is very determined and highly intelligent. If there is something that he wants, he will literately stop at nothing until he gets what he is after or reaches his goal - And that is also when he uses his intelligent factor to either do research about the person or try to get inside their heads by playing a little bit of mind games with them. Everyone has those traits that they are not proud of, Jacobi has three that he is not very fond of at the moment. Jacobi can be pretty aggressive when it comes to, well, almost anything and he hates that about himself more than anything. He also loves to fight, or test the strength of others with or without magic, doesn't really matter to him. Flirty, when this word is used, he usually does think of himself. He will flirt with almost anything with legs and will have a great time doing so.
"This is me in a nutshell, problem?"
Likes:
♥ Magic.
♥ Writing.
♥ Fire.
♥ Reading Spells.
♥ His Necklace That He Got From His Mother.
♥ Laughing.
♥ Showing Off His Body.
"I like many things but here is a select few."
Dislikes:
♠ Sour Candy, or anything sour.
♠ Hypocrites.
♠ People who think they know about witches and warlocks but do know shit.
♠ Techno Music.
♠ Drunk Assholes.
♠ Cigarettes - Along with the smell of them.
"I dislike a few things but if I told them all to you, we would be here for days."
Fears:
|Dying Young||Losing His Parents||Losing His Magic||Watching The People He Love Die|
"We all have fears, this is just some of mine."
---
---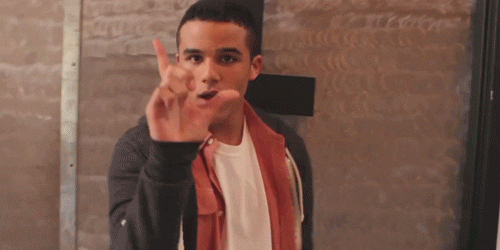 History:
Jacobi was the middle child to two wonderful, hardworking parents. They knew that something was different with him from the start as when he was born, all the electricity went out over parts of the city and it was unexplained as to what had happened. Jacobi wasn't a bad child growing up, he was really obedient and never had to be told to clean his room up or anything because he would already have it done. It seemed like he always knew what his parents were thinking, which he did. His parents loved him dearly and even took him on their annuals trips - For instance, Rome, New York, France, New Orleans, Los Angeles and those are just to name a few. But the one place he truly loved was New Orleans. That place made him gleam when they left the airport and he had a slight temper tantrum when they were boarding up on the plane.

Jacobi discovered his magical abilities at a very young age, which was five. He always knew that he had voices in his head but never really knew why until he was outside on the fourth of July, running around with the other kids but sitting front row when it was time for the fireworks. It seemed like they couldn't light the fireworks but he set his focus on the strings and the next thing he knew, all the strings lit up and all of the fireworks popped off. This scared him a little at first but then he wanted to make sure that it was him so he took a lot of candles and sat down in front of them but nothing happened - Though, he turned his back for literately five seconds and saw that the candles were ignited. He thought that he was crazy and quickly brought it to his parents attention and they did nothing but look at each other and nodded their heads. "It's time..." His mother, who was an Ayers and part of their coven spoke quietly as she basically explained to him what he was. His father didn't know what was happening, maybe because he was a mortal and his last name was Stephens, a last name which he adapted from him but after gathering in all the information, it all made sense.

He didn't really research what he was until a few years later and got a better understanding on how he needed to control his abilities and not act out in front of no one, period. By the time he graduated high school, his mother packed his bags and sent him to New Orleans, where he ran into more people just like him and they basically offered him a place in their coven. His response was that he would think about it but of course, he instantly accepted when they turned their backs. Most of the coven members liked him but others basically shunned him until he learned his way.

Jacobi still stays in New Orleans, where he is loyal to the Coven of Ayers. He is much mature than he was back then and hopes that things continue to go as planned and also hopes that the war between people like him and the others doesn't get too out of hand. It shouldn't, unless some dumbass ruins everything.
"Since you are so interested in knowing me, I'll give you a few facts but the rest, you'll have to find out down the line."
Face Claim:
Jacob Artist.
Theme Song| Michael Jackson-Threatened
Tonight's story is somewhat unique and calls for a different kind of introducing
A monster had arrived in the village
The major ingredient of any recipe for fear is the unknown
And this person or thing is soon to be met
He knows every thought, he can feel every emotion
Oh yes, I did forget something didn't I? I forgot to introduce you to the monster.

You're fearing me, 'cause you know I'm a beast
Watching you when you sleep, when you're in bed
I'm underneath
You're trapped in halls, and my face is the walls
I'm the floor when you fall, and when you scream it's â??cause of me
I'm the living dead, the dark thoughts in your head
I know just what you said
That's why you've got to be threatened by me

[Chorus]
You should be watching me, you should feel threatened
Why you sleep, why you creep, you should be threatened
Every time your lady speaks she speaks to me, threatened
Half of me you'll never be, so you should feel threatened by me

You think you're by yourself, but it's my touch you felt
I'm not a ghost from Hell, but I've got a spell on you
In one blink I'll disappear, and then I'll come back to haunt you
I'm telling you, when you lie under a tomb
I'm the one watching you
That's why you got to be threatened by me

[Chorus]
You should be watching me, you should feel threatened
Why you sleep, why you creep, you should be threatened
Every time your lady speaks she speaks to me, threatened
Half of me you'll never be, so you should feel threatened by me