Overveiw
Full name:
Forevermore Maria
Alias/Nicknames:
Maria Mari
Gender:
Female
Culture:
American
Age:
28 (Left Earth when she was 22)
Relatives:
Unknown
Considers Ace as her brother, even though they are not related, they were roommates.
Job/Profession/Class:
Tracker/Hunter
Skills
Hunting, Herbology, Swordscraft, Archery, Stealth, Tracking, ect.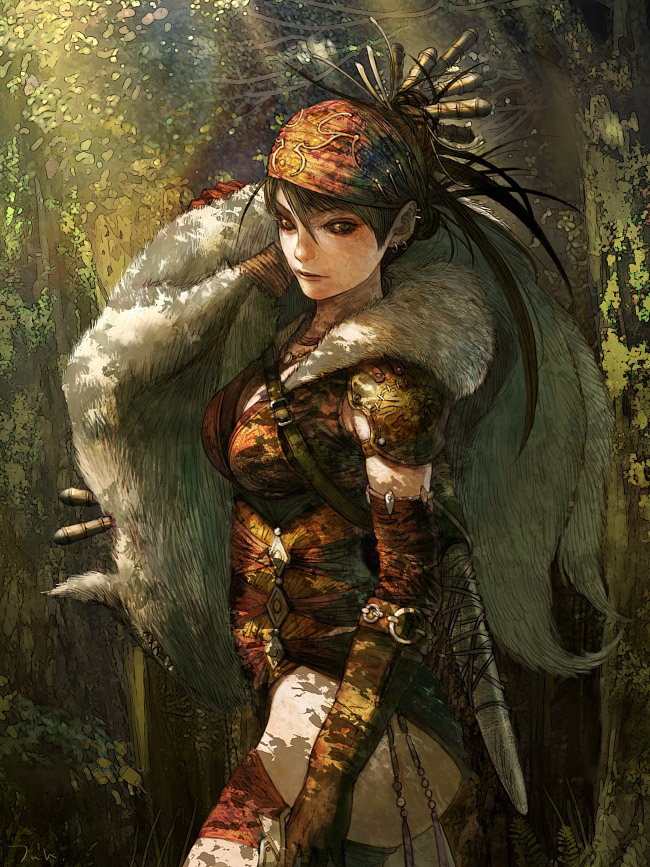 Appearance/Description
Height:
6'1"
Weight:
Light
Build:
Very Skinny
Eye Color:
Brown
Hair Color:
Dark Brown
Handedness:
Left Handed
Skin Shade/Color:
White
Scars/Tattoos/Piercings:
None
Description/Appearance:
She has dark brown hair, and she seems smaller than she is because of how thin she is. She does have small breasts, 'A' cups, but she doesn't let it bother her.
Mentality
Sexuality/Preference:
Straight.
Sanity:
Very sane, sharp mind.
Hobbies:
Hunting, Archery
Personality:
She is a calm young woman who keeps a reserved demeanor in front of most people. She shows polite interest in every topic, even if she is not particularly interested. She can be rather talkative and does, at times talk a lot. Especially if she's happy or excited. If she were to feel unpleasant, her voice deepens slightly and she grow cold in her expression. Her answers and statements would grow even shorter and have a bit of resentment, but cross her correctly and you'll get a heated argument. On the other hand, if she were to feel pleasant, she would be slightly more enthusiastic and use gestures when she speaks. She would relax a tiny bit, and maybe a true smile would be revealed. She can be very distant towards others, yet people love to test her wits and cleverness, since she have a lot of both. Her cool attitude may intimidate others, but she really is a good-natured person. Doing good deeds is hard, however, and she usually just does whatever is best, even if it might not be right. Once she has accepted you as a person, she would be as loyal as one could be, but never betray her, because you might never have her trust again. To sum it up in five words, pampered, headstrong, smart, slightly bored.
Equipment
Weapons:

Sword: Her sword is badass. Titanium blades with fragile plasma-electronic insides that are protected by bullet proof glass. The sword works as a traditional sword, excepting a few things.
• The sword, however decieving the picture, is 6 feet long.
• It is super light, weighing only about 5 pounds.
• Yes, the blades are hovering from the mail hilt. The plasma acts as a seeker from blades to hilt. The blue on the blades act as a super strong magnet-like seeker that try to keep it stuck to the hilt, but the squares right under them are powerful magnets keeping them at bay. This isn't only for aesthetics.
• By pressing the center blue button, it will release the pull of the plasma seekers, causing the magnets to launch them at high speed (Around 20 mph). Each time the center is pressed, it releases a new blade starting from the smallest to the largest one last. Of course, these do have to be retrieved. That can be easily done by running your finger in a circle in the blue center, causing all seekers to turn back on and go back to the blade. (Depiction showing how it works can be found here.)

Bow: A sturdy bow made of two layers. A Light but sturdy metal casing over the technological guts which house a NOS propulsion system that activates when the arrow passes through the center piece propelling the arrow forward at a much faster rate at the cost of some accuracy.

Pivot Blade (Hidden Blade): She keeps a custom made hidden blade with a meal gauntlet, as a secondary/hidden backup weapon. It consisted of a retractable blade in conjunction with a protective bracer. As such, the blade can be discreetly extended or retracted. It also pivots and can be held as a dagger, hence the name, and upon rotating it detaches. (Click the "Pivot Blade (Hidden Blade)" to see a picture.)


Combat Attire:
Scout Armor: Light and mobile, the scout armor houses an advanced scanning suite. The suit itself is much more mobile than the standard suit, and the power suit has increased 'muscle' on the legs, allowing for faster sprints. Unfortunately, the scout armor is also the least armored of the variants and can be damaged much easier. The suit comes with a kinetic shield generator, producing a small, thin static field around the armor that acts as a shock absorber. This can absorb impact from bullets, resulting in them being less damaging and can also help if falling from a high place. It takes a few seconds to charge up, and it is NOT a force field. It is fragile, can be broken, and doesn't stop bullets all the way only muffles the impact.
Accessories:
NeuroHeadset: She keeps this turned off most of the time. But when she turns it on, it's a small headset/glasses that connect to her electrical brain signals. She can search thing and much more with her mind. But it doesn't show up in her eyes, in her vision. No, a floating blue screen made of plasma energy appears in front of her, where she can do many tasks. It's very touch sensitive, and transparent. If you've no idea what I'm talking about, look at this and this. Or just google "Holographic Screen."
Miscellaneous:
Nothing, yet.
Fighting Style(s)
General/Preferred Style:
Archery, or sword
Hand-to-Hand:
Her pivot blade, or sword.
Weapons Style:
Bow, pivot blade and sword
HISTORY
Relationship Status:
Single
Family:
She doesn't know any of her family.
Known Languages:
English
Personal History/Background: